Rob Leslie: Making Lives Better with the Power of Technology Featured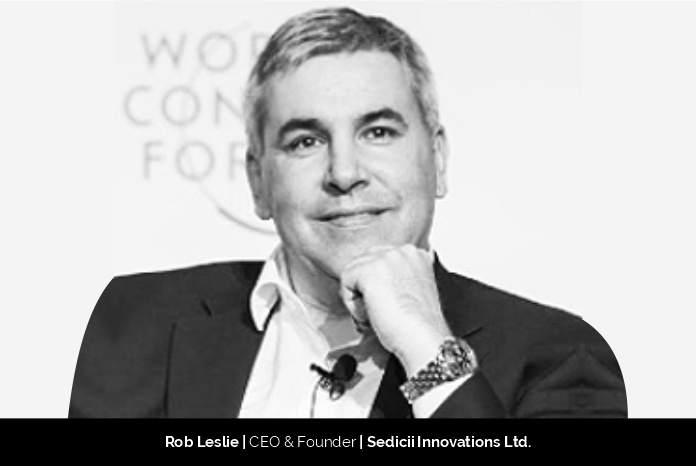 It is most certainly an achievement when your passion transitions into a successful professional career and you experience the sweet taste of success by degrees everyday. When Rob Leslie founded Sedicii, he witnessed the power of his passion that stemmed the growth of his entrepreneurial dream into a leading technology company. Rob has spent a significant number of years in the technology industry, gaining hands on experience and accumulating industry know how. With a well-defined vision of helping people with technology, Rob leveraged his knowledge and experience and founded Sedicii in 2013.
Using a novel cryptographic protocol known as zero knowledge proof, Sedicii is creating the Kriptan Identity Network to facilitate the verification of identity data without the need to expose the underlying data, thereby protecting the privacy of the person. This out of the box creation comes from the extensive knowledge and deep skillset that Rob honed through the years. Having held executive positions in leading technological organizations, Rob has scaled the company to exponential heights in the last few years.
CIO Views profiles the inspiring journey of Rob Leslie, highlighting the challenges, achievements, and success of Sedicii as an inspiration to be an overachiever.
The Foundation of Sedicii
As an aspiring young boy, Rob may not have been passionate about technology but as far as he recalls, he always wanted to be an engineer and was keen about problem solving. As a result, Rob graduated as an electronic engineer from Dublin City University (DCU), Ireland. In pursuit of his passion and to widen his spectrum of knowledge he moved to Japan, where the entrepreneurial seed took root in him, for the first time. Rob worked in Japan for over 20 years gaining substantial experience at leading Japanese organizations. He held senior management and director level positions with Datacraft Japan, PTS Ltd. eSafe Japan and Dell Japan where Rob was part of the initial management team that launched Dell into the Japanese market. In the subsequent three years the company grew from zero to over 270 employees and annual sales of over $300 million. After leaving Dell, he then became a partner in PTS, a niche technology services company servicing foreign multi-nationals in Japan.
Rob continued his journey into the technology industry when he returned to Ireland in the early 2000's. He co-founded Kyckr (ASX:KYK) in 2007 and which is now listed on the Australian Stock Exchange. While handling the operations of Kyckr, Rob also founded Sedicii in 2013. He has been focusing all his energy to the growth and development of Sedicii, since 2016.
"Founding Sedicii was an obvious next step following Kyckr. The internet does not have an identity layer which is very badly needed to protect the privacy of personal data and also to ensure legal accountability when it comes to the legal enforcement of contracts. In the words of Gary Kovacs, CEO of AVG Technologies "Privacy is not an option and it shouldn't be the price we accept for just getting on the Internet". "The technology age focuses on creating faster ways of working and communicating – however the right to personal privacy should not be a victim or a slave in the attainment of technological digitization", said Rob as he shares his views on starting Sedicii.
The Exceptional Services of Sedicii
Sedicii is building a globally federated privacy network in collaboration with Governments, tier-one financial institutions, telco's and national utilities. They provide real-time, verified digital identity and transaction certainty with security and privacy solutions that prevent crime, safeguard data and deliver value for businesses and people. They also provide remote, biometric onboarding services with real-time validation of data directly with authoritative sources like the UK's Passport Office.
Their technology facilitates any organization or person verifying the information they hold on a person with any other organization or person without the need to share or expose this information. This reduces identity theft, impersonation and fraud and enables users to consume digital services safely and reliably without having to expose their identity. The information is protected using complex mathematical transforms that cannot be decrypted, decoded or hacked without massive computational effort.
"The future is to rely on data to prove identity – while protecting the privacy of everyone – rather than the traditional method of document verification.", Rob adds.
The Changes in Technology and Rob's Vision for its Future
As a technology professional, Rob has observed a significant change in technology industry over the years. "It has been 70 years since the development of the first transistor that unleashed the greatest period of technological development that mankind has known. Andy Grove, former Chairman of Intel and accredited with having the greatest influence in shaping Silicon Valley, said "Privacy is one of the biggest problems of this new electronic age". Rob firmly believes with evolution there comes a set of challenges that require remedy. These challenges cover data security, criminality and fraud, privacy breaches, digital media manipulation which are some of the areas that Sedicii is working to address with their advanced cryptographic solutions.
Rob has a definite vision for Sedicii which is to make a difference to people's lives. The technology they are building is powering a global federated privacy network but ultimately everyone is interested in the impact technology can have on their lives. Hence, by focusing on the needs of people and business, Sedicii will be able to grow the business to scale. Securing employees' future livelihoods and satisfying the needs of their customers with a world-class technology will be the pathway to success for every business. Quoting an inspiring thought by Michelle Obama, "success isn't about how much money you make, it's about the difference you make in peoples' lives". Rob and his team are focused on achieving milestones in the technological industry with innovative thinking.
A Leader Leading by Example
As the CEO of Sedicii, an established entrepreneur and a successful leader, Rob takes on multiple tasks in the company. Rob says, "Being an entrepreneur is hard, especially in the early years of a start-up. You have to be mentally tough and resilient, which means being all things to all people – investors, employees, potential customers and like-minded professionals." So, he defines his responsibilities at Sedicii, as threefold. Firstly, to those who have invested and put their faith in Sedicii's products and services. Secondly, to the employees who work with them and believe in their goal to build the federated global network. And thirdly, to their customers, without whom they would not exist.
In a short period of time, Sedicii has achieved many accolades for their unique services. In terms of greatest achievements, Rob regards, Sedicii being awarded the accolade World Economic Forum (WEF) Technology Pioneer as the top achievement. This award gave Rob the opportunity to speak at Davos and at many other worldwide conferences to the world's leaders on subjects close to his heart in relation to digital identity, cybersecurity and other technology issues affecting the economies of the world.
High standards along with personal and professional ethics are very important to Rob and his team. He strongly believes that leaders must lead by example. "The workforce of Sedicii which numbers 15 presently and are multi-locational in Ireland, Belgium, Canary Islands and the U.K. are only too well aware that I am available to do whatever needs to be done to make the business a success and that there is no task that I will not undertake to make our vision and mission a reality. We are a small team, and we work for each other toward our shared vision.", Rob proudly shares.
The Roadmap for the Success of Sedicii
Since the inception of the company, setbacks have been a part of the learning and growth process. At Sedicii, they try to use setbacks to refine and tune their business offering and make it a better product and service. With this strong perspective, Sedicii has been successful in creating unique services. "The technology is complex and in and of itself could be described as "counter-intuitive cryptography". After all, how can you prove two pieces of data are the same without sharing them? But this is exactly what Sedicii's technology does." Rob shares.
Despite every challenge, Sedicii has grown as a technological leader and plans to continue to improve and get better in the next few years. Covid 19 has made digital transformation mandatory for every business on the planet, which is not an option, anymore. Sedicii's product roadmap imagines how this will materialize for people and business. "By making it easy for this transformation to take place we will see demand for our services grow. Digital identity, KYC and KYB is fast becoming a key enabler for our customers' businesses and we will be at the heart of it.", Rob says, as he defines the goals for the future of Sedicii.
It is fascinating and inspiring to witness the success Rob is developing, from a boy who dared to dream to a businessman turning his passion into a successful business. He encourages every aspiring business person to go all out to achieve their dreams, as he did. "Expect and embrace setbacks and challenges. Work smart and be true to your beliefs and when you succeed take the time to enjoy the success.", he asserts. Every piece of advice comes from the spring of knowledge and experience that Rob has acquired over the years. He has followed the same life lessons in the growth of Sedicii that helped in establishing the core values of the company and remains the prime element in everything they do.