Dr. Rajan Natarajan: A Journey Beyond Imagination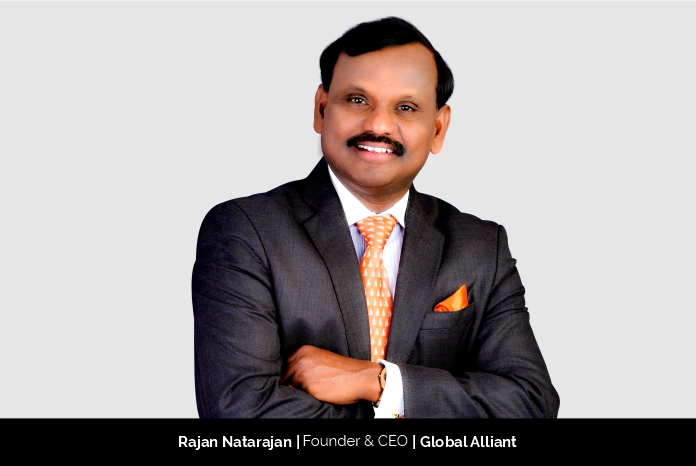 Turning Challenges into Triumphs
Dr. Rajan Natarajan, Founder/CEO of Global Alliant Inc., never imagined he would be where he is today. Although this is not where Rajan envisioned himself, he describes his journey with no destination as so far, "beyond amazing." Rajan believes there are no limits when it comes to dreaming. He explains how God has provided far beyond his expectations, and how he is excited about what the future holds.
Where it All Began
Rajan grew up in a farmer's family in a tiny village in Tamil Nadu, India called Muthukkadu. While in India, he completed a bachelor's, two Masters' and a Ph.D. degree in Biotechnology. In 1989 he came to the U.S. for his Post-Doctoral Fellowship at Michigan State University. He went on to spend ten years as a microbiologist and biotechnology scientist, followed by ten years as a businessperson/entrepreneur, and then went on to serve as Deputy Secretary of State for Policy and External Affairs for the State of Maryland as well as the Commissioner of Transportation for Maryland. The turning point of his career came when Rajan decided to pursue his MBA, with the intent of understanding the business side of his scientific work, to ensure that the outcome of his scientific discoveries would benefit society. After he received his MBA, he earned a senior executive role at an Information Technology company to leverage IT and software applications into bioinformatics and drug discoveries. From there, he was appointed as a public servant, and eventually went on to start another firm, Global Alliant Inc.
About the Company
Global Alliant is an information technology (IT) and software development company headquartered in Columbia, Maryland. The company specializes in turning business challenges into innovative and cost-effective solutions. Global Alliant achieves this by integrating "the right technologies for right solutions through the right experts at the right price." The company's motto is "Deliver IT right," and their mission is develop lifelong relationships and create lasting business value for their customers
Global Alliant is fully committed to meeting its clients' needs within budget, and with timely delivery. In addition, Global Alliant has developed broad capacities to provide comprehensive solutions under one roof. The company's combination of technical experience and skills allow them to excel beyond customer expectations. Their core competencies include IT Modernization & Optimization, Cloud Computing, Big Data/Data Analytics, Robotic Process Automation (RPA), DevSecOps, Cybersecurity/Mobility, PMO Services, IV&V, CRM/ERP, Artificial Intelligence (AI), Enterprise Data Warehousing, and Bioinformatics/Clinical Applications.
About Rajan Natarajan: A Versatile, Visionary, Differentiator:
Rajan is a proven versatile and visionary leader, constantly standing out as a differentiator throughout his adult life. As examples, he masterfully made successful career changes within the sectors of science & technology, entrepreneurship/business, and politics.
As a Scientist, he has published 50 scientific research papers in many areas that include microbiology, molecular genetics, environmental bioremediation, plant pathology & biotechnology, nutraceuticals, etc., obtained one U.S. Patent and commercialized 3 biotechnologies.
As an entrepreneur and senior business executive, he gained extensive experience in marketing, business development, sales, finance, corporate strategy, and government affairs, and he led a startup biotechnology company and 2 IT startup companies which became among the fastest growing medium size firms in the US.
Being a political appointee (as Deputy Secretary of State and Commissioner of Transportation in Maryland), he has become a trusted champion in foreign policy, diplomacy, intergovernmental affairs, foreign direct investment, educational collaboration, international sister-state programs, cultural exchanges, transportation policies & modernization, and branded Maryland globally.
Reflecting upon his broad, extensive background within multiple disciplines, sometimes Rajan likes to creatively introduce himself as a "BiziTist" (Businessperson + Scientist) or "BiziTician" (Businessperson + Politician). As a lifelong learner, he has earned five degrees (one bachelor's, three master's and one doctoral degree) which differentiates him as a truly special and learned achiever.
Defining Success
Although Rajan's journey has taken a path he had never expected, it is no doubt that he has been persistent and successful every step of the way. Rajan believes that success is not just about personal impacts, but that success is about impacting society and community as a whole and making life better for others. Rajan is continuously looking for unique challenges and solutions to empower the community and people around him. He explains how the company's success goes beyond the financial gains of the company, and it involves improving employees' sense of wellbeing while promoting positive attitudes and a zero-fear work environment. One individual on Rajan's leadership team explains how Rajan "was able to realize success based on his ability to lead through compassion, relationships, and a desire to leave a positive impact on the world around him."
Taking the Leap of Faith
Everything Rajan does personally and professionally, he does with the intent to differentiate his work from others, He seeks to provide employment opportunities for those from any background and create positive impacts such as good-paying jobs and providing the kind of leadership that empowers employees. He also fosters a healthy work environment to gain mutual respect and trust among the workplaces. Rajan also promotes continuous improvement by making sure he has open communication with everyone, whether it be by email, one-on-one conversations, or group calls. He understands the importance of people and in always expressing respect and appreciation. He explains how having a consistent demeanor goes a long way when trying to achieve effective and respectful communication.
Rajan attributes his 20+ years of private sector and 5 + years of public sector experience to providing the ground-level knowledge and confidence he needed to start Global Alliant. Additionally, his past successes in starting and growing other companies provided the experience and confidence to begin the company. Rajan's motto is "Listen, Learn, and Lead", which is something he follows every day as he interacts with others and makes decisions. This is echoed by his leadership team, who says [Rajan] is a true leader, and his motto of listen, learn and lead works fabulously with everyone in the organization. He gives everyone the liberty and freedom to be the best version of themselves."
When Rajan started Global Alliant, he had a very bold, but prudent vision, and he has the desire to face big challenges head-on, which serves as the driving force for his success.
Success Has Not Come Without Challenges
Although Rajan has experienced great success, it has not come without challenges. With every challenge that comes Rajan's way, he attempts to transform roadblocks into bridges of understanding. Over the years, Rajan has held many senior management roles, and he has identified problems within the organizations that derive from suboptimal performance. He has come across many challenges in his educational and professional life and has found himself in situations where he has had to address the challenges in an effective, and timely manner to turn things around within the organization. He has learned that quality management principles and the right leadership approach are required to get team buy-in on the right process and policy improvement journey. Rajan explains how Dr. W. Edwards Deming taught us that quality is a journey with improvements coming from continual process improvement. Rajan explains the importance of being able to describe each business process and how he always tries to apply his proven strengths for continued success. Great leaders are great listeners, so he always finds the time to listen to others for their good advice and how their capabilities can become part of the solution.
Impact on the Industry
Global Alliant is very keen on dominating the IT industry by solely bringing unique ideas and innovative solutions that are cost effective to both public and private sectors.
Rajan explains how staying current with cutting-edge innovation in both proprietary and open-source solutions is pivotal, such as the latest developments in the cloud, cybersecurity, IoT, AI, BI, RPA, and Quantum computing spaces. The company is currently working on a one-off proprietary data management software solution within the healthcare IT space. They have other aspirations which will require partnering with at least one major integrator so they can scale their solution developments and releases. The company's DevOps/DevSecOps efforts emphasize a superior lockdown of requirements at the outset, coupled with superior execution of testing protocols and independent verification and validation.
Growth & Lessons During The Pandemic
During the COVID-19 global pandemic, Global Alliant was fortunate to not only continue business, but also triple their growth. The company ensured the staff remained well-informed about the pandemic and is happy to report that nobody succumbed to COVID-19. Staff began working remotely, which eliminated the daily interaction but made sustaining important elements of team building, morale, and teamwork difficult. He addressed this by using the Agile process and launching daily remote senior management "SCRUM" meetings to maintain close personal contact and close tracking of daily and weekly activities. Each SCRUM meeting begins with a motivational quote that is shared with all associates. The senior team is asked to reflect on each motivational quote and to identify elements of wisdom and inspiration, which helps everybody start their workday with a positive spirit. Multiple award programs were also implemented, and the company held monthly virtual happy hours and recognition of employees to help keep everyone excited and engaged. Each Friday, Rajan provides/conducts detailed status updates with his senior executives from each division.
Although working remotely was a huge change and difficult to adapt as the company's new normal, the company accomplished many things during the global pandemic. Most notably, they were ranked #34 on the Inc 5000 Fastest-Growing US Companies list and #2 in Maryland. They are also ranked # 2 in IT Management and #1 among Asian American owned fastest growing IT management companies in the U.S. The company was able to sustain a high level of productivity by working hard over longer workdays to survive and grow its business during a difficult time
Unlike Most Small Businesses
Global Alliant has also faced the horde of obstacles from the pandemic head on, which typically plagues new small businesses. Since August 1st, 2018, the company has accumulated an impressive list of accomplishments. For starters, in only three years Global Alliant received SBA 8(a) status, CMMI (Svc/Dev) Level III, ISO: 9001/27001 certifications. In terms of awards, Global Alliant is an SBA 8(a) STARS III awardee, GSA IT 70 Schedule Awardee, a Maryland CATS Plus and MoCo LCATS awardee. Most recently, Inc. Magazine ranked Global Alliant No.34 on its 2021 Inc. 5000 list of "Fastest Growing Companies in the Unites States." Their ranking also made Global Alliant the 2nd fastest growing IT management company in the U.S. and 1st fastest growing Asian American owned IT management company. This ranking is an outstanding achievement for any company, especially one that is in its first year of eligibility to be featured on this esteemed list. When asked about Global Aliant's achievements so far Rajan stated "one of his dreams came to a reality and these accomplishments are a great sign of more things to come."
The company also implemented a strategy called "Act Now & Results Now", which encourages staff to continuously focus on delivering the right, real results. Rajan's primary message to staff is to let them know that they represent the true pillars of success for the company. Another strategy he follows is viewing Customer Relationship Management (CRM) and Employee Relationship Management (ERM) equally. Rajan explains how CRM is critical because customer service determines the future of the company and ERM determines the level of staff morale, which determines the company's levels of customer service.
During the pandemic, Rajan has found it nice to not be stuck in the DC beltway traffic during his daily commute, which reduces overall stress and provides more time for him to focus on work. He has been actively involved in public speaking and moderating monthly technology and business seminars with other industry leaders, customers, and government officials on various topics to help promote his company.
The pandemic also helped Rajan realize that with reduced personal interaction among team members, it has been difficult to recognize one's daily contributions, train and empower employees. They were unable to help guide and encourage newer staff members who would benefit from daily mentorship. This has made Rajan realize that it is imperative to promptly get the right information out to everybody. (THERE IS NO FOLLOW UP HERE, THIS ONLY INTRODUCED A NEGATIVE. DELETE IT, YOU ALREADY ADDRESSED TEAM MORALE ABOVE)
CEO Role
As CEO, Rajan oversees all operations, growth management, business development, finance and makes all company decisions in consultation with his senior staff. The IT industry is an extremely competitive market, so Rajan is constantly promoting Global Alliant and the unique and innovative solutions they offer to people he knows, trying to turn them into prospects, and then into projects. Rajan takes all his decisions as CEO very seriously, and always considers how decisions affect employees. Rajan's strategic vision is to make Global Alliant a recognized game changer and major integrator in the future. He does not want people to look at the company and think they are just another company doing well, but instead wants Global Alliant to stand out as an industry leader. Rajan wants to make sure Global Alliant is recognized in the industry through successful delivery of projects and outstanding satisfaction of customers.
Maintaining Work-Life Balance
While Rajan's days are typically long, family is also extremely important to him. He has two adult sons and a wife who all currently work remotely from different corners of their house. Pre-pandemic, Rajan used to travel often with his family and visit his family in India. One advantage Rajan has discovered with working remotely is that his life and presence are not separated between the office and home, allowing him to spend more time with his family.
Rajan believes work-life balance is a major factor that affects employee turnover. Turnover is costly, so the goal is to minimize turnover by providing the right leadership, respect, trust, flexibilities, recognition, and compensation. The company aims to complete all work Monday through Friday. Employees with families, especially younger families, cherish weekend time and it is the best way to unwind from a busy work week. Rajan is mindful of workloads and deadlines among the senior leadership. They work hard together to make the right high-level decisions to deliver superior services while maintaining the best work-life balance possible.
Looking Ahead
As Rajan reflects on his journey, he explains how it has been gratifying and he constantly thinks about everybody who has worked so hard to make Global Alliant so successful in such a short time. He has learned that success is a long journey that requires a balance of patience and a sense of urgency. He also realizes that success is imminent if we have blessings, beliefs, and courage.
As the company continues to win more awards, Rajan is careful to grow the company with the right people in the right roles. As they continue to grow, he wants to make sure they deliver their solutions and services right, on time, and within budget and emerge as a unique company in the industry.
While the company hopes to continue to grow, they are cognizant of growing so fast that they are unable to sustain proper command and control across a widening spectrum of agency customers and task orders. They will continue to make sure that their rate of growth does not affect their consistent delivery of superior results. Rajan's personal goals are to grow Global Alliant into a widely recognized major integrator with total satisfaction of every customer and employee.
Coming from a middle-class agriculture family in India and experiencing major turning points and career changes has allowed Rajan to be grateful for his journey, but also realize that anything is possible when you do not put limits on your dreams and confidence. Rajan feels blessed to have experienced the opportunities that have been presented to him and encourages others to dream big and believe that anything is possible.