Raymond Mohler Jr.: Young humanitarian trailing advancement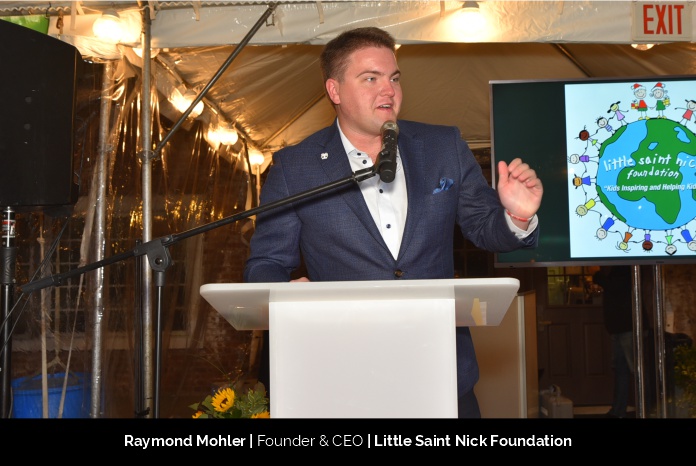 Social work isn't always so facile and trouble-free as it seems. You need a lot of courage, an open heart, and most importantly, generosity. Now, not all people can perform such services and be self-determined, but Raymond (Ray) Mohler Jr. is not one of such people.
He was six years old when he founded the Little Saint Nick Foundation. He was determined from such a young age which was astonishing as well as felicitous for everyone around him. He has been inspiring and helping kids across America for over 17 years now and has been featured on Nickelodeon's "The HALO Effect" and Subaru's Share the Love Event. Ray has built a team that has been serving kids and has helped to lift children's spirits.
Foundation laid for zealous assistance
When he was four years old, Ray was taken to the hospital as he was experiencing pain in both his hips. He was in the hospital for eight straight hours, stocked with agitation, and had no idea about what was going on.
He came to know he had a rare childhood hip disorder but was fortunate enough to get out of it soon. Ray says, " I decided that I needed to give back to the kids who I had left behind at the hospital, and my goal was to ease the anxiety and fear of those kids in need. With my birthday being on Christmas Eve, I decided to donate my birthday and Christmas gifts back to the hospital I was in."
Obstacles along the way
When the pandemic hit the world last year, the organization lost a lot of chances to solicit because almost all of their events were cancelled. It was not easy, but they realized that it is going to happen sometime in the future, and for that, they tried a couple of things.
He states, "We were able to institute new technology to gain money from donors such as a text-to-bid silent auction. We also decided to start a new program with local schools for them to have a supply drive for our emergency department gift bag program. We had seven different schools on Long Island participate in this drive so far, and we have gotten enough supplies to pack our gift bags for two months, saving our organization thousands. In these gift bags are a stuffed animal, coloring book, crayons, and a handmade get-well card made by kids, for kids."
At the moment, they pack around 600 gift bags a month and deliver them to Long Island to two distinct hospitals, and 300 a month in Tampa, Florida. They pack each and every bag with their own hands and can successfully say that they haven't left any kid unnoticed in the hospitals they work with on Long Island and in Tampa.
Purpose of Little Saint Nick Foundation
The Little Saint Nick Foundation (LSNF) is a registered 501C3 non-profit institute that has the vocation of "Kids Inspiring and Helping Kids." According to Ray, this organization not only helps kids, but also inspires kids to volunteer and give back to those kids in need.
LSNF has also assisted many anxiety relief issues, which include an emergency department gift bag program, family care package program, hospital toy give-away parties, and wish-granting, all centered upon improving the lives of sick kids and their families. These programs are not just led by kids, but also teach them the importance and responsibility of service to others.
Ray says, "The goal of the Emergency Department Gift Bag Program is to alleviate the stress and anxiety related to a hospital visit. It also makes the hospital environment less hectic. This is a program that every day of the year, a hospital member or LSNF volunteer distributes the bags to families in the emergency department or short-term units."
In 2019, they launched a program which is called the Nicholas DiNoto Family Care Package Program. This program was initiated by a Little Saint Nick Foundation board member, Rob DiNoto, in honor of the life of Rob's son Nicholas DiNoto, who lost his life as a child a few years ago. The main mission of this program was to help the families of the children in need and provide them with some basic necessities. Some main essentials that were provided are a toothbrush, toothpaste, phone charger, notepad, pen, mints, lanyard for ID badge, and a get-well card and activity pack for the child in need.
Ray and his team ensure to hold everyone at their institute with lots of integrity. They also certify that with a small number of volunteers present in their team they help everyone no matter what business they have with the organization. In anything they do, they make sure that they ask the right people as many questions as they can before taking any action.
Life as the Chairman of company
As the Chairman and CEO of the company, Ray oversees all operations. He gets a constant dose of motivation through providing the best services.
He adds, "I am truly amazed by all we have been able to accomplish, and I have a lot of excitement about all the potential we have. I try my best to make all of our board members, volunteers, and partners feel like they are a part of this movement, no matter what their task is. Their efforts are directly or indirectly inspiring and helping others all year long, and that is something special to be a part of. I instill a sense of enthusiasm every time I interact with someone who is helping this organization because they need to know how valuable they are to the organization, no matter how they are helping."
He is a firm believer in work-life integration. He states that balance is the key to be happy professionally and personally. He manages to take out some time for his body and works out in the morning to have a fantastic head start. He indulges in cooking and spending quality time with family and friends to relax.
Future roadmap for the foundation
Ray adds, "We would love to be operating in all 50 states in the next five to ten years. There is still so much we are learning every day, and our expansion plans keep altering as we go through the process. We are in great need of funding to be able to expand and help more and more kids every day of the year."
The foundation has been able to inspire and help over two million kids and families in need over the years. Ray is excited to help more and more people for the rest of his life. To learn more and support LSNF, visit littlestnick.org.