Camaron Hillman: Making a difference with Innovative Solutions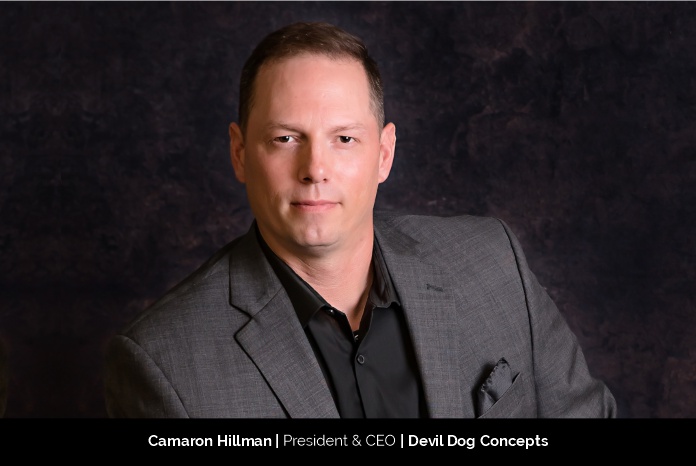 Having served in the United States Marine Corps and as a Police Officer, currently as a Sergeant, for nearly 15 years, Camaron Hillman, Co-founder, CEO & President of Devil Dog Concepts, knows all the ins and outs of what challenges other US Marines and Law Enforcement Officers face. Thus, through his venture, his focus is to create innovative products that will benefit the ones on the battlefield.
Being an out-of-the-box thinker, he is the inventor of the patented Side Charging Handle System, the Hard Charger®, co-inventor of the patented CHARPS®; Combative Handgunning Pistol Sights, and co-inventor of the patent pending Advanced Armorer's Wrench. Devil Dog Concepts™ is fulfilling the needs of its patriotic customers by creating innovative products that help them stay strong in the fight.
For some leaders, success is attained when all the set goals are achieved. It may happen that some goals are harder than others to attain, so some successes can have greater meaning than others; however, it is all dependent on the hurdles or trials to achieve them. He adds, "As a leader, to become successful, you must continuously create new goals to constantly achieve successes and become successful."
Laying the foundation of Devil Dog Concepts™
Camaron grew up in a very small town in an area called the Southern Tier of NY. He had always dreamt of serving in the military and had signed up to join the Army, scheduled to leave for boot camp during the summer vacation following his Junior year of High School. Two months before he was set to go, he suffered a bad knee injury, causing him to have major surgery. This surgery was improperly done and required multiple additional surgeries to stop further damage. He had thought that his military dreams were over until a Marine Corps Recruiter called him and showed him it was still a possibility.
Shortly after joining the Marines, 9/11 occurred, and within a couple of years, Camaron found himself deployed to Iraq.
He adds, "I spent four years in the US Marine Corps where I served as a Military Police Officer and a Military Working Dog Handler stationed out of Quantico VA. I served a tour in Iraq, where I was involved in many campaigns, including Operation River Blitz, the first elections, and Operation Phantom Fury (AKA the Battle of Fallujah). So, you can imagine that the Marine Corps plays a large part in my life."
After returning from deployment, Camaron had left the Marines in search of his future, feeling blessed to have made it home and that he was able to fulfill his dream. After being out for a while, he found himself working two security jobs at the same time, getting licensed as a Real Estate Agent, sleeping in his car between jobs, and trying to figure life out. Later, he was able to get it down to one job, and eventually was hired by a local Police Department.
After a couple of years, Camaron found himself on the SWAT team, which is a part-time team comprised of multiple local jurisdictions.
Around seven years ago, while conducting training drills at the range, he was wearing gloves and having the usual issue that most do with their AR rifle charging handle, and he began to wonder if there was a better way. He conducted comprehensive research and was shocked to find all negative results. So, he decided to pioneer a solution and ultimately developed Devil Dog Concepts' staple product, the Hard Charger®.
He mentions, "Looking for a way to develop the idea opened up so many roads, and ultimately my business partner and SWAT teammate (who is also a former US Marine) and I decided to start a business. We also wanted the name to be reflective of who we are and what we wanted to stand for. In 1918, during the First World War, the Germans put out propaganda labeling the US Marines "Teufel Hunden," which loosely translates to the term "Devil Dog." This term was adopted by the Marine Corps and is used regularly as a nickname when referring to or addressing a US Marine. The development of my Side Charging Handle System opened the door, which led to me becoming an Entrepreneur, but who we are as Marines inspired our company and its name, Devil Dog Concepts™."
Climbing the ladder of success
Lacking the necessary skills to run a business added several challenges for Camaron. When he began down this path, he had no idea how to even file for an LLC, let alone patents, production, or anything that had to do with starting/running a business. He adds, "I never went to business school and did not have anyone in my circle that owned a company or even knew how to run one. I was completely on my own to figure it out. This turned out to be the best thing that could've happened."
While steering the wheel himself, a solid drive and determination sparked in his mind and soul to achieve his goals. He mentions, "It created an understanding that if I don't know how or who to go to, I can learn it, will learn it, and I will make it happen. I grew to appreciate and look forward to the "having my back against the wall" feeling. It creates a drive to grow and learn. This is where so many doors open, and you begin to see so many possibilities that you never knew existed. Setbacks became opportunities. As long as you possess the constitution to not give up and see each one through, they will reward you."
Bringing solid innovative products with DDC
At DDC, their main focus is the development of new products for the sporting goods and firearms industries. They aim to produce high-quality products, and the approach revolves around usefulness and better capabilities.
Customer service and product quality are the two strong pillars that stand tall in the company. Every single product they produce that goes out their door is first sent to their Quality Control team and goes through a multi-point, hand inspection process for the fit function and finish. Customer service has been a focused priority led by the company's COO, focusing more on a personal connection by reducing the email response and picking up the phone. Camaron adds, "We want to talk with you and get to know you. Each customer is as important as the distributor. We are here because of you and want to make sure you feel as appreciated as we do."
They have a large connection to Military and Law Enforcement, and by focusing on the product making the user more effective, they assist with increasing the odds of that Officer or Marine/Soldier making it out of a bad situation. They have also discovered that there is quite a demand for their innovative product in the enthusiast and competition shooting sports industry.
Camaron states, "Since inception, we have now started bringing outside ideas on, and plan to move the company focus on assisting others with bringing their ideas to the market. We also have created an e-commerce presence and have become a distributor for companies assisting with getting their innovative products into retailers and to end user customers."
Diversifying into different niches
Devil Dog Concepts™ is slowly venturing out to create a multi-faceted brand name. Explaining its new branches further, Camaron says, "Our manufacturing side develops products from in-house and also from out of the house to bring new and innovative products to the sporting goods and firearms industries. We also have a partnership agreement where we expand new products capabilities through co-branding and marketing, bringing access to larger markets and other company customer bases."
Currently, everyone is focusing on shifting from their core manufacturing process to become highly attentive to new product development. They are able to achieve this using their powerful network strategy and joining forces with other companies for marketing and distributing through their existing customer bases. Their aim is not to compete with others but rather to join forces with them and bring a gamut of benefits for everyone. They are also augmenting their distributor partnerships with other manufacturers for seamlessly getting their products to different retailers as well as end-users directly.
Additionally, he states, "Our e-commerce side of the company is working on expanding into survival and sporting goods more, and is also in the development of a service-related industry conducting ceramic coating of products for customers. We have also set up a pass-through distributorship bringing Law Enforcement supplies to individuals at contract pricing that would normally require large department orders."
The list doesn't end here. They have also branched out into the Fine Jewelry business. For this, some of the owners of Devil Dog Concepts™ joined hands and gave birth to Riegel Fine Jewelry™. With this, they are able to provide a myriad of options, styles as well as custom creation capabilities. The best part is that they are turning this business in such a way that its engineering follows a franchise type model. This will proffer uniquely designed Custom Compact Kiosks of Fine Jewelry that are designed mainly to cater to the needs of specific small business owners. It will enable these business owners to generate an additional income source, in a completely turn-key designed system, directly from their clients and also through an online sales platform.
Life as an Entrepreneur
Being the Co-founder, CEO & President of Devil Dog Concepts™, Camaron's daily responsiblility is handling production management and product development, since it covers his passionate side in this business. He also is mostly concentrated on the "40,000-foot view" of the company. It encompasses focusing on both system development as well as smart growth strategies that keep propelling the business on the right path.
Sharing his biggest achievement to date, he says, "I never would've dreamt of owning a business like this; having patents and trademarks, and being able to build such a future for my family and others who believe in us. It is truly a blessing, and I am very thankful for all of it and blessed that I am able to give my family a life I never thought I could."
Since his job roles take most of his time, it has become an integral part of his personal life as well. Moreover, his wife and other family members are also involved in the business, making it an essential part of their life too. However, even though all are absorbed in taking the business to new heights, they all try to squeeze out most of their quality time to enjoy with family together.
Praising his wife's presence in his life, he states, "I was never one for taking vacations and always stayed attentive to my objective. My wife, Amber, has been a light for me in guiding me along and being supportive like no other. We truly wouldn't be where we are, nor headed where we are going if it weren't for her."
Having gained profound experience and exposure, he believes that he can surely raise his children with endless future possibilities. Also, he can foster a plethora of skill sets and passions that will definitely add value to their life.
Stepping into the global market
Camaron and the entire Devil Dog Concepts™ team are planning to boost their brand reach in the global market. For that, they have visualized new designs of their staple product that will soon be launched in the market. Further, they are striving hard to increase their social media presence to spread their dealer network and consumer education significantly.
He adds, "Recent acquisition of social media influencer accounts will bring in not only additional revenue via advertising services, but it will also assist with the marketing reach and capabilities of Devil Dog Concepts™ to increase consumer education of our products and services." They are also finishing the systems development and making Devil Dog Concepts™ a completely turn-key systemized business designed for growth and sustainability.
They are sure that people will take their brand as the go-to brand bringing exceptionally imaginative, innovative and useful products to the firearms and sporting goods industries. All these steps will surely bear good fruits for them, and they will soon be recognized as a popular international brand.