Lysbeth Fox: Showering light into the luxurious world of travel, property, and lifestyle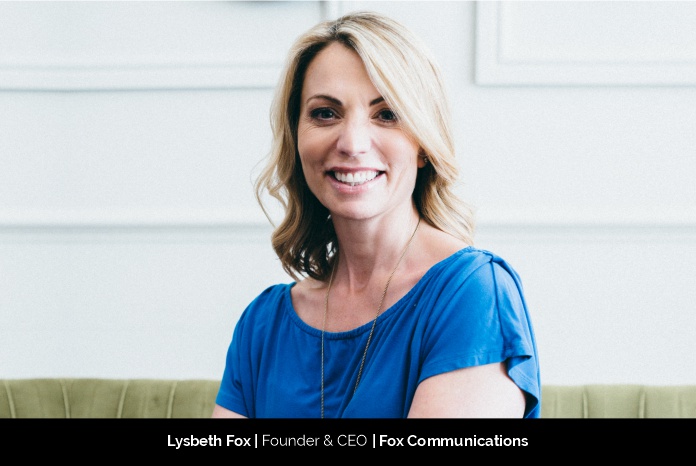 After spending two decades working in the luxury hospitality sector, Lysbeth Fox, Founder and CEO of Fox Communications, decided to play by a new rule book by setting up her own shop. Tapping into her vast experience and skillset, she created a better working place for her team.
Being a mom of a three-year-old required Lysbeth to have flexible control over her working hours, so she took the leap of faith and decided to brew her concept into reality.
Pivoting into a new direction
Coming from a big agency culture to acting as a founder of a new, small agency, Lysbeth had to change her working methodology and adapt to a new approach. She could no longer rely on the giant reputation she had with previous employers and instead had to rely solely on her creative ideas, passion and work on new relationships to build trust for her business.
She adds, "There were definitely moments I considered throwing in the towel; the first few years were more graft than reward. But I really believed in what I had to offer, and at the time, I knew there was a real gap in the market for an integrated approach that leaned in on luxury media relations, so I kept at it. And I'm so glad I did."
Merging solid thinking with adaptability at Fox Communications
Fox communications is a global, integrated communications agency that specializes in the luxury sector. The team relies upon strategy, connection, and creativity in order to transform and inspire. Lysbeth says, "Bringing our clients' vision to life is what inspires us, and we work hard to elevate and amplify their stories. Although we delight in the details, we are actually big picture thinkers. Our immersion in the luxury sector is real, and our network is extensive – but all of that is driven by our passion for creating messaging that matters. We are forever looking out for the next big thing, always and remain switched on to new angles and opportunities for the luxury brands with which we work."
A 360-degree approach
Working in a competitive world, Lysbeth paves her brand to the top by working on creative storytelling based on a clear strategy. Within their remit across the luxury travel, property, experiences, wellbeing, and gourmet sectors, the team follows an all-rounding approach.
Lysbeth explains, "In other words, if you're a luxury hotel, we don't just want you on the travel pages. We want to be part of wellbeing and dining conversations too. Our tactics work because they are underpinned by strategic analysis, market understanding, brand awareness, research, and expert knowledge across every platform that there is. Our aim for all our clients goes beyond ensuring that they are seen, heard, and remembered. That is the easy part. We do more than that – we make them loved. "
A unique vision to success
For Lysbeth, success is about more than the bottom line; it's about growing a team that is empowered to do the best work they can do. It is the result. It's the end outcome that is built upon all of the passion, knowledge, and commitment from each member of my team, each and every day working at Fox Communications.
Wearing the CEO's Cape
As the CEO of Fox Communications, she relies on her managers for everything but, at the same time, always keeps an eye on all the clients and coverage. She states, "I keep track of how they are doing, feeling and whether we have had many wonderful surprises for them in the past month. I always have an eye on new business too – and am continuously meeting with new people in my network and seeking out new opportunities."
Though she started out with a desire to shake up the industry, her journey has been a rocky one. However, she feels proud of her accolades and keeps enjoying her wonderful ride.
Sharing her inspiring moments, she says, "After starting at my kitchen table on my own, we are now a team of 16, with offices in Covent Garden, New York, and Milan, and our clients include some of the biggest and best luxury brands in the world. Recently, I was humbled to watch the coverage of our new Milan office in Italy. It has been truly rewarding to watch us grow in that way."
As a self-motivated leader, she is dedicated to produce good results and progress towards success. To keep her team zestful, she treats them in the same way as they treat each of their clients. She makes all the employees feel that their voice is heard and that they matter to the firm. In case any employee is suffering or going through a difficult time, she ensures that they are being catered to and treated with compassion.
Battling the Balancing Struggle
Lysbeth still struggles with balancing personal and professional fronts, especially during the pandemic. She finds it pretty hard to work from home while drawing boundaries between answering work emails the entire day and after work hours.
She states, "Without the separation from the office and the commute, which kind of signals the end of a workday, it was even more challenging. I have a daughter, and I really value my time with her, and it's a constant juggle, but I prioritize what really matters."
Bright Future Roadmap
Lysbeth firmly believes in Coco Chanel's famous quote, "Luxury is a necessity that begins where necessity ends." Showcasing the ethos at Fox Communications, she always wants to deliver something truly aspirational, special, and memorable to her clients.
Keeping the same vision for the future, she plans to double the client roster as well as their team in the next five years.
Before the pandemic hit, the company had a steady growth road; with COVID-19's travel restrictions, it became difficult to travel. She says, "My goals are to up our global footprint, expand our US presence as well as our European one, and in future an outpost in Asia. We go where the market does, and the luxury sector is most certainly a global one."