Rahul Ranjan: Bringing unique experiences to you by blending art and technology with Palacio Inc.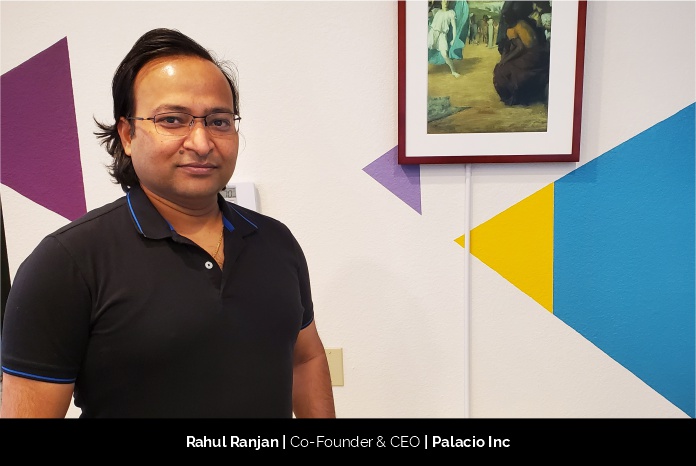 Having realized that technology is a great enabler for every aspect of modern life, Rahul Ranjan, Co-founder, and CEO of Palacio is using the latest technology to transform the way we look at art. With the mission to bring all forms of art including traditional art, photography, and digital art(NFT) to every space, he wants to continue his business's leadership position in both technology, innovation, and the way users can experience art via a different medium in the best possible way.
Dawn of the entrepreneurial journey
From Rahul's early childhood, he was always fascinated by art. He used to paint and participate in many local and state-level Art competitions. Even being a greenhorn in the domain, he deeply appreciated both the creative imagination and equally difficult task to carve it out on a canvas.
Due to family tradition, he opted for the technology domain. He completed his B-Tech degree in ECE from the Indian Institute of Technology, Kharagpur. Then, he progressed to complete his M.S in Computer Engineering from Wayne State University and attained his MBA degree in General Management, Entrepreneurship, and Strategic Financing from the University of Virginia – Darden Graduate School of Business Administration.
He stepped into the corporate world as Research Engineer at CDOT New Delhi. Then he climbed the ladder to grab different roles and gain valuable experience. Before Palacio, he worked in big corporations such as Intel, Qualcomm, TP-LINK, etc.
His last job at TP-LINK was full of excitement. TP-LINK smart home products were extremely competitive. However, due to growing competition in the space, market dominance was always under threat. TP-LINK always pursued standalone smart home product offerings, and the concept of ecosystem development was unknown. After multiple internal strategy sessions, he steered the executive team to grow smart home ecosystem partners.
He states, "I kept interacting with artists, collectors, and common users to find out if a technical disruption in art experience could propel growth in the entire art/creativity market, and the answer was "Yes." Convinced with that vision, I started Palacio in early 2017 with a mission to innovate in Art and Tech to bring." This marked the advent of his entrepreneurial journey.
Hurdles along the way
In Rahul's very first year, he decided to design all hardware components in-house, so he could have better control over the design, components, and sourcing, etc. However, time, effort, and budget required to do that made him rethink the entire strategy by the end of the first year.
He states, "Our hardware board was not stable, and investment required to make it stable within the required timeline was really huge. So, we decided to make only one circuit that had our core innovation-related features and outsourced the rest of the circuits to various vendors. We lost one year due to the wrong decision made around what to make in-house and what to outsource. From there onwards, we have been judicious about focusing on the areas where we have a core competency and where we leverage other companies/vendors so that we can scale in a timely & cost-efficient manner."
Another thing he learned along the way was about investment allocation. The team mixed long-term innovation in R&D with short-term time to market-related investments really well. However, soon after some iterations, they realized that everything could not be perfect at the launch.
To deal with this issue, he adds, "We made sure that we actively listened to customer feedback and incorporated improvements as part of our roadmap. The ability to manage short-term launches along with long-term R&D investment for market leadership has been very helpful for us. So not only we remain afloat but also keep our product/services best in class for all future offerings."
Redefining art and technology with Palacio
Rahul states, "We provide vertically integrated Art experience services both direct to consumers and enterprises such as offices, hotels, etc. Our customers buy Canvia digital Art canvases that are connected via Wi-Fi to the Canvia Art platform. Canvia is powered by ArtSense technology to help showcase realistic reproductions of the thousands of artworks on the Canvia Art platform, from old classics to contemporary artworks and fine photography."
He believes competition is always good for a vibrant market and better customer offering. In this segment, there are some big players as well as startups, and there is room for everyone to distinguish their own offerings via content or product features. More than looking at the competition, the team at Palacio listens to the needs of their art-loving community.
Taking onus as Co-founder and CEO of the company
Rahul expresses that his role is relatively easier as he is blessed with some incredibly smart and passionate team members. He adds, "I keep abreast with new market forces and developments. I make sure we discuss all aspects of new developments in the team meetings so we define robust strategy and execution plans. The team is focused on keeping a leadership position in the market, and my prime role is to make sure they are equipped with all the right tools such as investments, resources, clarity of strategy, and continuous communication. I definitely make sure that every team member gets personal growth opportunity as well while fully devoted to our mission."
Rahul marks his most significant contribution is to assemble exceptionally talented and passionate team members who love what they do. He expresses, "While our technology team consists of several pioneers in the technology field, content curation & partnership teams have several years of experience in leading Museums/galleries. My own experience in working at large scale strategy and product launches helped in both defining strategic decision-making and equally strong execution."
He believes that fueling a growing startup is a challenging job and requires long hours of time investment. He states that he is grateful for the support of his family and squeezes some time to enjoy special moments with his kids.
Future roadmap for the company
Rahul states, "In the short term, we have to continue to focus on innovating the technology side to provide a better experience of Art on our platform that includes patented technologies on core image processing innovations, supporting new use cases such as NFT(non-fungible tokens), secure content display and user experience interface designs."
Rahul is particularly excited about NFTs as they solve some of the fundamental issues for digital artwork market expansion such as the authenticity and scarcity of digital artwork. Canvia is taking a leadership role in the NFT market by providing a fully integrated and secure means for collectors to view their NFT collection on their walls instead of just their computers.
In the long run, they plan to work with galleries and artists to help them sell more artworks using integrated market models. They keep adding all genres of artworks to make their content offerings more exciting and diverse, so their customers have several options, and artists also get exposure to a variety of customers.
He adds, "We plan to offer our product/services to Japan and Australia this year along with scaling our operations in Europe and Canada."