Judith Virag: Believe in The Power of Clean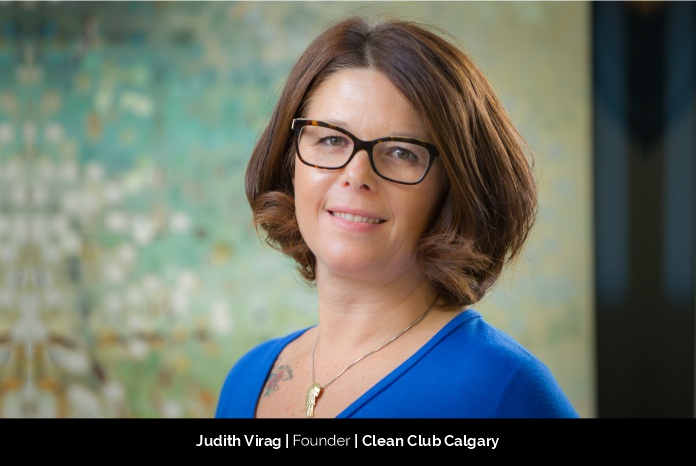 The current pandemic has changed the face of business operations. Sanitized environments, healthy working spaces, disinfected clean homes are now a priority. Judith Virag, Owner of Clean Club Calgary Corporation and a Certified House Cleaning Technician, is invested in cleaning and provides the right services that are today's demand.
From Hungary to Canada
Judith's family immigrated to Canada in 1989 from Hungary. She was 18. A language barrier, refugee status and coping with a new and foreign environment posed several challenges for her family. They overcame these hurdles with grit and made Canada their home. Today, they are proud Canadians.
Ordinary as it may seem, but Judith's journey has had a lot of interesting twists and turns. She has made a lot of courageous decisions in her life. The ability to make prompt decisions paired with pertinent problem-solving skills have proven to be a winning formula for her.
Judith worked as an executive assistant for 15 years in corporations such as Citibank, PricewaterhouseCoopers and the Calgary Flames. She took her love of accountability and combined it with her love of physical work to begin her cleaning business. She knew she wanted freedom, autonomy and accountability. What she did not know was that her love for cleaning would evolve into a thriving business. As an executive assistant, she garnered administrative skills which now help her to provide great customer service. For 12 years now, she has been in the cleaning industry providing service beyond expectations. She understands that running a successful business is a serious round-the-clock commitment.
Her inspiration stems from the expression– Clean home – Clean mind. She asserts that "Having a clean environment around will put you in a better mind space."
Clean Home – Clean Mind
Clean Club Calgary is a residential and commercial cleaning service. They provide an all-around cleaning service. "I like to say we clean anything that does not scare me. And there is not much that scares me", she jests.
With daunting parenting duties and professional commitments, cleaning is always put on the back burner and often neglected. This provides opportunities for the cleaning business.
Judith has built her business on her personal values and she expects her team to share them. They would like to be known as:
Trustworthy- the foundation of all two-way relationships

Responsible- their goal is to do the right thing, at all times, no matter the cost

Reliable- they promise to show up, on time, ready to work with a welcoming smile

Loyal- they focus on building relationships and maintain consistency of cleanings

Helpful- they are committed to making lives easier through collaborative solutions

Respectful- the cornerstone of relationships begins with mutual respect

Flexible- they offer flexibility in their service schedules.
Childhood Lessons to Cleaning Business
Growing up, Judith was an out-and-out tomboy. Her mother had a hard time keeping up with her, but she was consistent. Daily chores, including washing dishes, sweeping floors, mopping floors, taking the garbage out, were an inherent discipline within the family. This discipline helped Judith later and set her up for success in business and life. She is a member of the Canadian Residential Cleaning Council. Her tasks include educating her customers about a clean house or office. Moreover, she also helps and encourages her fellow solo cleaners into owning and leading an independent cleaning business.
Response to the Pandemic
Judith believes that the pandemic has changed people's views about cleaning. She was never a believer of 'quick wipe' before but now she has to educate her customers about the differences between cleaning, disinfecting and sanitizing. When the pandemic hit in March 2020, half of Clean Club Calgary's committed residential clients cancelled their cleanings. The commercial clients kept them in business. New strategies were a need of the hour. Clean Club Calgary's team members handle the work in PPE (personal protective equipment). This ensures client safety. Tools and equipment disinfection are of topmost priority. They have also implemented a separate COVID checklist, along with the regular cleaning checklists. Even after all these additions and improvisations, the cleaning costs have not been revised. Safety first is their mantra. Consequentially, business is booming. Judith confesses that this is not because of the pandemic but because of online ads and social media presence.
This pandemic has taught her several lessons. She has learned to view her team differently. She is always striving to be a better leader. She thinks of herself as a puppy that will never grow into her skin. Clean Club Calgary's team has not wavered during this pandemic and for that, she is super grateful. In turn, she is considerate towards them. Now when someone calls in sick, they need to get a Covid test. The sick days continue until the test comes back negative which could be a week or more. To handle these unpredictable situations, she has learned to be always on schedule and make quick decisions.
Managing Responsibilities
Judith makes sure to check her messages and bookings immediately. She starts her day by managing anything that comes up during the night. She then heads to the office, runs errands, or does site visits with some of the team members or clients. She has appointed a supervisor in the field who is responsible for managing the cleaning team. She also just promoted one of our cleaning team members to work in the office three days a week. Her responsibilities encompass everything from marketing, administration, scheduling, customer service to sometimes cleaning. She enjoys this variety. According to her, this allows her to complete a lot of different things every day and learn in the process.
Judith honestly confesses her struggle to maintain a balance in her personal and professional life. She always places her family first in all her decisions. Her business is secondary. She lands up working even during her holidays. She knows that this commitment comes with the territory. She cannot explain what drives her, but she is thoroughly motivated.
She endeavors to provide the best service according to the best of her abilities.
Transform Cleaning into a Higher Quality of Life
Judith firmly believes that Determination, Skill, Passion, Discipline And Luck are these key factors to be successful. She has always been a determined individual, an avid learner, passionate about her vocation, definitely disciplined and she did have some luck along the way, as she puts it.
She envisages Clean Club Calgary to be a million-dollar business in two years. June 2021, they will be moving to a new office. She is very excited about this progress. They will finally have a dream place with office space, storage and laundry facilities.
While taking Clean Club Calgary to new heights, she would also continue working with her business coach – growing as a leader.