Northern Sports Insight and Intelligence: Crafting Smart Devices to Make Sport More Safe and Joyful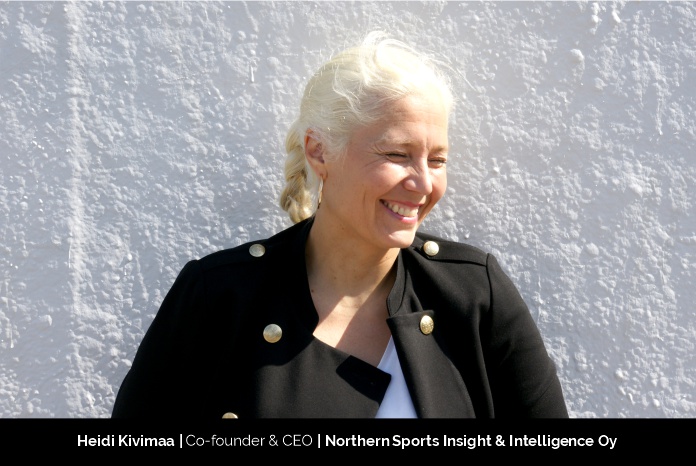 Established in 2017, Northern Sports Insight and Intelligence is a Finnish wearable technology start-up. The company is the developer of the ACT Head Impact Tracker, which is a head impact measuring device for sports.
Antti (currently acting as the Senior Advisor) and Jyrki (currently acting as the Neuro Consultant) was at an ice-hockey match and witnessed a nasty tackle. It led them to talk about how to prevent unnecessary head impacts from occurring. This sparked more ideas and discussions, involved more people, and eventually, they noticed that there was a group of bright people, right there and then, who could make a difference by developing an electronic measurement device for head impacts. The idea of the ACT Head Impact Tracker was born, and Northern Sports Insight and Intelligence was officially established to enable the development of the ACT Head Impact Tracker.
ACT Head Impact Tracker
NSII's ACT Head Impact Tracker is a simple, easy-to-use, and versatile head impact measuring device for athletes, coaches, trainers, teams, clubs, federations, and other sports bodies, as well as friends and families of athletes. It is designed to provide information. Information that is crucial to understanding what is happening, to whom, when, and where. Combining the data from the ACT Head Impact Tracker with other data (like video, visual tracking, etc.) opens a whole new world of information: what events preceded and led to the impacts, why and where exactly they happened, to mention a few. With the data, users can study the dynamics of potential hazards, and they may be able to cut down on the number of head impacts, increase the time between them, and maybe even lower their magnitude. The data can also be used to identify risk players and positions, and to assess and modify protocols, practices, training programs, and drills, for example. With the ACT Head Impact Tracker, it is possible to track the compliance with programs, rules, restrictions, and alterations, and measure the results and effectiveness of the actions taken.
Also, very importantly, the data from the ACT Head Impact Tracker can increase awareness and understanding of head impacts in the sports community and hence contribute to good sportsmanship and mutual respect between players and athletes. And when it is objectively proven that frequent head impacts may occur, the company hopes to inspire sports clubs and teams at all levels to deploy a protocol for head impacts. The company states, "We are just about to release our first version of the product and service. You can find more information on our website, www.act-tracker.com." The ultimate goal is to help the sports community to act on and prevent unnecessary head impacts.
The CEO: Heidi Kivimaa
Heidi Kivimaa is the Co-founder & CEO of NSII. Heidi has a background in sales, marketing, and branding in international companies like L'Oréal, Adidas, Mars, and Sinebrychoff (part of Carlsberg Group), where she spent her first 20 years after graduating from the Helsinki School of Economics and Business Administration. She became an entrepreneur and CEO when Northern Sports Insight and Intelligence was established in 2017.
Heidi finds 'CEO' as a fancy word for the one to keep everything going and enable the experts to work their magic. In a nutshell, she does all that is not on somebody else's plate. Other than management, Heidi also looks after relationship management, sales, and communications as the company is moving into the commercialization phase.
Heidi herself is a keen sports enthusiast and has a long history with sports like horse riding, ice hockey, and floorball, and a shorter one with alpine sports, basketball, soccer, krav maga, and handball. Nowadays, she loves to do a variety of sports, ranging from fitness boxing to dancing, much depending on what she can find to squeeze into her schedule after spending time with her family and Northern Sports Insight and Intelligence. "Doing sports has given me so much, it is incredible! But sure, I have had my share of head impacts in sports. So, the fact that I'm now working on helping to take their number down is the best possible driver and motivator for me. Even more so now, when I'm a mom and have a small boy. I want to do this for him, I want to do this for all the kids out there."
A Vast Market with Opportunities
Today, a variety of products and services are needed to ensure that the right solution is found for everyone. Hence, at NSII, the team welcomes the competition as there is no one-solution-fits-all to the issue. Sports are different, athletes are different, and the marketplaces are different. The company was born and bred in Europe, which differs from the USA in quite many ways. Not all the most popular sports are the same. European athletes do not wear mouth guards as often as their peers in the USA do. Schools and universities usually do not run sports clubs and teams for competitive sports, just to mention a few differences. Also, the regulatory environment in Europe is different when it comes to health and well-being devices. According to the company, many head impact measuring products and services in the USA today would be categorized as medical or diagnostic devices in Europe, because they may make risk assessments and suggest probabilities for concussion.
As per Heidi, the big picture is only starting to emerge. She says, "Ask me this question in 3 years! But for sure, we are constantly seeking ways to improve our products and services. There is more they could be, do and provide. The benefits of physical exercise are undisputed. We want to help athletes and their families feel good about doing the sport they love and keep doing it. "
More New Approaches to Avoid Head Injuries
Head impacts may cause traumatic brain injury. When unnecessary head impacts are prevented, traumatic brain injuries they may have caused are prevented. The company says, "We want to create awareness and understanding of head impacts, which we hope will result in good sportsmanship, increased mutual respect between the players and athletes, taking less unnecessary risks and help athletes to make better decisions while out there."
NSII wants to provide coaches, trainers, teams, clubs, and sports bodies' tools to gather data that can enable them to assess, develop, follow-up, and validate new and improved procedures and practices to prevent unnecessary head impacts, while maintaining the unique features of the sport.
Hard Work and Success
Heidi is quite proud of a lot of things. She feels proud of the NSII team for taking this journey and making it to where the company is today. It hasn't always been easy, but they are determined to succeed. She says, "I'm proud of us for giving it our all to achieve something we truly care about. To get this far, it took a lot of money, effort, sweat, and even a few tears. Surely a big THANKS goes to our valued partners and collaborators, we would not have made it without them." She opines, "A true source of insights and inspiration has been our pilot testers. They took the challenge and showed us that change is possible by demonstrating open-mindedness to the new, a genuine desire to make a difference, to grow and improve."
Partnering with people who believe in the cause
According to Heidi, the NSII team has a tall pile of paper with plans and things it wants to do next. They range from technical and electronic development to new features and functionalities in the software and cloud, including ideas for accessories and what more they could do to be ever more sustainable, including ideas for availability and giving back to the community, and so much more. Heidi says, "We aim to continuously improve user experience, comfort, safety, and develop concepts to help users gather, deliver, and use information. And sure enough, we still have a long road ahead of us to make our product and service available to users, also across different markets and internationally. "
Heidi believes in working hard and partnering with the right people. She asserts, "With the right, we mean with those who share our passion for making a difference, those who want to continuously develop themselves and the things they do, go further, aim higher and be better. Together we can grow and succeed. Together, we can help to prevent unnecessary head impacts. " She further adds, "Together we can help to prevent traumatic brain injuries. And those "right" people can come across anywhere. If you, dear reader, think you or your company would be "right" for ACT Head Impact Tracker and Northern Sports Insight and Intelligence, contact us, and we can find out together if we indeed are a match."