Ebbe Maretty Sønderup: Creating a One Stop Shop for All Types of Professional Fitness Solutions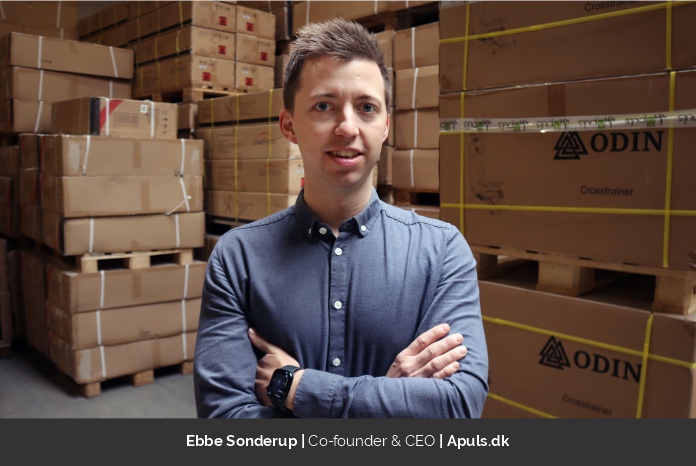 The expansion of the home fitness equipment market has been helped by precautionary healthcare and an increased inclination for tailored training regimes. People nowadays are more inclined to live an active lifestyle that includes regular exercise in order to maintain a healthy weight and reduce the risk of chronic diseases. People like to have a personalised exercise, so they hire online specialists and enrol in specific training classes to fit their needs. The need for home exercise equipment has expanded as a result of preventive and preventative healthcare, as well as individualised training regimens.
Leading by the motto "Will beats talent", Ebbe Maretty Sønderup and Daniel Hougaard started Apuls together 10 years ago for only $3.000. Ebbe aspires to provide a wide range of professional fitness services, including workplace fitness, hotel fitness, high school and after-school exercise, and much more. Apuls is a growing corporation with plans to extend its operations not only in Denmark but also beyond the country's borders.
Ebbe had no knowledge of company management or fitness. The two realised they needed to create a business. They failed in every manner conceivable for the first three years, but each time they stood up and tried something different. He says, "Eventually we got the direction set for the company, but still today we are not afraid to fail and change direction. It is an important part of our DNA in Apuls."
Ebbe's career started when he worked as a telemarketer for a few years. There, he learned an enormous amount about sales and customer relationship work. He recalls, "It was hard but very educational, and I found something that I was actually really good at." He further adds, "It clearly defined the direction my career took in the ensuing years." For many years, he worked as a salesperson in a variety of sectors, and it was this sales expertise that created the groundwork for my job at Apuls in the early years.
Both founders share strategic planning at Apuls, although Ebbe is principally responsible for the introduction of export markets, as well as ensuring their profitability and promotion in all areas. This necessitates a deep understanding of all of the company's essential figures, and he is continuously dealing with various types of data. Product development and organisation are two of Daniel's main tasks.
Inspiration to Become an Entrepreneur
Ebbe describes his and Daniel's excellent partnership as having given them the guts to take risks they would not have taken otherwise. As a result, they and the firm are now the leading exercise equipment suppliers in Denmark, with the ambition of becoming the largest in Europe.
Every great company has a period when it was managed from a basement or garage, and Ebbe and Daniel have experienced this as well. They spent two years in the basement of Karen and Erik Hougaard's house, Daniel's grandparents', and when Daniel asked if a friend and he could move down into their basement, they said yes without hesitation. It made a big difference.
According to Ebbe, during this time, the company really took off because they did not have any major risk in fixed expenses and could focus on growing the business. "It was also here that we started our own fitness brand, "Odin Fitness" and it has grown to be the brand in Europe within the fitness equipment area, with the widest product range," says Ebbe. Today, "Odin Fitness" has everything from a jump rope for a private consumer to the largest 8-station exercise tower for a professional gym.
Elaborating Success as a Leader
An effective leader, according to Ebbe, must be able to instil a supportive work culture. The simplest way to do this is for the leader to not be hesitant to admit when he or she has made a mistake. He has clear goals and works for a company that isn't scared to contribute ideas or make errors. He goes on to say that a robust strategy can be established that will be able to overcome numerous hurdles along the road.
A successful leader is, for Ebbe, defined by several parameters.
First, one must be able to set ambitious and clear goals. If there is no ambition to move forward, one will be overtaken. There are plenty of people who are willing to run fast, so you must run faster. The easiest way to achieve this is not by working additional hours, but instead by setting a goal ambitiously. You always hit in the direction you aim, so the target must be far ahead. Then maybe you only reach halfway to your goal, but if the goal has been ambitious enough, you have also come a long way.
Secondly, it is important to be able to create a great place to work. Good employees are a crucial factor if you want to scale a business, and here it is important that it is fun and that everyone feels that they can have a say and be heard. The best input rarely comes from consultants and external experts, but from the people who know your business from the inside. It is therefore extremely important that a successful leader listens to his employees.
Third, a good leader must create an organisation where no one is afraid to make mistakes. In Apuls, it is always OK to make a mistake, no matter how big the mistake, as long as we learn from it. If people are afraid of making mistakes, it will slow down any development. An organization that is not afraid to fail will avoid unnecessary worries about the challenges that will inevitably arise in an ambitious growth strategy.
Achieving a New Millstone Everyday
Every employee at Apuls understands that failing is perfectly OK as long as they learn from it. For example, any entrepreneur in a growth firm with such lofty goals will face cash flow issues at some point. After Apuls began to take up momentum, Ebbe and Daniel had liquidity issues as well, and if Ebbe had to select one incident that taught him the most business-wise, it would be this one.
He shares, "That time taught me a lot about business management, strategy, making well-considered decisions, and being very ambitious, but at the same time realistic about costs."
According to Ebbe, in today's internet environment, with so many options, marketing channels, and product options, it's quite simple to run into liquidity issues. This is especially true when COVID-19 and conflict break out in Ukraine. He discovers that having a well-thought-out approach that considers a variety of factors is critical in order to avoid making rash judgments when the world suddenly changes dramatically. As a result, Apuls' business plans usually include guidance for the best, neutral, and worst-case scenarios.
Ebbe's first accomplishment is to have developed a healthy and lucrative firm while having a lot of fun along the way, despite all of the early hurdles. Apuls' success story extends from being only present in one country, to now being present in 15 countries, with 22 more countries on the way within 9-12 months.
Ebbe mentions, "We closed the 4 countries again and spent the next 2 years on preparations. We switched ERP systems and webshop systems to ones that were built from the ground up for international trade." The company also streamlined its warehousing and customer service processes and prepared a large number of integrations between systems, to make the processes efficient and the data as transparent as possible.
Vision for Apuls.dk
With Apuls, Ebbe and his business partner, Daniel Hougaard, have big plans. Within 2-4 years, they hope to be Europe's largest fitness retailer. They intend to enter the American market as well.
According to Ebbe, Apuls' product line has to be broadened so that its "Odin" brand incorporates additional active lifestyle product categories such as swimming, wellness, outdoor, and cycling.
At a personal level, the most essential thing to concentrate on is striking a balance between major commercial objectives and family life. Mathilde and Benjamin, Ebbe's two adorable children, are his pride and joy. They are the reason he works so hard and is able to provide for them in the future. He says, "All work is wasted if I do not have time to be with them meanwhile. So it has to be in a good balance."
Defying One's Own Limitations
Since he was a child, Ebbe has always worked. His first foray into entrepreneurship came when he was nine years old and began cleaning shoes in a little kiosk at a fair. His father founded and directed the event, so it's no surprise that he had an entrepreneurial spirit. He recalls, "I did that every summer for several years, so entrepreneurship has always been a part of me and I have always been fascinated by building something from scratch."
Apuls has been a terrific entrepreneurial adventure for Ebbe thus far, and the best thing is that the journey is only getting better. He has not, however, accomplished everything he has aspired to, and he still has a long way to go.
Ebbe only sees this as a positive since it means he'll never stop dreaming big. He says, "You will never hear me say, 'I made it'."
All of Ebbe's experience has been self-taught, which is why he and his business partner have always concentrated on learning as much as they can from everyone they encounter. That, he believes, is some of the finest advice he can provide to budding company executives. He asserts, "Never be too clever to learn something from others, no matter what background they may have."