Michael Castro: Defending others in the digital world with RiskAware Cybersecurity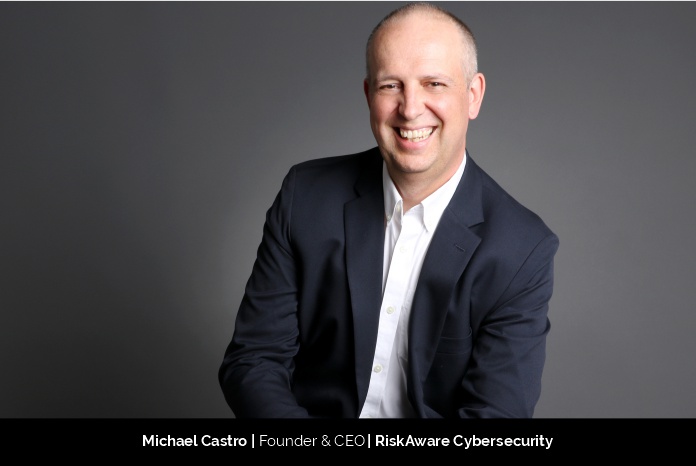 In this technologically advanced world, data is the key to reach new heights and grab new technologies. Hackers can easily exploit the loopholes in the security system and cause a lot of damage to any by misusing the data.
Being a cybersecurity and risk executive advisor, Michael released the gap of resources between the large and small and large companies to protect their data and privacy. So, to help the small and mid-scale businesses to get a fair chance to grow and protect their privacy, he founded RiskAware Cybersecurity.
The long journey to success
Michael got introduced to the term cybersecurity back in the '80s when it didn't even get its name. Having the fire to learn new skills, he graduated from McMaster University. Then he grabbed his diploma and MBA degree from Athabasca University. But the thirst to grow his skills and knowledge base didn't quench. He went on to grab the title of Certified Corporate Director (ASC) from Laval University and Chartered Director (C.DIR.) from DeGroote School of Business – McMaster University.
Before RiskAware, he spent 20 years in the corporate world to gain all the experience and hone his skills. He changed many titles that allowed him to get all the insights into the market. During this time, he also became a professional speaker and shared his knowledge with everyone around him to help them grow. He even served ten years as a front-line paramedic.
During all this time, he realized the lack of resources for small and mid-scale companies to protect their data. He states, "I witnessed many small and medium tier businesses not have the resources and capabilities the larger enterprises had. Yet they were just as vulnerable to attack or exploit."
So he took matters into his own hands and founded RiskAware. The company focuses on really helping the small and mid-scale businesses, startups and not-for-profit have access to the same skilled resources to protect their valuable data.
Collaborating all the skills to structure a well-defined path
From the start, Michael has a spark for technology. He states, "Being a practitioner and being an entrepreneur is not the same. As a technologist, it is not an easy view of problem-solving nor of seeing issues through the lens of a business owner or entrepreneur. I have seen those challenges early day as I worked to get the business off the ground. However, as a business executive in the corporate world, learning the business acumen, and seeing the business, helped me adapt to lead the growth within the company."
He took the challenges in a positive way and worked hard to find the right solutions to fill colors in his vision. Backed up by his professional experience, he was able to evolve in the industry and mark his presence with Risk Aware.
Revamping the industry with RiskAware
Michael states, "RiskAware provides all the capabilities. A full-time CISO would deliver for your business in a fractional or vCISO model. We help clients prepare for compliance audits such as SOC 2 and ISO 27001, conduct risk assessments, help manage entire cybersecurity programs. We also provide assessment capabilities testing of infrastructure or risk programs, privacy and awareness, and training."
He believes that the cybersecurity industry has changed dramatically since he entered the field. Every element of the domain evolves as time moves on. Attackers, methods, and impact have drastically changed as the monetization of the attacks has driven bigger and bolder attacks.
He adds, "As a small business ourselves, I have rolled up my sleeves and put heart and soul into growing the business. It has been hard work and dedication that has helped in building this organization." His vision was to make a company that will aid small and mid-scale companies, new startups, and growing industries to protect their data from digital attacks without spending loads of money.
The experts at the company understand the need for cybersecurity in today's world and handcraft unique strategies for every business according to their resources and needs.
He expresses, "Cybersecurity is less about competition and more about collaboration. There is a large shortage of cybersecurity professionals, with millions of jobs unfilled. We all fight the dame enemy in the hacker, just with a different set of clients."
Life as CEO and Founder
Michael states, "The fact that cyber-attacks are ever-evolving and growing drives the ambition to succeed and help our clients." He motivates the team to upgrade their knowledge base and think out of the box to prepare unique solutions for their clients.
He believes that the team has to strategize smartly than the attackers to prevent any damage to their clients. He expresses that he gets constant motivation by helping the ones that are in need in the industry.
Large corporate beasts have the resources to save themselves, but with SMBs, the industry does not play fair. So, to back them up and provide a fairground to grow, Michael keeps on ameliorating the services of his company to present the best solution to the clients.
As the CEO, he states, "A typical day starts at 6 am. After the onslaught of email and news to catch up on, it is about determining the impact of new threats for my clients, seeking new opportunities and discussion with potential clients, and ensuring that the days stays safe from new threats."
Other than helping growing companies, Michael indulges in a lot of volunteer work. He has the spirit to get something back to the community and help others in any way possible.
Future roadmap for RiskAware Cybersecurity
Michael believes that cybersecurity domain has no boundaries, so they need to grab every opportunity to help anyone who is in need. With hackers evolving with time, they have to evolve with them to protect their clients from digital attacks.
He states, "Our goals include growing the company. I am looking to continue to expand our reach with a focus beyond Canada and further expansion into the US and the Caribbean."