Matthew Chang: Disrupting the Korean Fintech Market with Pepper Savings Bank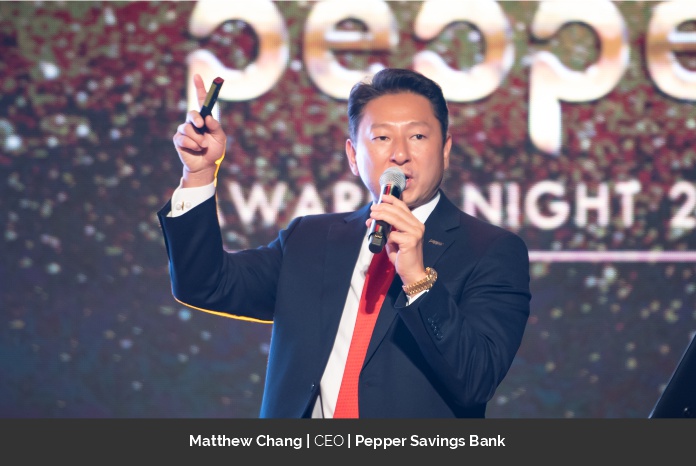 Matthew Chang, CEO of Pepper Savings Bank, is a determined banker who believes in balance in all things, especially in terms of Family and Health, and that happiness is the core basis of success.
In less than 10 years, he has taken Pepper Savings Bank from a mom-and-pop operation to one of the biggest and most profitable savings banks in Korea, a market that's known to be extremely difficult and competitive.
"We've laid the foundation for the transition to digital savings banks through the launch of the Digital Pepper app," said Chang. "We plan to further elevate users' satisfaction by continuously enhancing the Digital Pepper app centered on customer needs."
A distinguished career in the Financial Services industry
After acquiring an Ivy-League education from the Wharton School of University of Pennsylvania, one of the top universities in the world in business, Chang took a direct route to a career within the Financial Services industry. After graduating, he started his banking career at a small boutique bank in Beverly Hills, CA.
"After only two years, I was recruited to join Providian Financial, a medium-sized credit card bank in San Francisco, which got me into retail banking and Big Data management in the early 1990's," he recalls.
When Chang joined Providian Financial, the company had less than 700 employees. After 10 years of working there, it had grown to over 14,000 staff all across the U.S.
"What I experienced while working at Providian was the excitement of being part of an organization that was not afraid to think and act 'outside' the box, and to grow faster than anybody else," notes Chang. "The concept of 'challenger' has always intrigued me and motivated me to go to the next level. That was the motivation for me leaving Providian in 2002 and also leaving my next company, Standard Chartered Bank Korea, in 2008, so that I could pursue my dream of starting something from scratch and grow it as I envisioned it, which is what led me to be the CEO of Pepper Savings Bank in 2013."
As he rode the corporate ladder, from being a Financial Analyst, Finance Manager, and Credit Manager, to Marketing Director and SVP/Head of Consumer Banking, Chang recognized that he could really make a difference when he had more control of the business.
"I worked well within the organization that I was part of, but as I got more control of the business to the level of chief executive, I recognized that my effectiveness as a manager really shot up," he recollects. "It's the combination of years of learning on the job and, perhaps more importantly, seeing other people's mistakes over the years, so that I can steer clear of those risks and remain close to where I can succeed. I realized that the more control I have in doing this, the more effective I am as a CEO."
Building one of the top mutual savings banks in South Korea
In October 2013, Chang and his team took over Evergreen Savings Bank, one of the smallest savings banks in South Korea. In terms of total assets, approximately US$150 million, it ranked around 70th out of 79 total mutual savings banks.
After the take-over, they changed the name to Pepper Savings Bank and developed it into one of the top 5 mutual savings banks in terms of total assets with US$5.2 billion.
At the time of the take-over, the bank had a total of 27 employees with two branches. By the end of 2021, it had a full-time staff of 550 employees and an additional 700 contract-based Direct Sales Representatives that market its various loan products. It now has 5 branches with the headquarters in the Bundang region, the Silicon Valley of South Korea.
Pepper Savings Bank offers a full spectrum of loan products and deposits, including Unsecured Personal Loans, 1st and 2nd Lien Mortgages, Auto Financing, SME and Corporate Loans, and Special Project Financing.
With its competitive loan products, the Bank has established itself as a premier lender in retail Household Loans and non-conforming mortgage loans to self-employed individuals.
In less than 9 years since the take-over in 2013, the Bank is not only one of the top 5 mutual savings banks, but also a leader in ESG, CSR, Bank Compliance, Employee Satisfaction.
Disrupting the Korean Financial Services Industry
Even with less than 10 years of existence as Pepper Savings Bank and a total asset size of US$5.2 billion, a mere fraction of that of big national banks (avg. US$350 billion), Chang believes that Pepper Savings Bank is poised to challenge the champion banks and go after their market share.
Leveraging its technology and being nimble and fast to target and focus on the younger population in their 20s and 30s, the Bank is making a difference by becoming a disruptor in the marketplace and forcing changes within the Korean Financial Services Industry.
In 2021, Pepper Savings Bank became the owner of the expansion franchise, AI Peppers Team in Women's Professional Volleyball League in South Korea. The team's hometown is Gwangju City, which is quickly becoming recognized as the "AI" city within Korea, as well as in the Asian market. This complements their long-term strategy to become an "AI" bank with new technology and digitalization.
With the ownership of AI Peppers Volleyball Team, which focuses on utilizing Analytics and Data Management to improve team performance, Pepper Savings Bank's strategy is to quickly change its DNA to Digital and Fintech to compete in the new digital world which is rising with the millennials.
Having witnessed firsthand changes in the paradigm of the banking sector, where having thousands of neighborhood branches are no longer "convenient" for the younger generation, Pepper Savings Bank is firmly focused on digital banking, online App, automated process, AI Ops, teller-less branches, consolidated view (financial), etc. to make a difference.
"In this new age of banking, innovation is the new heart that pumps blood into existence. We may not need to be the original innovator, but to succeed we feel we have to be at least the first adopter in innovation," says Chang.
Becoming a major Fintech player with the Digital Pepper app
In the age of digitalization, Pepper Savings Bank is striving to be one of the major Fintech players in the market by converting many of its functionalities into digital and online.
Having introduced its original Online Digital Banking App back in 2018, it subsequently launched a digital banking app 'Digital Pepper' in February 2022, an advanced version created with AI and machine learning. Digital Pepper will enable Pepper Savings Bank to compete head-to-head with the best-in-class competitors, as well as the major national banks that dominate the market.
Pepper Savings Bank's goal is to provide optimized services to customers through the Digital Pepper app, developed under the slogan 'Fair and Perfect with Digital DNA' and designed with an intuitive user interface to arouse consumers' interests and maximize convenience.
With the latest design trends and intuitive UI images, users can easily find services fit for their needs in the Digital Pepper app. It is equipped with functions such as non-face-to-face account establishment, simplified authentication service, simplified transfer, and automatic screening services for credit loan payment.
Customers can receive higher interest benefits when opening accounts for deposit and withdrawal through easier and quick non-face-to-face real-name verification. They can easily and safely log in and use electronic signatures through patterns, pin numbers, and bio-authentication.
The app is also equipped with a simplified transfer service so customers can easily transfer money to members of KakaoTalk, the largest messaging app in Korea, even if they don't know their bank account numbers. Users can easily check the bank limit, apply for a recommended loan product, and transfer money all at once.
The first savings bank to provide a non-face-to-face mortgage loan service
Pepper Savings Bank is the first savings bank to provide a non-face-to-face mortgage loan service. Individual business owners can check the market price of mortgage loans through a 'Simple Inquiry' function on the app, apply for a loan, and even set up an electronic registration. The full end-to-end process from loan application to final disbursement after perfecting lien registration on the house can take as little as 30 minutes. "For a mortgage loan to take as less than half an hour to apply and have the money in your bank account without ever visiting a branch or even talk to anyone is a game-changer within the mortgage industry," says, Chang. "All you need now is your mobile phone with the Pepper Digital App to apply and receive a mortgage loan in minutes instead of days."
Through Pepper Life's open-banking service users can use financial services in their daily lives, view all of their accounts even in other banks, transfer their balances from another account if necessary, inquire and manage their credit scores free of charge, and access their credit analysis reports.
Pepper Life also provides an alert service for users' credit lines and a real estate market inquiry service. Users are notified of their credit lines regularly without having to check, and identify the house prices from apartment to multi-household house by simply entering addresses.
The goal of being 'Fair and Perfect' in everything
One of the top company mottos for Pepper Savings Bank is to be 'Fair and Perfect.' "In everything we do, I want us to be 'Fair'," says Chang. "Be fair to our customers, be fair to our staff and be fair to all of the counterparties and related parties."
Chang believes that while being 'Perfect' is a lofty aspiration, they must strive to be 'perfect' especially in operations and avoid making mistakes and errors that could damage the bank.
"While we try our best to live up to our motto, we do not always succeed," he admits. "However, as we continue to improve ourselves over the years, I believe we're going in the right direction. And sometimes, someone will make a comment about us such as 'Hey, that's the bank known to be fair and perfect. That's Pepper Savings Bank!' That's the best recognition I can think of as the leader of Pepper Savings Bank."
Chang's vision for the company is to be a long-sustaining organization that creates real value for customers, a great and proud place to work for from the staff's perspective, and an investment destination that provides consistent and high return to shareholders.
"As the chief executive, I intend to see through this simple vision for the long run so that even after I'm gone, our stakeholders continue to benefit from the Bank," he declares.
Happiness is the measure of success
For Chang, happiness is his measure of success. "Over the course of my life, I thought of success in many different ways," he recalls. "Initially, it was materialistic things, such as money, cars, houses, etc. Then, as my life became more complex, with family, career, friends, I realized that life can and will have many successes and failures. What's important at the end is 'how Happy am I with my life."
Chang realized that knowing what was really important to him simplified his life and gave him clarity on what he needed to do to be happy. "As opposed to going after things that I thought made me happy, such as money and cars, I realized that things such as family, health, long-term career, friends, and being a positive impact on people around me are what made me happy, and that happiness is the core basis of my success," he states.
Creating a good work-life balance as a leader
Even though his professional life was fairly straightforward from the beginning, Chang considers his personal life as much more diverse and eclectic.
"In my younger days, I studied hard and well, but I always enjoyed sports and having fun with friends," he recalls. "I studied enough to attend and graduate from an Ivy League school, but had so much life outside of school, to the point where many people questioned whether I really went to a 4-year university. I always prided myself in having a good balance between the academics, career, family, and just having fun."
Chang believes that is what keeps him so energetic and full of enthusiasm in whatever he does. "Because I believe I still have so much to grow and develop in many areas, I am motivated and hungry to reach the next level at everything I do, whether it's my professional career or a round of golf," he states.
Chang's normal day involves checking and answering emails in the morning while going to work, getting his morning coffee and attending meetings throughout the day. On most nights, he returns home around 10 pm and tries to work out 2-3 times a week, which gives him the break he needs from the office.
He also applies this balance to his staff, keeping younger employees motivated by giving them specific short-term and long-term goals, following up by helping them achieve those goals with a reward attached to each success. For senior staff, Chang considers goal-setting and performance as important, but he tops that with their long-term plans and even their retirement plans.
"In these discussions, family and health usually are a big part of the plan, which is why 'F&H' (Family and Health) is one of the key pillars of Pepper Savings Bank's corporate identity," he says.
Leading Pepper Savings Bank into the future
As a determined leader, Chang believes in accepting the fact that he will always have roadblocks in life and business, and constructively dealing with them.
"I consider that roadblocks are part of BAU (business as usual) and always having the attitude that I can overcome any roadblock gives me the strength to beat it," he states. "Also, when planning for the future, anticipating what potential roadblocks, hurdles, and challenges has huge psychological impact when things really do start to happen, means we are better prepared for them."
Chang's responsibilities as the CEO of Pepper Savings Bank are fairly structured, having set a 5-year Plan for the Bank, followed by yearly goals for the next calendar year broken down by each department. He follows that up with monthly action items and weekly updates of execution and daily interaction with the staff.
"When I started Pepper Savings Bank in October 2013, the Bank was a simple mom-and-pop operation with less than 30 staff," Chang recollects. "In less than nine years, the Bank has developed into one of the biggest, most profitable savings banks in Korea."
Chang believes that getting to where they are today has put the bank in a position to play and compete against the best-in-class financial institutions, not just in Korea but globally.
"My plan is to continue building Pepper Savings Bank into a truly unique organization where customers are happy to get their financial services from us, where employees are happy to work for us, and where shareholders are happy to invest their money with us," he states. "I started this journey in 2013, and I intend to continue on this journey until I retire, making sure that this organization continues to grow while protecting my customers, employees, and shareholders. And do all this while looking after our Family and Health."
Chang's advice to younger, aspiring business leaders is to always have a "long" view of where they want to go, and then become "great" project managers to achieve all those short-term and medium-term goals.
"Not everyone needs to be the CEO of Citibank to feel successful in their professional lives," he states. "I also felt initially that I had to be the leader of some great company, but once I realized what makes me truly happy, my goals became much more meaningful and realizable. And somewhere in that line of thinking, Family and Health were always on top of mind."