Marwan Mery: Professional Negotiator on a mission to create Significant Impact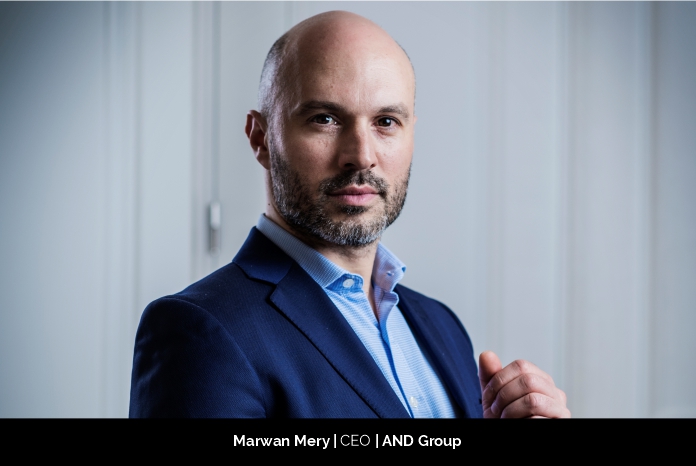 A world-renowned negotiator, Marwan Mery is the founder and CEO of ADN Group, who carries core competencies in complex negotiation, behavioral analysis, conflict resolution, lie detection, confidence, and how to surpass limits. Having earned recognition by the international press, he and his team work as professional negotiators in different cases such as kidnapping and ransom, extortion, suicidal persons, merger and acquisition, major social conflicts, diplomatic relations, and commercial negotiations with high stakes for top-level organizations around the world.
Marwan manages everything from Paris headquarters and ensures the maintenance of all the critical cases. As per Hollywood reporter, Marwan Mery is among the top negotiators in the world.
Under his leadership, the ADN Group has emerged to be the first global network of professional negotiators. Over the years, he has authored several publications and taught at specialized universities. Marwan has also been keenly involved in a plethora of charitable institutions to promote negotiation skills in children, women's empowerment, and supporting Frontline negotiators.
Thriving under Inspiring Leadership
Running a company requires immense precision in everything; nothing can be taken for granted. At ADN Group, all the teams strive hard to consolidate all the activities via their commitment, expertise, and excellence. Marwan shares, "ADN Group was created at a time when businesses, government organizations and/or private individuals had to deal with major conflicts on their own, without necessarily being equipped with the skills or resources to come to a peaceful outcome. The majority of people consider negotiation to be a soft skill when in reality it is a very technical and demanding field of study, and a profession based on expertise." In this way, their special complex negotiation expertise came into play, and they were able to get desired results.
Their work diversity indicates their necessity, and that's why they never let anyone down. He adds, "During the first eight years, we trained thousands of people, in France and around the world, in complex negotiation and corollary subjects such as stress management, leadership or mental preparation."
Conquering New Challenges Everyday
For Marwan, every single mission accompanies a unique set of challenges. Owing to their tricky job nature, people reach out to them only when classic negotiation methods aren't working or have reached their limit in contexts that can be very complex.
Since their main dealing as a negotiator happens with "the human," who is a complex, unpredictable being, understanding and relying on everyone becomes a constant challenge. He further mentions, "No mission is the same and no trained participant will have the same profile, background, or needs as anyone else. In the end, it is the unforeseeable nature of our work that allows us to surpass ourselves, each day, to achieve excellence. What we deal with on a daily basis is our capacity to adapt and grow as every day is completely different from the next. We learn what cannot be taught."
Unique and Innovative services of ADN Group
Established in 2013, ADN Group is a world-famous international agency of professional negotiators and reputed experts. Holding a unique model to solve all types of negotiations, be it critical – such as hostage-taking, kidnapping and ransom, extortion or suicidal persons – commercial negotiations, social conflicts, diplomatic relations, or even medical non-observance (where patients with a chronic disease refuse to take their medication).
Since negotiation lies at the heart of their job, more than 500 clients, including UN, LVMH, Pfizer, Total, Disney, Nespresso, Coca Cola, JP Morgan, L'Oréal, Microsoft, Procter & Gamble, Rothschild, Sony, Nestlé, country presidents, ministers from around the world rely on ADN Group to accompany them in their complex negotiations and train them in either English or French. Along with this, they also have hands-on experience in dealing with corollary fields such as stress management, lie detection, and/or conducting an interview. In the words of Rabih El-Haddad, Director Of Multilateral Diplomacy of the United Nations, "ADN Group offers flawless services, regardless of the mission they have been mandated to deal with. These virtuosos in negotiation use an ingenious and innovative approach which makes them unique."
Apart from negotiation, AND Group also caters to supporting different charitable organizations like ADN Kids (More information on www.adn-kids.com) that trains children in negotiation to fight against bullying and violence at school, or ADN Women that facilitate women's empowerment using different negotiation techniques (leadership, strategy, etc.) Marwan adds, "ADN Group also has prestigious partnerships with the United Nations Institute for Training and Research (UNITAR) and the Centre of Competence on Humanitarian Negotiation (CCHN) to help bring technical support to negotiators working for the world. Our entire job is based on helping others."
Marwan believes that to shine in the management consulting domain, recruitment is everything. He shares, "We receive dozens of CVs every month. We recruit based on two requirements: a high level of performance and a high level of confidence. The demanding nature of our missions will soon reveal if one of these requirements is missing and we will be aware of it immediately."
Infusing the power of the latest technologies
Negotiation is fundamentally based on human relations. Technology has allowed them to develop tools that can help with decision-making. ADN Group's digital tools can help assess someone's level in negotiation. For example, the NSTAA© (www.nstaa.com) helps assess one's skills as a negotiator. ADN Insider© (www.adninsider.com) helps one get to know one's negotiator profile.
Marwan adds, "We have also developed tools that we use, internally on our missions that can help for example establish a negotiation mandate or construct a map of the actors and their level of influence in the negotiation. ADN Group has united skill and talent. Each one of our experts ensures the quality of their services on a daily basis, relying on their knowledge in transmission and their expertise in the entirety of their subjects. This strong basis, that is both operational and excellent, is ADN's signature and the guarantee of a long-lasting action."
Steering the company on its core values
Marwan has structured the future path of the company on three strong cornerstones, namely, excellence, protection, and transmission. From top-tier to bottom level, every employee resonates with these core values. At ADN Group, all teams are dedicated to the sole mission of being capable of making a huge difference and being able to negotiate the best possible solution for all parties involved without compromising any of the values. Marwan measures success with the impact they make on people's lives who reach out for help.
The in-house team carries out missions on a daily basis, not only operational missions but also training courses and conferences, and therefore there is no room for compromise. It is of great importance to the entire group to offer services of the highest quality, and the teams give great attention to every detail. The team realizes they need to stand out of the crowd to make a difference, so they have cultivated their difference by striving for excellence in even the smallest details.
Transmission is at the very roots of the ADN Group. This is what has established their legitimacy over the years. Marwan mentions that transmission holds the lion's share of their work owing to the fact that it offers them the opportunity to share their expertise and succor other people in becoming more autonomous and better prepared to face adversities boldly.
When it comes to protection, ADN Group has cultivated a mentality of mutual aid and support, which privileges an altruistic vision of solidarity, open to the world. By getting involved in organizations and with people living in complex situations, they have made all their resources available to help find solutions that respect their identity and their autonomy.
Marwan expresses, "All ADN Group's work is based on these three principles. These three fundamental values encourage us to pacify relations using negotiation: we can all possibly change the world and make it a better place, each with our own level, technique, and determination."
Evolving in a pandemic stricken world
The COVID 19 pandemic had a huge impact on many major players in the economic world. Marwan says, "This unprecedented situation created a major crisis: all our teams were very solicited at this time." However, he stayed patient and worked his way through pushing the team to adapt to new changes to answer their clients in the best possible way.
Following an out-of-the-box approach
When it comes to fuel the growth of his company, Marwan likes to follow an unusual approach that involves a more hands-on approach. Rather than sitting in the ivory towers, he likes to indulge in action and connect to the world. He adds, "I still spend 50% of my time on the field dealing with complex situations and carrying out difficult negotiations. The rest of my time is spent transmitting knowledge in training courses, conferences, writing books or teaching at specialized universities in France and overseas. I am assisted in operation team management by Silvia Bravard, a professional negotiator. Management only takes up 5% of my time. The rest of it is spent with clients."
He ensures that the company's values are imbibed at the heart of their savoir-faire and interpersonal skills. After all, it is the consistency of their actions and the excellence of the execution that yields higher success.
Under Marwan's leadership, the ADN Group organizes World Negotiation Day with the UN at the Palace of Nations in Geneva every year. He adds, "I'm proud the UN reached out and that our expertise is acknowledged by such a powerful institution, committed to negotiation. It is a really powerful acknowledgment for the ADN Group"
Being a firm believer in the adage, "The human body has been designed to resist an infinite number of changes and attacks brought about by its environment. The secret of good health lies in successful adjustment to changing stresses on the body," Marwan follows a strict regime to keep his mind and body fit. He indulges in sports twice a week, takes a healthy diet, and keeps 2-4 hours every week for self-assessment and improvement, where he completely disconnects from his work. This allows him to re-energize his mind and body, take a step back from the stressful life, and communicate with different people around the world.
Knowing the importance of balance between the professional and personal front, he aims to create a sense of balance in the lives of his team members so that they feel professionally satisfied.
Marwan states, "I give them time to do sports during work hours, I am flexible with their time, they are paid well and we have seminars where we all meet informally. If people feel good at work, they push themselves. I think that is the case in our organization."
The next milestone for ADN Group
Marwan wants to seed constancy deep in the veins of the ADN Group. From execution to values, everything should be based on constancy. He expresses, "I have always thought that we only really get to know people in adversity. It is easy to remain cool when everything is running smoothly. But when everything breaks down then you really get to know who you can rely on. The day we have to compromise on our values is the day ADN will die. It is then that we will lose our client's trust."
Pearls of wisdom
Marwan urges aspiring business leaders to never add limiters to their potential just by looking towards others. He expresses, "How many times have I heard, "I'm giving you this mission, but I don't know what you will be able to accomplish, seeing as there is no solution to this problem." Do not allow yourself to be contaminated by other people's thoughts. If you really are an expert in your field, you will succeed where others have failed. That is your best advertising."