Fleur Van Wely – Helping Businesses Find Their Next Sales Destination in Europe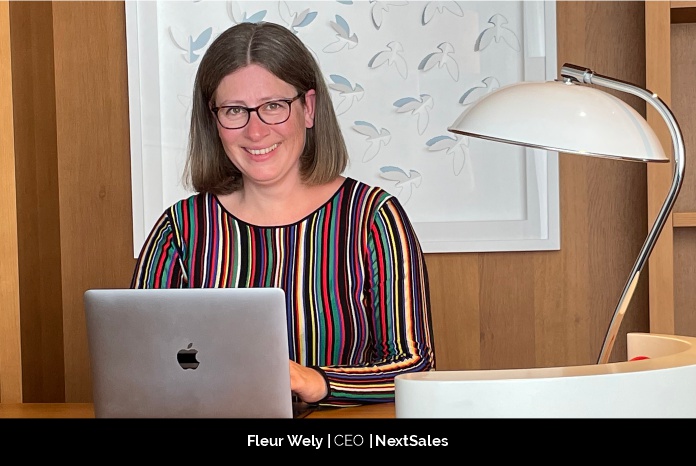 To succeed in European markets, organizations must win the trust and confidence of local businesses and customers. Companies planning to expand overseas either send their best to conduct a preliminary analysis or partner with local distribution channels. Unfortunately, these strategies are time-consuming and expensive and fail to realize the above objectives. Therefore, it makes perfect sense to hire local business partners whom clients and customers trust and who possess the required expertise in sales and marketing. Today, we introduce you to Fleur Van Wely, the unassuming CEO of NextSales, a company helping multinationals build and sustain trustworthy commercial relationships across Europe since 2011.
When Life Gives You Lemons…
Fleur's parents owned a petrol station, but she dreamt of becoming a flight attendant. However, after completing high school, she agreed to work at the station as her parents needed help, but optimistic Fleur saw this as an opportunity to learn. She learned how to hire, train, and lead a B2C business team besides performing other duties. In 2003, when her parents sold the petrol station back to Shell, Fleur started her marketing management education. After graduating, she started working at a sales outsourcing company to learn the tricks of the B2B business.
Fleur's personal and professional life was nothing short of a rollercoaster ride, but her optimism and perseverance helped her sail through the roughest of waters. She adds, "Facing challenges has made me more resourceful and taught me that there is always a way, no matter how terrible it may seem."
The Birth of an Idea
It is a truism that some people are destined to be entrepreneurs and entrepreneurship blood ran thick within Fleur's veins. So naturally, working for a boss didn't appeal to Fleur; hence after working for many big corporations, she decided to follow the entrepreneurial path with all its challenges.
Many companies believe replicating the same formula that helped them become successful in their country of origin would work everywhere. Unfortunately, that is not the case. The EU is one of the largest internal markets worldwide. A common aspect among all businesses is that they only prefer to do business with companies and people they already know. While large corporations typically solve this issue by hiring lobbyists, smaller firms find the same expensive and unachievable.
Fleur saw this as an opportunity, and this is where the idea of NextSales was born.
About NextSales
NextSales helps multinationals expand their business in Europe through its EU-wide network of senior executives: The NextSales Ambassador Network.
The first step of any NextSales project is to quickly scan Europe to shortlist the countries with the best opportunities. It then conducts a market scan to generate more specific insights. The results form the basis for lead generation. Here, NextSales either sets up meetings, and the clients perform the follow-up themselves, or it supports clients through the entire sales cycle through the sales outsourcing model.
For many years after it started in 2011, NextSales used cold calling to reach potential clients. However, with many suppliers approaching daily, clients soon became reluctant to start a conversation. That is when NextSales decided to start the Ambassador Network consisting of experienced and well-connected people willing to leverage their relationships to set up meetings for clients. Their approach soon proved fruitful when in 2018, it became mandatory for every company willing to do business with European citizens to comply with the GDPR. Competition soon followed suit. But Fleur remains unperturbed by competition, even when it tries to copy their strategies. Instead, she takes it as a compliment. And since the world is constantly changing, so does their strategy. She adds, "We connect with many people worldwide, and staying up to date is critical. We always keep an open mind and eye for what is going on globally and how our business should change with it".
NextSales supports clients with complex offerings that one cannot sell through a website alone. On the other hand, clients are also willing to invest money and effort to help create a successful sales process. By forging a friendly relationship that benefits all, NextSales has been able to form a vast base of happy clients, most of them several years old.
NextSales also helps clients build a website in different languages, write relevant content, conduct (virtual) B2B events, and organize social media campaigns.
One Word That Best Describes Fleur
'Committed' is the word that best describes Fleur. She is committed to being successful for her clients and everyone involved with NextSales. During a typical day at work, she is constantly juggling several client propositions. One moment she is talking to a client from the US offering a learning management solution. The next moment, she is busy discussing the best way to respond to a tender about dispatching solutions for fire brigade, police, and ambulance with a consortium of companies NextSales supports.
Fleur is also committed to offering the best services to clients. She explains, "Our clients sell complex products and services, which makes our work complex too. So, you have to keep yourself focused, be mindful of what you are doing, who you are speaking to, and about what. It is not easy, but it is also never dull as I love my multidimensional role".
She is committed to acting in her clients' best interests. She adds, "NextSales only agrees to a project if it feels it has the right network to support a proposal that offers something unique."
"All Work And No Play Makes Jack A Dull Boy"
No matter where Fleur is, she is always working, and during Covid, she worked without a break. However, she realizes it isn't the best practice and that she, too, needs to take a break time and again. As such, Fleur not only encourages her people to do the same but also holds recreational events. "There is time for work, but there also needs to be time for fun", she says.
Plans for the Future
The world will never be the same it was before Covid. People will think twice before getting on to a plane to have face-to-face meetings. It presents NextSales with an excellent opportunity to help businesses looking to expand and succeed in Europe. In her words, "Leveraging the Ambassador Network for connecting with their target audience is something many prospects like when we start our business discussions. It helps us make efficient use of time and connect with genuine buyers. My goal is to expand this network worldwide".
"My personal goal, apart from preparing, eating, and sharing food, is to share my experiences with and train others to become better at sales. I am currently working on a project with one of our ambassadors in Luxembourg that aims at training students to become entrepreneurs. Although I had some doubts when I began, starting NextSales is the best decision I have ever made".