Marco Oleotto: Leading Clean Swift to Become the Solution-Of-Choice in the Middle East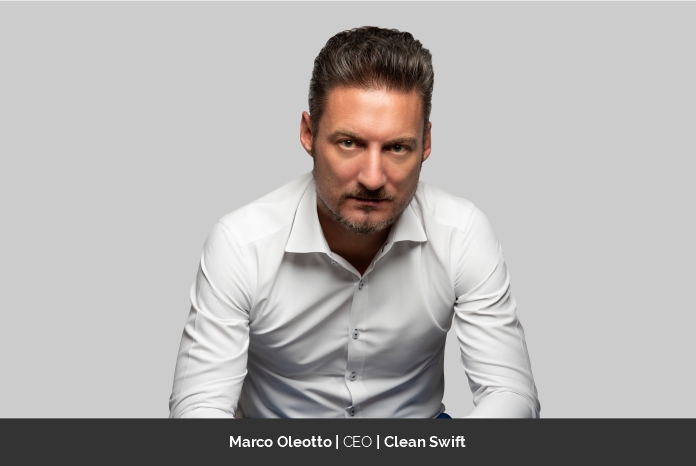 Driving companies through change through the pandemic requires the ability to lead, inspire others, and rise to challenges.
Marco Oleotto, CEO, Clean Swift Co LLC, is a professional with over 20 years of rich experience in textile and manufacturing, industrial laundry field, facilities activities and B2B/B2C businesses.
His professional experience embraces most executive areas and top management positions right up to role of Chief Executive Officer, contributing to the growth and success of 4 different companies in the last 15 years.
As a thought leader with exceptional planning, leadership, and management abilities, Oleotto not only brings a proven track record, but his insights into the future to drive companies through change.
Discovering leadership as a true calling
Oleotto grew up in a small town in Italy, but that didn't stop him from dreaming big. He wanted to gain global exposure, spearhead innovation, and be a leader. With an analytical approach to problem solving, he developed the confidence and capability to cut to the chase where appropriate.
"I hold a diploma in accounting, but at a very early stage in my career, I realized that my aspirations went beyond a desk job. I began exploring managerial options in the business world and found myself in the laundry and hospitality sector," says Oleotto.
Today, he has hold over 20 years of professional expertise, having worked his way up to the position of CEO of a tech-driven, premier laundry solutions provider in the UAE.
"I had little knowledge about this industry, but I had an appetite for learning," says Oleotto. "As I grew into leadership positions, I knew it was my true calling. I was constantly looking at new ways to improve myself and my team, foster a culture of growth and agility, adopt a strategic mindset and maximize revenue. I have the ability to analyze company needs and create unique solutions designed to yield a profitable outcome by streamlining processes and procedures to boost productivity and sales."
Oleotto discovered that he had the leadership skills to motivate, engage and deliver through people at all levels, both internally and externally, using his passion, clear direction, and relentless drive for excellence and results.
"As the CEO of the company, my leadership style is very hands-on and proactive," he says. "Instead of following a closed-door policy and just limiting myself to high-level decision-making, I believe in being involved at the ground level to best understand the needs of my employees and business."
Rising through the ranks at Clean Swift
Before joining Clean Swift, Oleotto worked in several managerial positions specifically as General Manager and Operations Director across Dubai, as well as Europe for over a decade.
"I started my career in IT and telecommunications and briefly worked as a Financial Executive before I switched to the hospitality sector," he recalls. "I have always been open-minded about taking on new roles and trying out new things based on my interest areas. Clean Swift happened to me quite by accident but since I joined the team there has been no looking back."
Clean Swift's story goes back to 1999, when the company was set up as a small firm in Dubai. From almost a family-sized business, the company grew to a mid-sized organization serving local hotels, GCC customers, and establishing trust and goodwill in the industry.
"In 2009, Clean Swift was acquired by a major investment bank, and this was a turning point for the company," says Oleotto. "We began expanding our clientele, improving our solutions, and refining day-to-day business."
With 15 years of international experience, Oleotto joined Clean Swift in 2013 as the Operations Director, with ambitions of further adding to the growth of the company. In 2015, he rose to the position of General Manager, and by 2018 he was the CEO of the company.
"It has been an overwhelming journey so far, but today Clean Swift is the foremost laundry services provider in the UAE catering to some of the most elite hotel chains," he explains. "We have earned a reputation for our strong legacy, up-to-date laundry technology and superior customer service. Clean Swift has exhibited year-on-year growth and as a leader, this is just the vision I had for the company when I came on board."
Offering top-notch laundry services in the UAE
Today, Clean Swift has been recognized by industry experts as the top 10 Companies in the Middle East.
"In the past, while we handled 12 tons of daily business, and today the company handles over 70 tons of load per day," says Oleotto. "The journey from 60 employees to 300 has been a huge transition and takes constant dedication. My passion for my work is what keeps me going and acts as the biggest driving force to ensure Clean Swift experiences year-on-year success."
Clean Swift is now one of the most renowned laundry and textile solution providers in the UAE and the partner of choice for some of the biggest names in the retail and hospitality sector, including several prestigious and global fashion brands.
"We are talking about precision washing techniques, the highest quality detergents, and improved ROI on linen investment," says Oleotto. "But that's not where it ends. Since we are focused on a customer-centric model, we offer a quick turnaround time, competitive pricing, and basically everything that makes our client's life easier."
Clean Swift's obsession with quality, whether it's their technology implementations, client services, or supply chain, has made them determined to offer nothing but the best to their customers. Their longstanding presence in the industry adds to their valuable experience and allows them to always put their best foot forward.
"What sets us apart is our foresight and drive to always stay one step ahead of our competitors," says Oleotto. "For instance, all our solutions are designed to be eco-friendly, support low impact washing processes, tap into solar energy, and reduce water consumption. Our high ratings by Hohenstein Laboratories, the world's distinguished textile laboratory, for our expertise in keeping fabrics white, bright, and hygienic, stands testament to our top-notch and matchless services."
Oleotto observes that smart technology has proliferated into every phase of our lives and the laundry business is no different. Some of the biggest advancements in laundry technology can be seen in the form of IoT-based industrial washers, automated laundry management systems, and cutting-edge polymer bead technology.
The commercial laundry market is expected to grow significantly in the coming years due to rapid expansion in the hospitality industry and convenient full-cycle laundry solutions approach. Keeping the current market needs and future impact in mind, Clean Swift only uses best-in-class laundry technologies.
"Most of the workflow process at Clean Swift has been automated for a high-quality finish. Our systems offer real-time information into dosing and washing processes, helping us maintain the highest operational efficiency and optimal results," says Oleotto, whose vision for Clean Swift is to keep its performance-driven growth momentum going.
"Since its inception, Clean Swift has always turned heads in the industry for its revolutionary laundry practices, a culture of excellence, and steady expansion," he says. "The onus now rests on me to me ensure that Clean Swift climbs even new heights and becomes a trailblazer as a laundry solutions provider. I see Clean Swift creating a niche and mark for itself across the UAE."
Adjusting to a new culture and new ways of doing business
Describing the challenges he faced in his professional journey, Oleotto says, "I personally believe that every challenge is an opportunity for self-improvement and personal growth. Rising to challenges enables people to unveil their strengths and willpower, develop confidence and grow wiser."
Moving into the Middle East from Europe with his family was a major shift for Oleotto, both professionally and personally.
"It wasn't easy to adapt to new ways of doing business and adjust to a new culture," he recalls. "However, the person I am today is because I pushed myself to break free from conventional norms. I achieved brand new perspectives into people management and developed a global business mindset."
Oleotto believes that his difficult moments not only helped him evolve and improve his skill sets but also enabled him to develop perseverance, which is the hallmark of all good leaders.
"As a CEO, I wear several hats daily and ensure the company always functions as a well-oiled machine. I oversee the long-term strategy of the firm with the goal of increasing company ROI," he says. "I evaluate the work of other senior executives and direct agendas to affirm the company is always aligned with its broader mission and vision. I strategize ways we can accelerate our competitive edge while encouraging expansion opportunities and industry developments through measurable and tangible goals."
Success is becoming the best version of oneself
Oleotto realized early on in his career that passion without hard work is meaningless, and often goes back to a quote by the famous Roman poet Virgil who said that "fortune favors the bold."
He believes that it's important to remember that the road to success is a continuous journey and that the definition of success is to become the best version of oneself.
"My journey to success has not always been easy and I had to recalibrate myself several times," he says. "However today, I stand at a place where my actions have an impact. I hold the power to uplift and inspire others and that to me is a true mark of success. I strongly believe that your success depends on your ability to tackle challenges, learn new things and step out of your comfort zone. It's always about setting new goals, reinventing oneself, and never getting complacent."
Oleotto considers the act of taking on the position of the CEO of Clean Swift and steering the company toward even greater success, to be one of his greatest achievements.
"I started my career as a Plant and Operations Director and to reach a C-suite level I had to imbibe, make on-the-fly decisions, handle stressful situations, and reliably produce results," he recalls. "Setting out new operating models and positively reinforcing the company during the pandemic has also been the biggest test for CEOs worldwide, and I am glad that I was able to handle the company well during a global crisis."
Oleotto has also received a number of recognitions as one of the Top 10 CEOs in the Middle East in 2019, as a Top 20 Most Dynamic Gulf Entrepreneur in 2020, and Top 100 FAB Leaders in the Fashion, Apparel & Beauty industries in 2021.
"Such recognitions not only motivate me to do better but it's also a matter of pride, since I started my journey right at the bottom and rose the ladder due to sheer determination and a never-back-down attitude," he says.
Describing himself as motivated, Oleotto states, "It was my motivation that enabled me to push myself and led me to professional success. It was also my motivation to try new things that empowered me to constantly improve myself and the company. I strongly believe that when you are passionate about your job it shows, and that acts as the biggest motivator for employees to see a leader that is invested in a company."
Partnering in work and life
Clean Swift promotes a culture of collaboration, learning and development, and appreciates employee wins. "We have strong career progression plans for employees, and I value clear, frequent communication to maintain a positive environment," says Oleotto.
His wife, Sara, is also a major team player in the company and oversees the Operations Division at Clean Swift. "Since we are part of the same industry, she understands the challenges and demands of our sector. Having a partner that closely understands your work life is a key point, as it helps maintain a balance between your personal and professional front," he states.
As the pandemic slowly begins to recede, UAE's hotel occupancy significantly grew with renewed traction in the hospitality world; the commercial laundry services industry is also expected to witness a marked rise, and Oleotto wants Clean Swift to be at the top of it.
"So far, our advanced technology and premium services have secured us the leading spot amongst retail and hospitality clients in the UAE," he says. "In the coming years, we want to further expand our client base and include smarter business intelligence tools. It's an exciting road ahead for the laundry industry and we want to be solution-of-choice across the Middle East."