GENDER DIVERSITY AT HILTI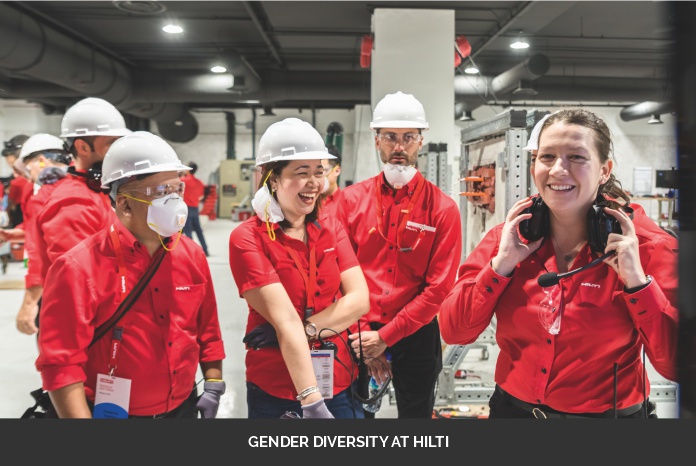 Author: Irene Malamas
At the current rate of progress, the World Economic Forum projects that it will take another 99.5 years for global gender parity to be achieved. It's a sobering finding of the Global Gender Gap 2020 report which measures the extent of gender-based gaps over time, stating that while changes are happening, progress is slow.
WEF measures gender gaps in four key dimensions: Economic Participation and Opportunity, Educational Attainment, Health and Survival and Political Empowerment. Of these four, the gender gap is second largest in the Economic Participation and Opportunity dimension, after only Political Empowerment.
Globally, 36% of senior roles in the private and public sectors are held by women however overall women's participation in the labour market is far less than men (just 55% of adult women are in the labour market compared with 78% of men) and there is still a significant wage gap to be bridged. With private enterprise making up the majority of the labour market, corporations can play a leading role in closing the gender gap.
Research reveals that lack of gender diversity within professions contributes to lower innovation levels and has a compound effect on gender pay gaps. Hilti, a global leader in the development and distribution of leading-edge technology and solutions for the construction industry, is one organisation that has put gender diversity at the centre of its Diversity and Inclusion strategy based on the understanding that a diverse and inclusive workforce generates higher productivity, more creativity and innovation, ultimately leading to greater long-term financial success for the organisation.
"The success of our company requires more agility, flexibility and ability to innovate in order to stay ahead of the game. In order to realise our business ambitions, we need a more diverse workforce, to leverage diverse thoughts, skills and talents. At Hilti we focus on three areas of diversity being gender, generation and global. Of course, this has to go hand in hand with a safe and encouraging environment which allows everyone to bring their unique value," explains, Olivier Petit, Region Head of Human Resources in Hilti Asia Pacific.
Hilt's approach to increasing the number of women in its workforce is 3-pronged and includes attracting female candidates to join the organisation, creating a pipeline of female talent through development and advancement opportunities and increasing retention of its female employees. The organisation runs numerous tactical programs to support its gender diversity goals starting at the very top with its senior management.
"All leaders are well-intentioned but at the same time, human – they make decisions every day with limited amounts of information under a time pressure to bring about performance", explains Flora Nguyen, Hilti APAC's Head of Learning and Development Centre. "All of our managers take part in our Beyond Bias workshop that leads them to introspectively look at their own conscious and unconscious biases. It's a deeply personal experience and we provide a supportive environment without judgement. We teach techniques to help leaders manage their biases in their decision making", she says.
Of course, diversity can only be successful if there is also inclusivity. As well as Beyond Bias training, leaders are engaged in discussions around non-inclusive behaviour in the workplace. Presented with real-life scenarios which most can relate to, they are asked to create concrete actions that can be taken into the future when faced with similar situations.
While leaders are expected to embrace diversity, challenge their biases and role model inclusive behaviour, the organisation does not stop there. All employees are encouraged to self-reflect and evaluate their own attitudes and behaviours. Hilti established the OWN!IT group which provides a framework for team members who are passionate about diversity and inclusion to volunteer in organising their own initiatives in the areas that matter most to them.
This year, members of the Hilti APAC OWN!IT group will be hosting a regionwide International Women's Day event with a focus on the role of men in supporting and advocating for the advancement of women. Male leaders have been invited to join female leaders in a panel discussion to share their personal experiences and insights on gender diversity and championing women in both their professional and personal lives.
Sonia Mokdad, General Manager of Hilti Singapore, has herself been guided by the support of her leaders at Hilti. "Like many women, I've experienced a lot of self-doubt and been fearful of putting myself out there for new opportunities because I thought I wasn't the perfect candidate. Fortunately, I've had leaders who saw something in me that I did not see. One of my bosses told me, "Sonia, you will never step up if you always doubt yourself. I have trust in you so why don't you trust in yourself." He helped instil in me a level of self-confidence which encouraged me to take risks and embrace opportunities". Another important champion in Sonia's career has been her husband who she says was immediately onboard when the opportunity arose to lead Hilti's operation in Singapore. It was a career move that required reorganising their personal lives, relocating the family and her husband taking on child-caring and household responsibilities so that Sonia could focus on running the business.
Hilti also provides systems and process to enable and embed diverse and inclusive practices into the workplace culture. The MentorAsYou Grow program is an example which connects employees seeking mentorship with others who want to mentor through a digital platform, much like a dating app. Anyone can choose to be a mentor or mentee, opening opportunities for mentorship across departments, geographies and generations – even reverse mentoring where the mentor is younger than the mentee is possible. In addition, the organisation is expanding its flexible working arrangements and parental leave allowance so that both women and men can share in parenting and household responsibilities and return to work at a time that takes their personal situation into consideration.
With these and other programs in place, Hilti recognises there is a lot of work to do to achieve its aim of increasing female representation in its workforce. As a global organisation, the company's leaders understand they have a duty and responsibility to society to stay the course to achieve its goals. Alim Hirani, Head of Hilti Asia Pacific says, "We are fully committed to building a diverse and inclusive workplace aligned with our values. While we know we have more to do, I'm proud of how the Hilti ethos not only accepts differences but actively seeks to understand and learn from them. Diversity is having the mix and inclusion is making the mix work. It is this environment we are fully committed to create where everyone is included and able to do their best work."
About Hilti
The Hilti Group supplies the global construction and energy industries with technologically leading products, systems, software and services. With roughly 30,000 team members in over 120 countries the company stands for direct customer relationships, quality and innovation. Hilti generated annual sales of CHF 5.3 billion in 2020. Hilti Group's Headquarters is located in Schaan, Liechtenstein, since it was founded in 1941. The company is privately owned by the Martin Hilti Family Trust, ensuring its long-term continuity. The Hilti Group's strategic orientation is based on a caring and performance-oriented culture and the goals of creating enthusiastic customers and building a better future.
Visit http://www.hilti.group