Julie Camardo: Climbing Success with her 141-year-old family business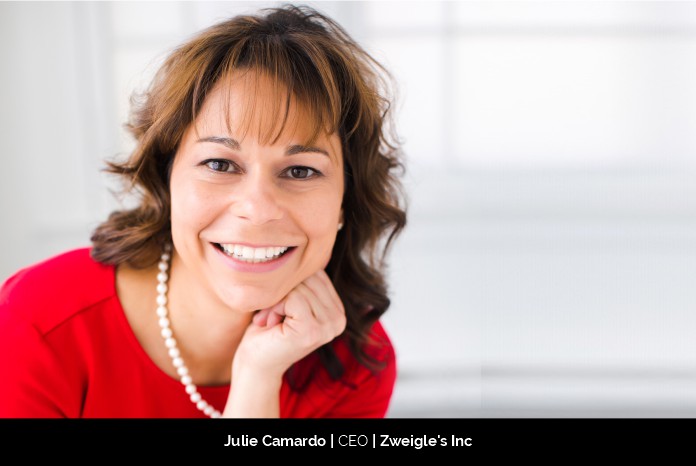 Starting a company is a huge task; maintaining its legacy over five generations and over 140 years is a work of dedication, commitment, and sheer devotion. Such is the inspiring story of Julie Camardo, CEO of Zweigle's Inc., a small meat manufacturer in Western New York who carries pride in their longstanding history.
Camardo confidently shares, "Zweigle's is my family legacy, and I am proud to be a part of carrying on the traditions. We are part of the Rochester, New York timeline, and we help support the community to grow and thrive in any way we can."
The essence of Zweigle's, Inc.
Established in Rochester, New York in 1880, Zweigle's, Inc. is a fifth-generation, family-owned meat, and protein manufacturing company with an aim to create memories through delicious food using flexible partnerships. The company mainly works to provide a wide range of fully cooked products, including natural casing and skinless hot dogs, sausage links and patties, meatballs, chicken breasts and strips, deli meats, plant-based proteins, and much more for retail, food service, and private label customers.
Zweigle's has a fulfilling culture where each employee is rewarded for doing the right things and recognized for living the core values. She adds, "One of our values is accountability. Within that value, we further define honesty and owning it your actions whether it be good or bad. We use mistakes are learning tools, and we are working hard to reinforce that philosophy with training and management support."
With a focus on innovation, Zweigle's recently added a new core value: continuous improvement. Zweigle's relies on their dedicated product development team and experienced R&D manager to develop new solutions for their partners and internal projects. It is also why the team reinvests in the plant, people, process, and machinery to bring out new innovations to adapt to changing food industry trends.
Roadblocks on the pathway of Success
Every business face challenges, and when Julie took a leadership position at Zweigle's, she faced some roadblocks. She explains, "In the beginning, when I started to take a stronger role in the company, I had three major challenges: trust, culture, and understanding the importance of knowing what I do not know."
1.Trust: She wanted the employees to know that she cared about Zweigle's and its employees deeply. She says, "Trust helps in getting to know the employees, sharing information about the company, setting structures in place for strategic planning, and getting the right people in the right positions to help turn the company around and make it successful."
2.Culture: With trust, she could create a positive atmosphere along with appreciating the employees. She shares, "Over the years, I have worked hard to define, document, share and encourage living our core values both at work and outside of work. At the same time, our culture must be willing to be flexible and embrace change as we grow. It is also about having a strong management team in place to support our new culture."
3. Learning new things: Leading a business requires learning every day. She says, "It took time for me to have a clear understanding of my own strengths and weaknesses for running the business. I always look to hire people who are better at their jobs than I would be at that position." All this has allowed her to develop a great leadership team that can be relied on for running and growing the business.
Early in her professional career, Julie made the conscious decision to move back to Rochester to discover if she really wanted to be a part of the family business. Julie's love for the business' customers and pride in carrying on the family business grew tremendously with time. She shares, "My greatest achievement is being able to carry on Zweigle's, my family business, through the 5th generation. I am very proud to be able to lead Zweigle's beyond our 141st year."
Witnessing Change with Passionate Leadership
Being a nationally certified woman-owned business is quite a rare thing, especially in the meat industry. She says, "As we work to make sure our customers' needs are met, we also spend time with our suppliers and equipment manufacturers to listen and learn from what they are seeing from other manufacturers. We attend trade and industry shows and spend time growing our network to learn from other food manufacturers."
Julie knows that the business can only run efficiently if they can be flexible and adapt to changes. With changing USDA regulations, machinery, and equipment updates, and changing buyer behaviors, Zweigle's must always look for new opportunities to stay ahead and remain relevant and competitive.
Since 1880, the main purpose of the company was to create lasting memories through delicious food. To extend this vision further, Julie and her team has a 10-year plan to increase sales in private label and co-packing opportunities, product diversification, and taking the legacy forward with branded growth.
Balancing personal and professional roles
Leading the executive team, strategic planning, and vision implementation are the main responsibilities that Julie handles.
She says, "I maintain strong relationships with our accountants, financial institutions, and legal teams that are helping to support our brand, and being a visual community leader, I participate on numerous boards and committees."
As a single mom of three, Julie juggles being a present parent and business leader, but finds it to be challenging at times. It is important to Julie to expose her children to the work she is doing at Zweigle's and in the community, while also making family time a priority. For her team at Zweigle's, she recognizes these same challenges some employees might be facing at home and encourages balance, flexibility, and communication.
I recognize that I am human and simply just breathe. I practice yoga and often talk with friends and family members when I feel overwhelmed. I like to go on a long hikes and enjoy reading books and watching movies." Prioritizing balance is what keeps Julie a strong and compassionate leader at home, at work, and in the community.