Janez Sterle: Bringing a Revolution in Telecommunications business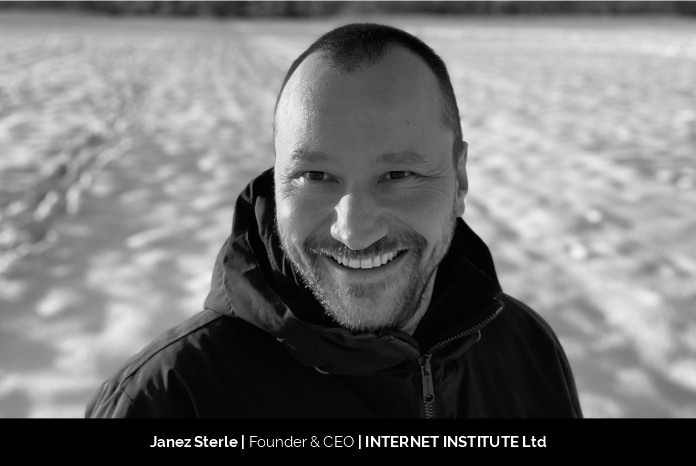 Life sometimes brings opportunities and avenues along the way, the ones who embrace them get the taste of success easily. Janez Sterle, Founder and CEO of INTERNET INSTITUTE Ltd., started his career as a lecturer and researcher at a university. He got the opportunity to work with trending technologies, however, to exploit its full potential, he took the step of opening his own start-up.
While Telecommunications business was not his dream job in childhood, he actively participated in different projects during his university job and even solved numerous real-life problems.
Being a responsible student, he took care of his expenses on his own. He shares, "Meeting interesting people and interacting with them in different environments gave me a strong foundation for the future, and I finally realized what it truly means "You need to be passionate about what you do". And with this important life lesson my professional career naturally evolved in the direction where I am now."
Conquering the Roadblocks along the way
Janez and his team have bravely initiated their company without prior knowledge of marketing and accounting. They even set up their selling and distribution channels that too without any venture capitalist at their back. He adds, "Setbacks and challenges have always been a part of our start-up journey and still are opening almost on a daily basis. But if you truly believe in yourself and you have a solid trust in your team, there is no mountain peak that you cannot climb. The invisible line between the success and failure of a startup is in the team, everything else is replaceable!"
Services and Vision of INTERNET INSTITUTE Ltd.
This startup has numerous product lines as well as support services. At INTERNET INSTITUTE, there are different experts in mobile performance and quality metrics development and validation, mobile system testing, benchmarking, quality monitoring and SLA assurance. Not just this, they are also experienced in handling design, deployment and operations of reliable 5G infrastructures so as to ensure connectivity services in critical communications sectors. He shares, "We address telco, corporate and vertical industrial sectors with our portfolio for performance monitoring and SLA assurance, benchmarking and end-to-end validation of communication infrastructures and services. In addition, we provide on-site critical communications, smart sensing and intervention monitoring services customized for public safety and critical infrastructures."
Owing to his R&I background, they are always on the look-out for new disruptive concepts to help them find different innovative solutions for businesses in telecommunications sector. As the old adage says, "Today's state-of the-art technologies are tomorrow's obsolete systems," it is essential to ameliorate the existing solutions and expand the portfolio into new businesses.
Janez expresses his vision for the company is to continue to grow and develop strong and long-term foundations consisting of advanced technological know-how and portfolios, putting them ahead of the competition.
He believes that continued research and innovations (R&I) in the sector allow them to stay ahead of the curve. It continues to give them the needed advantage to build and improve their products and services competitively and sustainably in the long run.
He adds, "We are very proud to have been successful in establishing strong international partnerships in 2020 and 2021, which will enable us to continue our steady growth in the next years. We will keep our priorities on building a reliable and devoted team with high ethics and moral values and a portfolio of innovative products and solutions incorporating cutting-edge know-how, putting us ahead of the competition. It is a very competitive world out there, but I strongly believe that fortune favors the brave."
Life as Founder and CEO of the company
After 15 years of pursuing an academic career and all the invested energy and hard work in academia, Janez was able to leave everything behind to start again from the beginning.
As the CEO of the company, he oversees every aspect and keeps the team motivated in high spirits. He adds, "Most of our current employees are also company owners, and hence the motivation is always there. We all understand that we are stronger and more successful if we are together. But to stay together as a strong and motivated team, we need to reach beyond ourselves individually, and I strongly believe that we all have a very deep understanding of that and the ethics and professional responsibility of all team members are very high. The awareness that as co-owners we are investing our time and energy for ourselves and thus creating our own jobs and realities on a daily basis is also very important."
Talking about his greatest achievement on the professional front, he expresses, "I had the opportunity to have an active role in setting up a motivated and skilled young team at the university and that after all these years, we are still together building our story and pushing it beyond the horizon."
Thoughts on work-life integration
Janez found the love of his life during his work at the university. He expresses that his private and professional lives are very interconnected as his wife is one of the funding members of the company.
He adds, "Knowing what we both do professionally and what our business obligations are gives us more understanding and the needed flexibility to fit everything into our daily schedules."
He manages the work and spends some time in his own activities. Having a better understanding of each other's routine allows them to grow and have fun with each other.
Future roadmap
Janez and his team take logistics, critical infrastructures, ports, factories of the future and public safety systems as the primary sectors to expand their services.
They feel that 5G, Cloud, IoT, and AI will have the most significant impact in the next years on the development of industries.
He adds, "We have been investing heavily in the past few years into establishing strong international partnerships and a development ecosystem to nurture an even bigger and stronger team and develop ahead of time advanced know-how in these core technology fields."