Jonathan Abir: Novel solutions for betterment of Pedestrians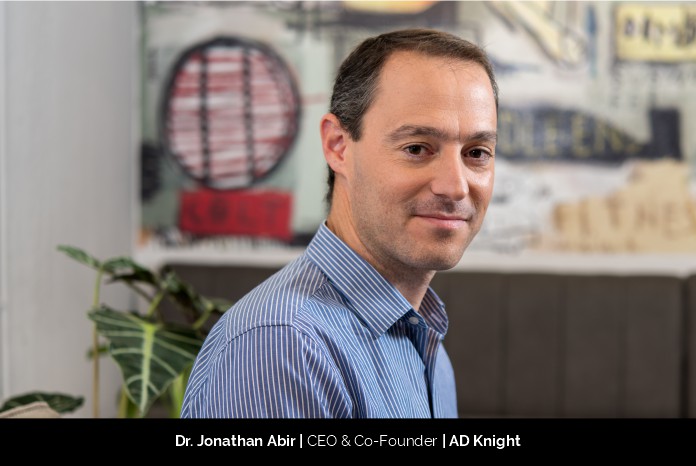 Automobile Industry has reached the zenith of success owing to many people's hard work. Jonathan Abir, CEO of A.D Knight is one such legend who mainly worked for the pedestrians' safety and traffic control by leveraging mobile phones and connected devices for passive data collection while preserving people's privacy. Pedestrians and other road users' safety issues has been a global cause of accidents and cover approximately 22 percent of the deaths. Their novel hardware solutions which able to send real-time safety alerts to drivers enable saving pedestrians' and vulnerable road users' lives based on personal devices detection such as Bluetooth, Wi-Fi, and Cellular.
His Journey to pursue his Passion
Jonathan was always determined to build, design and innovate the machines, mainly motors and vehicles. When he was a child, he used to spend his time building Lego and various models of cars, tractors, and trucks, which led him to pursue a Mechanical Engineering degree aiming to utilize his skills in the automotive industry.
Jonathan says, "One day, while I was driving my car, I almost had an accident in which I believed that the vehicle's sensors were supposed to detect and alert. I was intrigued by the advanced multi-disciplinary technology required to achieve autonomous vehicles, able to understand and react to the endless road traffic scenarios. Using my skills, which were developed during my childhood to understand how machines work, I have started to conduct research on automotive sensors, their ability to detect and perceive the environment and to develop prototypes of my ideas."
He has always been fervent about the aptness to change and develop the autonomous driving sensors which affects other's lives and can prevent a lot of accidents that happen every day due to the inability to detect other road users.
Balancing between impediments
A.D Knight was established with the core agenda to utilize a unique technology which dealt with different activities for solving a future "problem" in autonomous vehicles. However, when Jonathan and his team met the leading OEM's and Tier-1's, they said that they do not see this as a serious issue in the future.
They, then became a part of the DRIVE TLV, which is a top innovating hub in the world focusing on smart mobility solutions and are supported by OEM's and Tier-1's such as Honda, Volvo Group, and Volvo Car Group. He adds, "With DRIVE's help and mainly the access to leading automakers, we were able to identify a common problem and a real pain, to the automakers, preventing accidents with vulnerable road users. By tackling a new pain, the company needed to pivot, to change its offering and its' technology. During this process of pivoting and market research A.D Knight's first investor, DRIVE Technion was supporting and guiding us."
Services, Vision and Mission of A.D Knight
A.D Knight has a smart safety system wherein they alert the drivers and pedestrians to prevent road accidents and also use technologies to understand and predict locations in a better way. Jonathan states, "A.D Knight's solution allows preventing accidents and specifically protecting vulnerable road users based on mobile phone and other connected devices' sensing. It is a hardware-based solution that passively detects, radio locates, and classifies signals emitted from Wi-Fi, Bluetooth, and Cellular devices. Its technology allows a real-time, sub-meter location accuracy of wireless devices without any changes in the wireless devices while preserving people's privacy."
He also reveals that 400,000+ pedestrians can get saved because of their real-time safety alerts. Moreover, such intelligent sensors can be added to the vehicles to become a member of the Automated Driving Assistance System (ADAS).
A.D Knight follows a crystal-clear vision since the very beginning. It is Improvement of Pedestrians safety and traffic control by exploiting mobile phones and other electronic devices while taking care of public's privacy, which includes one of their values and ethics. Their inventiveness and vocation are communicated in every meeting, be it internally or externally, which led to some decisions.
Jonathan says, "To encourage innovation, we have appointed Mr. Sharon Peleg, former co-founder of Red Bend (sold to Harman), who got years of innovation experience to lead innovation and IP in the company. One of our core values is innovation, as we believe that this is one of the key tools allowing us to achieve rapid growth and to solve the global problem of preventing road accidents. However, to allow innovation one must know that he/she can make mistakes and unfortunately even fail. Thus, we are allowing the employees to think independently without any constraints or fear of failure."
They follow a 4-step culture propaganda:
Upheaval

: They welcome the problems and don't consider "not possible due to technology" for an answer. He adds, "The company's DNA is to think and solve problems differently and creatively, thus innovation is the nucleus of our company."

Change lives:

They have the goal of creating the world safer for walking, riding and driving.

Agility:

Employees stay confident while witnessing the possibilities of taking risks and learning from them. The staff is open-minded and always tread ahead to new ideas based on advanced technologies.

Privacy:

They maintain people's privacy via anonymous data.
Contribution in reshaping the company
After completing his Ph.D. in mechatronics systems from Cranfield University, UK, Jonathan started exploring the automotive industry which was transforming from a mechanics-based product, to a software-based multidisciplinary product. It also enhanced user interactivity along with autonomous features to encounter a safe and enjoyable experience.
Their vision for the company stands still for the world leader in technologies for non-cooperative acquisition, anonymization, and prediction of people's and vehicle location data allowing them to prevent pedestrians and vulnerable road users' accidents, improve traffic safety, and reducing traffic congestion.
Major Roles and Achievement
As a CEO, Jonathan is quite responsible and handles four main chores, setting the company's strategy and directions on the business, product, and technology side, choosing the right people in team who have good technical and social skills as well as allocate capital effectively.
He shares, "My greatest achievement is being an entrepreneur where I aimed to solve a world problem that affects our everyday lives, globally, and to continuously tackle the challenges facing a startup from defining the need, finding the solution, raising money, and acquiring customers. Specifically, doing things in a novel way allowing to solve complex and "unsolvable" problems." Not just this, he wants to achieve and expand all this while spending equal time with his family.
Subsequent blueprints for the company
A.D Knight has started picking out the smart city markets first due to the potential for quick deployment of its sensors. It will help in safeguarding road users and prevent accidents without any third-party intervention using A.D Knight's Real-time Traffic Safety System (RTSS). The best part is that it is ready for deployment in the first quarter of 2022. Further, from 2024, A.D Knight's Vulnerable road users Detection System (VDS) is all set to work too.