Jill Wiedemann-West: Changing the traditional paradigm of mental health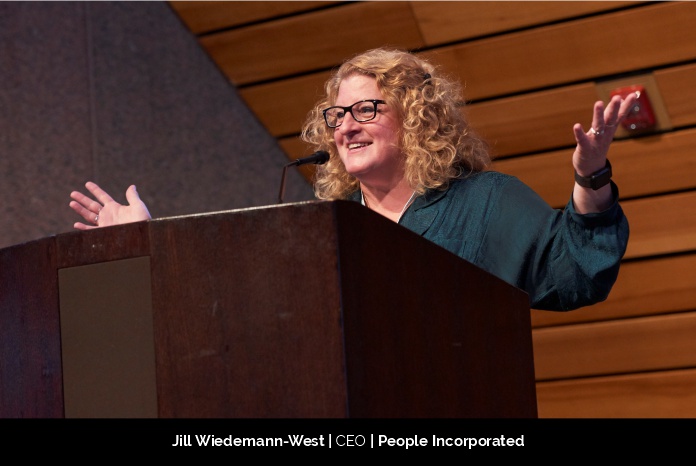 Jill Wiedemann-West, CEO of People Incorporated Mental Health Services, has witnessed the changes and iterations of behavioral healthcare for more years than she is willing to count. In talking about the way the landscape has changed, Jill expresses enthusiasm and gratitude for so many ways the field has changed, counting movements towards integrated models of care, increased access to care and improvements to health equity. That said, she notes that she is most proud of the manner in which we have moved the conversation about mental wellness into the mainstream, making it an accepted dialogue instead of a taboo topic, where it existed for far too long. Jill is quick to acknowledge that there is still so much work to be done in this space, but is satisfied by the fact that we are making progress.
Art and Science
Jill speaks about the healthcare industry as a massive machine, providing innovations and practices that take care of our citizens well. She is also quick to acknowledge that the healthcare industry is ripe for improvements and innovations that provide opportunities to create healthier people. Healthcare really is the intersection of science and art. The science is that brilliant and beautiful machine that is generating research and best practices that support improved care, quality of life and outcomes. Jill notes that this is something we should be truly proud of. The discoveries and improvements in healthcare are and continue to be astonishing. On the otherhand, healthcare is also part art. Endeavoring to engage and deliver care to an increasingly diverse and distinctive population takes constant evolution and creativity. Added to these considerations and so many more, Wiedemann-West notes that as good as we are, one cannot help but feel discouraged that our overall health status is substantially weakened by the healthcare areas that support mental wellness. Record high levels of suicide, drug overdose, and unmanaged mental illness and chemical abuse place all the extraordinary progress we have made throughout healthcare at risk of being overshadowed by our challenges in our countries mental wellness.
Puzzles and Pandemics
Jill's career before People Incorporated was quite varied. Working in both the for-profit and non-profit sectors, one learns a lot about the role and delivery of healthcare in different sectors. In her work at People Incorporated, Wiedemann-West has found the puzzle she is motivated to solve. Working at the community level, the challenges mirror the rest of the healthcare field, but in a larger, deeper and more obstructed manner. That said, small changes can create great changes, and when we are all working for better access, improved outcomes and healthier communities, the positives for those in need can accumulate rapidly. For individuals at the level that People Incorporated work at — access to care, poverty, housing instability — support systems and culture can be the difference. At the community level, many people are not alone facing issues with their mental health, but also a myriad of other issues which increase the barriers they experience in getting to better health and stability. Because of the acuity of their conditions, and the complexity of their needs, it requires all of us in healthcare to forge better more integrated solutions. I am proud that we have made progress, but feel an urgency like never before to increase our tempo, and work to increase the health and resilience in our communities.
Our experiences of the last 18 months have not only highlighted a growing need for services supporting mental health, but have changed our narrative regarding the topic of mental wellness. Individuals that believed they had never "bumped into" mental health issues have now begun to see what we in the field have known all along; "We all have mental health, we are simply in different places on the spectrum." Even with all her experience in both sectors of this field, Wiedemann-West remains steadfast in her thinking that "mental wellness and health overall is not a secular issue, and the improvements in the way we rebuild our behavioral healthcare system will require the minds and innovative spirit of individuals at every level of care and all sectors and disciplines of our healthcare community." The pandemic has left us less resilient, and in desperate need of building in broadly applied solutions to help us all be as healthy as possible.
The path takes you where you're supposed to be
She never aspired to become a CEO, but she feels honored to be in this position and have responsibility for leading an amazing organization like People Incorporated. . Wiedemann-West notes that "being the CEO of a community based non-profit is truly an honor. The trust and responsibility that comes with this role is vital to so many, and all about the impact you create and commit to as a part of your mission." There are many partners and stakeholders in this work, and every one of them helps move us forward. She expresses, "I've always been comfortable in leadership roles and essentially building the path while I walk it. Wiedemann-West notes that the way she approaches work likely leads her to her current role and her sensitivity to the most vulnerable in our communities.
She believes that a successful leader creates impact through listening, observing, and courageous and informed action. A CEO is only as good as their team and in the case of Wiedemann-West, that team is not only her leadership team but the organization overall. She says that if a leader is really watching and listening, and open to the possibilities that do not always come from the top of the organization, extraordinary things can happen. She is quick to note that running an organization requires a strong and decisive senior team. She acknowledges that she is fortunate to have a senior team that has managed the organization through some of the most unprecedented of times with strong vision, tremendous agility and tireless advocacy for the needs of our staff and clients.
Jill mentions, "The last 18 months have been extraordinary in creating agility and courage in my teams' decisions. Challenges do make you stronger. That level of agility births vision in decision-making. Some go well, some don't. If you're able to tap into that courage and be agile, it's going to make you a better leader."
Roadblocks are meant to be navigated around. She looks at roadblocks not as finite things but as opportunities for problem-solving and critical thinking. She has never looked at anything professionally or personally and felt like it did not have a possibility and solution. The process is how to get there by staying focused and determined, and remembering that the decisions and moves you make as a leader are not always perfect, but need to be deliberate and timely regardless. "Fear does not produce good decisions."
People Incorporated Mental Health Services
Founded in 1969, People Incorporated came into existence with an idea to incorporate all those living with mental illness back into society and that society itself could be incorporated into efforts to support these individuals. With a commitment to supporting mental health and wellness, they are spreading awareness in communities through collaboration, out-of-the-box innovation, integration of care, and valuable training.
Operating 60+ programs in 30 locations throughout the Twin Cities, they are expanding their global reach through their nationally recognized Training Institute.
She states, "We are creating a large and deliberate space regarding how we talk about mental health, trauma, culture and healthcare leadership. There has never been a more virulent need for well-established education and training in these areas. Individuals, organizations, communities and more are waking up and recognizing the role of mental wellness and culture as fundamental commitments they are making to their employees and their culture."
Wearing the CEO's hat
As the tenacious CEO of People Incorporated Mental Health Services, Jill has a plethora of responsibilities on her shoulders. From creating a strong team and organization to delivering maximum impact in the communities they serve. People incorporated is on a mission to help different individuals living with numerous mental health issues so that they can restore their dignity, and improve their quality of life while growing in their recovery path. She is consistently striving to accomplish her long-term vision of creating a change for the better in the lives of those living with mental illness, and design and deploy sustainable change in a healthcare delivery system that needs to work together to improve the mental wellness of our nation.
Besides work, Jill finds her own mental peace by staying grounded and committed to fitness. Jill enjoys a variety of activities such as walking, hiking, biking as well as spending quality time with her family and friends. Jill is both grounded and inspired by nature, and is committed to time spent being outdoors.
Promising tomorrow
Carrying a strong will to being more data-driven as an organization and gathering data that properly represents the community we serve, as well as, data that looks at the business intelligence of operating and sustaining in this sector is clearly on her "to-do" list. Wiedemann-West wants to understand and develop better and best practices for working with a population that has multiple barriers to wellness, and better understand the role of integrated health in deploying these practices. Jill is set to continue the organizations growth path, recognizing that there is more need than ever to commit to interventions and solutions. People Incorporated is continuously looking for new communities to serve and new gaps in the system of care, in order to build a more accessible, inclusive and sustainable system.
She adds, "We need to better understand who isn't being served and why?" "Clearly there is more work to be done in improving mental wellness and healthcare access overall for more marginalized and complex populations. We are here to ensure that these conversations continue, and we were made to solve these problems."
Staying True
Jill's main goal is to create a significant difference and not simply get rewards or accolades. Being a CEO and a leader, it is essential to understand that her imperative role allows her to create a substantial contribution and inspire other aspiring leaders to become the best versions of themselves. Her special message for all budding business leaders revolves around keeping the faith that you are setting an example, and that if you are aware and authentic, people will take note of your actions, attributes and vision. It will cause them to think, engage and build the skills necessary to take the reins.