Brian Gibbons: Elevating Rural Healthcare Through Tumultuous Times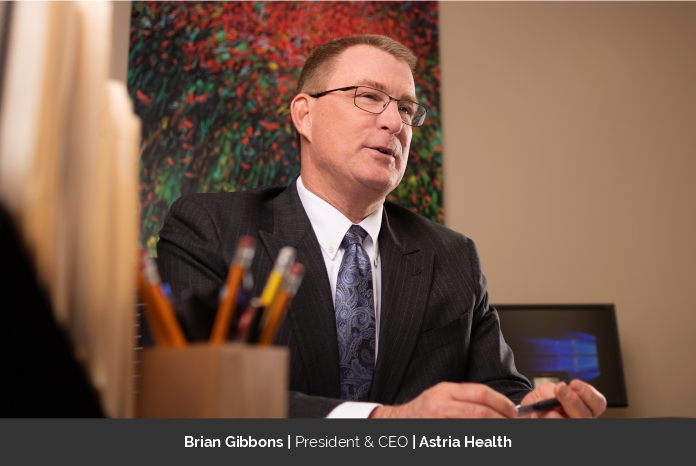 Brian Gibbons: Elevating Rural Healthcare Through Tumultuous Times
In May of 2019, Astria Health, the largest nonprofit healthcare system based in Eastern Washington, filed for Chapter 11 bankruptcy protection. A cloud of uncertainty hung over the future of the company after that. During such a confusing and difficult time, Brian Gibbons was promoted to President of Astria Health. He began his role as interim President and CEO following the resignation of his predecessor. In February of 2021, Brian was named the permanent President and CEO of the company.
After his appointment, Brian worked to refine plans to exit Chapter 11 and make a new start. As they were emerging from bankruptcy, there were days when it seemed like their plans might not work. There were many opportunities for things to not go well. However, Brian persisted, and with the help of some very smart financial professionals and attorneys, they managed to bring together a plan that averted a potentially bad outcome. In January of 2021, Astria Health successfully reorganized and exited bankruptcy.
Over the last year, the company has moved back into a growth mode. It is now in a much better financial position than it was in 2019. A lot of credit for Astria Health's turnaround goes to the initiatives taken by Brian, and his vision, persistence, and impeccable leadership.
Growing Up in Physicians' Family to Joining Astria Health
Brian grew up in a physician's family. His family's faith professed a life of stewardship and community by helping others in need. "My career, almost by definition, requires a passion to help others," Brian says.
In 1986, Brian graduated from Loyola University New Orleans with a Bachelor's Degree in Public Administration, and he earned his Master's Degrees in Business Administration and Health Science from the University of Florida in 1990. He started his career in Florida right out of graduate school. His first job was in the same hospital where his father was an orthopedic surgeon and Chief of Surgery.
"There, I developed skills in negotiation and managed care contracting, as well as business cycle management," Brian says. "I remained in that sector of healthcare administration for almost 15 years in three hospitals in Florida." Those experiences are what Brian drew upon to navigate and plan the recovery of the financial position of Astria Health.
Brian had set for himself an ambitious career goal – to become a Hospital Chief Executive Officer, and direct hospital services for the community. In early 2003, an Associate CEO opportunity opened for him in Roswell, New Mexico. Over the next several years, he worked in leadership positions at investor-owned, not-for-profit, and public hospitals, many of which were "turn around" situations. In 2013, Brian joined Sunnyside Community Hospital, (later Astria Sunnyside Hospital), when an opportunity became available to be a part of its growth and development.
Astria Health and Its Services
Astria Health, headquartered in the beautiful Yakima Valley, is the parent organization of Astria Sunnyside Hospital and Astria Toppenish Hospital. It also runs sixteen outpatient primary and multi-specialty care Astria Health Centers, an Ambulatory Surgical Center, Astria Health Audiology, and Astria Home Health and Hospice with healthcare sites and providers, conveniently located in towns and cities throughout the region.
"The beginning of Astria Health was a plan to provide the local community the broadest spectrum of healthcare services possible with the resources available through innovative practices and employment models," Brian says. Astria Health was formed as a health system in 2017 to serve the needs of the lower Yakima Valley and extend services into underserved communities.
Often, people forget that healthcare is local. At Astria Health, Brian and his team make sure that they do not forget that. They strive to provide high-quality primary and specialty care that is typically not found in communities similar in size. And, they successfully provide these services in their community by leveraging medical resources. Giving an example, Brian says that they have developed an oncology center, so patients who need that service don't have to travel out of town.
In Sunnyside, Washington, Astria Health also has the only critical access hospital in the state that can provide elective cardiac stent placement. It is able to do this by bringing highly trained cardiologists who provide high volumes of these procedures in other, larger communities to our community and leveraging that expertise here.
Additionally, it offers intravascular surgery services through its interventional radiology practice, and it can perform spinal surgeries as well as hyperbaric wound care and a host of other services not typically provided in small, rural hospitals.
"Our hospital in Toppenish has a behavioral health unit that is continuously at or near capacity," Brian says, adding that all of these services are supported by a broad network of primary care services located throughout the Yakima Valley.
Late last fall, Brian received a notification that Astria Sunnyside Hospital was being recognized by the American College of Cardiology in the U.S. News and World Report's Best Hospitals issue for 2022 based on cardiac outcomes. And, in February of 2022, one of Astria Sunnyside Hospital's Pharmacists, who leads the Antibiotic Stewardship program for that hospital, was recognized by the Federal Office of Rural Health Policy for advancing antibiotic safety practices, placing Astria Sunnyside Hospital among the nation's "high-performing critical-access hospitals."
Future Plans for Astria Health
Currently, Astria Health is working on expanding primary care services, further incorporating behavioral health and dentistry in local clinics. Going forward, under the leadership of Brian, the company intends to continue to innovate and grow new services in the communities that it serves. Brian points out that he and his team make decisions about where to grow based on the current and projected needs of the community.
"We have excellent people doing incredible things," he adds.
Challenges Every Week
Healthcare is hard, and therefore, for Brian, every week is challenging. He, however, is not someone who gets deterred by that, firmly believing that working through the challenges is what makes healthcare special. "You have to be innovative and reliant on other smart people to get through it," Brian says.
And he also feels that one needs to be a strong leader, especially when things get really tough, like when one's healthcare system is navigating through and emerging from bankruptcy while working through a pandemic.
Brian also does not see challenges as roadblocks. He considers them as broad experiences with opportunities to improve. And, fortunately, he had "excellent mentors" early in his career who were willing to let him get into trouble as long as he knew that he had to get himself out of it.
"I have learned that professional relationships require honesty and integrity, and these are the underpinnings of a good leader," Brian says.
Many Facets of Success and Achievements
Success has many facets for Brian. It involves innovation, education, mentoring, execution, citizenship, goal attainment, and security for self and family. "These things are all tied together, which makes it hard to achieve," he says. "That's why it can be such a long journey, but a worthwhile one."
And, for Brian, one of the proudest professional moments as a leader has been successfully navigating the emergence from Chapter 11 with the help of his extraordinary team.
"Personally, my proudest moment is quite different," Brian says. He reluctantly shares – as he does not feel that it is something that employees of his company need to worry about – "The day the Chapter 11 Reorganization went into effect, I realized that our collective efforts had saved 900 jobs that the families of our employees relied upon."
Responsibilities and Work-Life Balance
As President and CEO of both Astria Health and Astria Sunnyside Hospital, Brian handles a range of responsibilities. So, no two days are the same for him. He, however, has no complaints about that, as it is a big part of why he chose healthcare administration as a career.
There are days when Brian focuses on operations, where everything he works on is about the day-to-day hospital and clinic operations. On other days, everything he works on is external and political. On such days, he meets with Superintendents of Schools to discuss health centers for students or works with legislators about supporting rural hospitals or addresses pending legislation that will impact hospitals. Brian is also a Board Member of the Washington State Hospital Association and the Board President of the Greater Columbia Accountable Community of Health, a Medicaid transformation organization.
Brian is not the type of leader who makes decisions without consulting anyone. He ensures he and his team make decisions together. "I rely on the input of my team and recognize their expertise," Brian says. "I want them to know I value them because their ideas and opinions matter."
And, how do he and his team stay motivated? Well, they do not tap into external sources for motivation, as Brian believes that healthcare can be a self-motivating profession, and his team is passionate about what they do. "Healthcare doesn't lend itself to repetition or monotony," he says. "We like to help people, and working in rural communities allows us to get close to the people we take care of."
Brian has a hectic work schedule, and therefore, he admits that his work-life balance is a little tilted. But he still takes time for vacations and long weekends with his wife and family whenever he can. "Sometimes they're planned, while other times you just need to break away and leave town for a few days to recharge," says Brian, adding that visiting family out-of-town is a good way to bring balance for him.
Wants to be Remembered by These Words
"My wife wrote these words on a plaque commemorating my father's life: 'Kind in heart … Humble in spirit… Noble in cause.' I would be honored to be remembered similarly," Brian says.
************