Jennifer A. Mancuso On Building Her J.A.M. Business Empire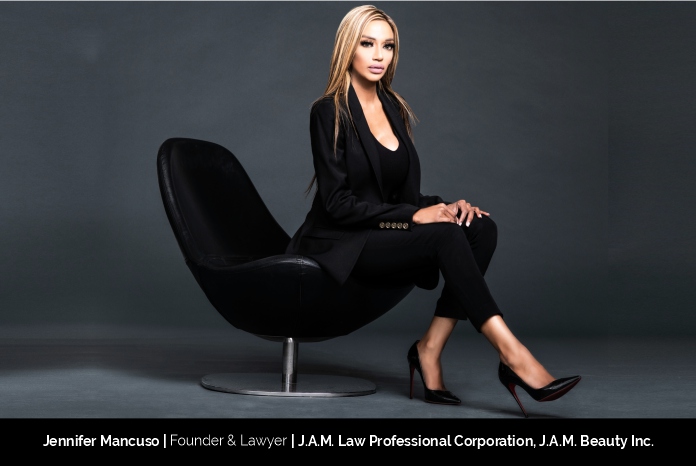 For Jennifer A. Mancuso, life is hectic, but that's just the way she likes it. This model-cum-serial-entrepreneur-cum-legal expert has achieved success in building her J.A.M. Business Empire and still finds happiness and fulfillment amid all the hustle.
Ms. Mancuso always says that she has more than one reason for feeling fortunate. However, the greatest (and most important) of these is that she had her mind set and knew what she wanted out of life from the get-go.
"I've always felt that one's quality of life depends on their work ethic, and I've had a pretty good work ethic since a very early age. I always wanted to be where I am today. I've always said, in life, it is important to have a goal because you can't hit something you're not aiming at."
Jennifer's journey to success is inspirational, to say the least. She pursued an undergraduate degree from York University and graduated with a Bachelor of Law degree from the University of New Brunswick, along with completing a Negotiation course at the prestigious Harvard Law School. She was able to achieve all this while still juggling a serious career as a model and performing her role as a judge on the popular Miss Universe Canada Pageant multiple times (2014, 2016, 2017, 2018, 2019 and 2020).
She has received numerous awards and recognition and has also been named as one of the Top 100 Canadian Professionals of 2020. As an attorney, Jennifer knows how to make a difference in the lives of her clients – partly because of her firm passion and dedication for the law, but also because she strives for success.
J.A.M. Law Professional Corporation
Her tenacity and focus during her law degree days caught the attention of prominent figures, and following her law degree, Jennifer was summoned to the Ontario Bar and started practicing law, with a focus on personal injury claims. She also had years of experience in insurance defense before deciding to start her own law firm – the J.A.M. Law Professional Corporation, which focuses on motor vehicle accidents and personal injury claims.
The firm is located in downtown Toronto, where Jennifer has put her extensive courtroom experience, including successful trials in the Superior Court of Justice to use. Having worked on both plaintiff and defense files, Jennifer uses her deep insight into the world of litigation to serve her clients in the best way possible.
It goes without saying that Jennifer has been vastly successful as a practicing attorney, quintupling her income in just under two years of opening her law firm.
She has managed cases from inception through post-verdict motions, involving personal injury claims and motor vehicle accidents and won numerous dispositive motions in advance of trial, which has garnered her an exceptional track record. Jennifer is the prime example of someone who uses the full extent of the law for the benefit of others. However, Jennifer's entrepreneurial skills do not just extend to the law industry; she is making waves in the beauty industry as well.
Being at the helm of her own thriving law firm (a 7-figure business, might I add) and a judge for the world's biggest beauty competitions has given Jennifer a unique perspective and ability to blend both the legal and practical aspects of business towards creating a workable solution. The result – J.A.M. Beauty Inc., Jennifer's brainchild and yet another amazing accomplishment.
J.A.M. Beauty Inc.
J.A.M. Beauty Inc. was launched while Jennifer was a judge for the Miss Universe Canada Pageant and featured a range of beauty and skincare products fit for a beauty queen. But what makes J.A.M. Beauty Inc. special is not the range of gorgeous lip colors, bronzers, and highlighters, but its commitment to social responsibility and the environment.
All of the brand's products are cruelty-free, non-comedogenic, hypoallergenic and non-toxic. Their skincare line contains 98% botanical ingredients. J.A.M. Beauty Inc. is committed to health and safety, and has passed stringent European Union regulations to ensure their valuable clients that their cosmetics do not contain any harmful ingredients.
Jennifer's rich lineup makes up the crème de la crème of beauty products. Her amazing lineup of cosmetics has been creatively marketed and is turning heads in the beauty industry. Her metallic red lipstick, 'Intermission' sold out within hours after being brought to market. J.A.M. Beauty Inc. caters to those Beauty Queens on the stage, as well as the Beauty Queens we see in our everyday life – remember, you do not have to be on stage to look your best.
The beauty line is unique in the sense that it gives a shout out to women who participate in the beauty pageant industry and honors each and every woman who considers herself a Beauty Queen. When it came to naming her J.A.M. Beauty Inc. products, Jennifer thought of creative names for her Pageant Collection of Liquid Velvet Lipsticks: Swimsuit, Evening Gown, Interview, Talent, Runner-Up and Crowned. Her color palette was named Beauty Queen.
J.A.M. Beauty Inc. first started delivering within Canada, the United States, the European Union and Germany. Now, they are able to offer worldwide shipping. Because of the tremendous amount of interest for the company's beauty products internationally, the company has now decided to manufacture some of their products outside of Canada in order to keep up with the high demand.
She also has more good news for her fans. The beauty line is currently working on bringing a bunch of new products to the J.A.M. Beauty Inc. lineup very soon — so stay tuned!
Being at the helm of multiple businesses can get difficult sometimes, but through the years, Jennifer has mastered the art of multitasking. She has also learned the importance of carving out moments of calm despite her busy schedule.
"I guess that's the nature of running multiple businesses at a time. Some people might feel it's too much for one person to handle, but it has become second nature for me now."
Running a law firm and beauty business are a different ballgame altogether so Jennifer's biggest challenge was to stay disciplined and not lose her focus. Law and fashion are both highly demanding career choices on their own, but juggling both is enough to test anyone's resolve. However, Jennifer did not let these challenges thwart her. She put her mind hard to what she wanted to achieve and refused to compromise on either of her goals.
With her dynamic persona and never-say-die attitude, it's easy to see why Jennifer is among the list of prominent business leaders that are passionate, motivated, highly driven, and have a vision that transcends the ordinary.
With her bold and brave attitude and entrepreneurial spirit, Jennifer A. Mancuso is a trendsetter and a trailblazer who is working to accomplish her dreams in life, and is doing something for a cause. She is a living testament to the fact that you can have diverse interests and still be successful if you have enough passion and are dedicated to working hard, whether it is your job, your business, or your life.
While Jennifer has a tight schedule, she does find time to do the things she loves. When she is not making leading high-profile and transformative transactions at her law firm or setting new trends with her luxury cosmetics brand, Jennifer can be found with her Teacup Maltese, Princess. She also loves reading, meditating and working out, which she feels is a great way to unwind.
With her entrepreneurial spirit driving her to work hard, it won't be long before the world knows the name of Jennifer A. Mancuso.