Ian Hunter: Facilitating Business Growth and Funding Solutions to Ensure Successful Corporate Futures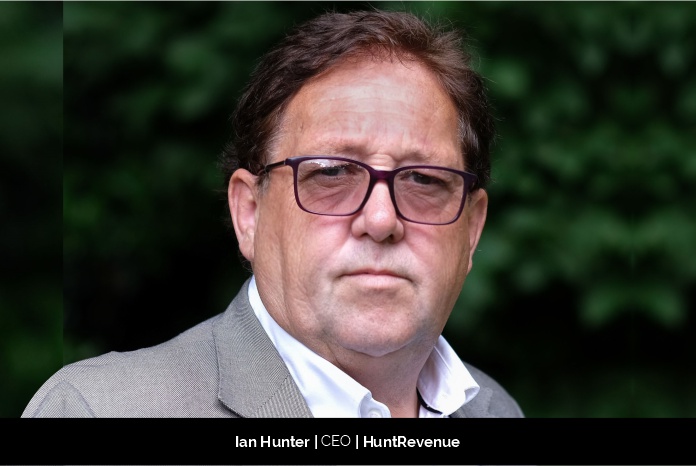 Strong marketing, communications, finance, and corporate management are the backbone for any business as it moves forward. A specialist with extensive business growth experience, that can advise and guide a business through all aspects of the growth cycle can be a real advantage. They can help mitigate the majority of financial risk and in turn, become a support pillar in today's competitive market.
RHF Group, a Management Consultancy company that provides a comprehensive range of business growth services. These services include business development, marketing   communications, franchising, and facilitating a wide range of funding solutions. Their funding services have the added benefit of providing access to a broad base of funding sources.
The company began life as HuntRevenue over two decades ago, as a marketing, growth, and corporate communications consultancy. It specialized in assisting primarily 'business to business' clients from a wide range of sectors including financial and professional services, technology, online retailing, travel and leisure. With the executive team's experience in financial services and to answer a growing client need, it then formalized its funding facilitation service with HuntFunding. The two businesses areas were amalgamated together with a third company ScaleUpArena, together, forming an overarching service brand 'RHF Group' (Revenue-Hunt-Funding)
Supporting Others while Growing Himself 
Ian Hunter is the CEO of the RHF Group. His definition of success is ensuring those around him optimize their full potential. He considers he and the company can only be truly successful when his team is growing as well. He uses empowerment and guidance to push his team to reach their optimum. As his father used to say, "the sign of a great manager is, his or her choice, of their management team." 
RHF Group is committed to a strong corporate citizen program that supports charity at both local and international levels. The company deems, "We want to ensure that RHF Group makes a difference, as it's not always the road ahead, but rather it's what you have left behind that defines the business." 
Industry Insight
The franchise industry occasionally gets poor press due to careless practices. It happens mostly by franchisors that are unaffiliated with a governing franchise association, and who do not follow best practices. They enter franchising often for the wrong reasons. 
Yet, the industry represents the majority of highly visible brands on the high street and beyond. From the outside, most people often do not realize that they are dealing with a franchise business. It can be a Car dealership, Hotel, Fashion chain, Drain cleaning, and even Professional services such as Lawyers or Accountants. Franchising is everywhere, providing unified continuity of quality for both products and services.
Throughout his 30 years professional career, Ian has worked in all segments of the franchise sector. During that period, he has held several key roles, but more commonly worked as a consultant, advising on all aspects of franchise marketing and communications, assisting new franchises in establishing a clear implementation strategy to support the primary and franchised brand. 
Ian explains, "I cut my teeth as a franchise manager helping to establish a car rental franchise and moved on to work with Hertz and Avis. I have also worked with hotel chains including Sheraton, Intercontinental, and Radisson and hospitality operators including Papa John's Pizza" In recent times, RHF Group has also been actively involved in assisting franchisors and franchisees with their growth funding challenges while helping aspiring franchisors to map their franchise development cycle.
Best Management Consulting for a Reason 
The RHF Group franchise has enabled its franchisees to develop the brand internationally with franchise offices in UK, Shanghai, and Perth in Australia. The company believes that its franchise is unique as the corporate growth model starts with a full suite of interlocking client support services. These services have been developed to focus on a client community that has extended into guiding the company's franchise owners to build their own organizations through acquisition, succession purchases, developing their own business conglomerate.
In the world of business, there is no limitation of competition even in the management and marketing consultancy sector. The company says, "RHF group is unique in that we have an over 20-year heritage of helping growing businesses, franchise or owner/director managed companies with practical funding support and introductions. We facilitate millions of dollars every year for our clients."
In addition, by implementing the RHF group's Harvester business acquisition program, the company is seeking to enable its franchisees to achieve exponential growth, by the acquisition of other businesses. 
Keeping an Eye on Current Updates
At RHF Group, the management has formalized the HR and Cultural development program to ensure that the RHF culture has continuity. It is also a key element of the franchise program. In terms of ensuring, RHF is on the leading edge of innovation where Ian, and his fellow directors, are continually monitoring the market and trends. Through this, Ian's co-directors who come from a broad technology consultancy at a senior level, have continuously updated with the latest technology trends and products. These are the major innovation factors in RHF Group's business services portfolio.
Challenges make You Stronger
"For sure challenges make you stronger," says Ian.  One has to ensure that he/she is agile, being able to respond to changing circumstances. 
In terms of roadblocks, Ian faced numerous roadblocks through his business growth the majority related to access to money, to be able to optimize opportunities. This is the reason for having RHF Group's own dedicated funding team to help its clients, and franchisees secure funding. Another roadblock has been, not necessarily having the right business connections and contacts to leverage opportunities, and to address this Ian and  the company has built an extensive professional services networking structure. Ian's advice is always to have the best advice, and don't rely on "Bar Speak". There is nothing more expensive than cheap advice. 
Being Your Own Boss
In his early 20's, Ian went into management, then, fresh from university. Soon the company and economy headed into a recession and making job cuts was necessary. According to Ian, it was his first tough lesson of running a business as it was a BDU within a large corporate. He went on to work for several family offices, where he was tasked with business turnarounds, turnkey launches, securing international franchises, and 'safe pair of hands' management roles. Ian proved himself worth it with every given responsibility, but the recognition was limited. With the vision to create more for himself, he decided to build his own company.
Visioning to Provide with Inclusive Funding Support
Ian's vision for RHF Group is the establishing of a truly global network of franchise offices. He aspires to work together to assist clients with their myriad of growth challenges ranging from whether to franchise or not but providing funding support and business growth support. 
As one of the leading management consultancies focused on funding, funding preparation and client corporate growth, RHF Group's future growth plan encompasses this ultimate aim, through franchising. They set out to build a global business growth-focused, professional services business, with the added benefit of having a significant conglomerate of additional acquired 'Group' companies. RHF Group also is looking forward to providing clients with the opportunity to cross border trade and partner with confidence and support.
Working to Ensure Success
Like any other CEO, wherever possible, Ian leads his team. He is a proponent of a horizontal management style and believes that leading the organization to success rests on his shoulders. Strategic planning and building the corporate vision for the business are Ian's primary responsibilities which he manages with fellow directors. As for motivation, the executive team is all stakeholders, and all work to recognize and reward all members of the team to ensure they feel motivated.
RHF Group provides services with ethical core values, these being, transparency, honesty, and fairness. Ian opines, "If we can't help, or obviously can't add real value to a client, we simply say so, and try and point the client in the right direction."