Goliath Technologies: Transforming End-User Experience with an Innovative Approach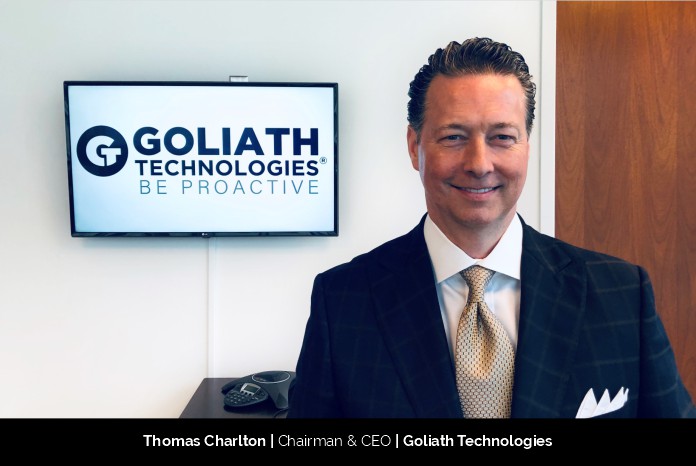 When Thomas Charlton, the Chairman and CEO of Goliath Technologies, founded the company, he was led by an extraordinary vision to help technical entrepreneurs. With the power of technology, Thomas wanted to create a unique avenue that would offer technical entrepreneurs another way to commercialize their product or grow their company without having to raise venture capital to build sales and marketing teams. Thomas had a distinctive zeal for technology that motivated him to think out of the box and bring about a dimensional change in the technological industry. As a result, he started Goliath Technologies, centering on passion and innovation as core values.
As the name suggests, Goliath Technologies is a leading software company that provides proactive IT operations software to address the challenges associated with managing a hybrid IT infrastructure. Initially, the company focused on helping IT pros monitor and troubleshoot end-user experiences across their desktop virtualization infrastructure leveraging Citrix or VMware Horizon. However, under the guidance of Thomas and with the expertise of skilled leadership, Goliath Technologies soon expanded their software portfolio to offer similar capabilities across endpoints, web-based applications, and cloud infrastructures (Amazon Web Services (AWS), Microsoft Azure, and Google Cloud).
Goliath Technologies is known for delivering exceptional software and has been the recipient of numerous awards and recognitions for improving end-user experience. This article profiles the journey of Goliath Technologies shared by Thomas Charlton himself, who has strategically nurtured the growth of the company from a start-up to a globally recognized enterprise software company.
The Beginning of an Entrepreneurial Journey for Entrepreneurs
Many tech entrepreneurs believe the only way to successfully build a company is by raising outside capital. While in some cases this is possibly the best option based on the company stage, business model, product, and market opportunity, Thomas wanted to offer another  way for tech entrepreneurs who are considering outside capital to grow their sales and marketing engine through a partnership structure, rather than through venture capital.
According to Thomas, there is a way for a company with the right product mix to grow revenues without loss of control or significant equity dilution. If the software products have the same IT buyer and are synergistic with Goliath's portfolio, they can leverage Goliath's standing sales and marketing teams to introduce the entrepreneur's product to 100's of their current customers immediately, as well as drive sales to new customers. With this model, Thomas' goal is to not just reduce the risk of sales and marketing execution but to practically remove it. So, an equity partnership with Goliath should enable technical entrepreneurs to expand sales of their product more quickly in a way that mitigates risk, capitalizes on joint synergies, and leaves them in control of their company to focus on product development while increasing both revenue and equity value. This innovative concept marked the beginning of Goliath Technologies.
As a start-up, Goliath's first challenge was to source their first client – a tech entrepreneur with a good product. Fortunately, the company sourced their first equity partner in just six months from the inception. Fast forward to today, the company is growing in strength and number with the same passion they had when they first began. "I am proud to say that we have been able to fulfill our value commitments, and the first client remains with the company to this day," Thomas shares.
What Makes Goliath Technologies Different
The basic concept that makes Goliath Technologies different is that they understand their clients' needs. They recognize the daunting challenges that IT teams face today. IT teams are responsible for keeping end users happy, meeting service level agreements regardless of user behavior, connection methodology, or where the users, applications, and workloads are located. Goliath Technologies meets these challenges with software. At Goliath Technologies the team is passionate about providing software products to IT Professionals that prevent end-user experience (EUE) issues in this complex and highly distributed IT environment. When performance issues do occur, they provide visibility using software to quickly remediate the problem and isolate the root cause. They then provide data and analytics to show objective evidence of the failure point or condition, so permanent fix actions can be implemented.
Goliath Technologies has been a pioneer in creating new software to help and ease the lives of IT professionals across industries. But as a result, Goliath is positively impacting the lives of everyone. For example, Goliath has become a standard in Health IT with the presence of their products to support Cerner Millennium, Epic Hyperspace, MEDITECH Expanse, and other clinical applications that can improve patient outcomes and reduce clinician stress.
Capturing the Industry with a Distinctive Use of Technology
All the products in the company's portfolio leverage embedded intelligence and automation. Pertaining to Citrix, they automatically discover an organization's Citrix delivery infrastructure including NetScalers, Citrix Servers, and Virtual Servers, and create a dependency map of all relevant components. Then, without any scripting, they automatically begin to monitor events, conditions, and failure points that can negatively impact end-user experience. Following which, they alert if there are issues. Their technology knows what to monitor and at what thresholds so that the IT team does not need a Citrix Expert to be effective.
There are two factors that set Goliath Technologies apart from its competitors. First, no other company of their type offers the embedded intelligence and automation which is provided in all of Goliath's products. Once deployed, Goliath's product immediately starts collecting user session data to begin anticipating, troubleshooting, and documenting end-user performance issues. The software includes hundreds of pre-configured monitoring rules that will automatically begin to look for events, conditions, and failure points that can negatively impact end user experience. Then, will alert IT professionals when performance issues arise using best practices thresholds derived from Citrix, VMware, Microsoft, and our own Goliath consulting experience.
The second factor is in healthcare, Goliath Technologies has business and\or technical relationships with all the major Electronic Health Records (EHR) providers (Epic, Cerner, and MEDITECH). These relationships have enabled them to develop industry-specific purpose-built modules for the major EHR vendors which give Health IT professionals a single pane of glass to view the performance of their EHR applications, Citrix delivery infrastructure, and end-user experience. As a result, they are often referred to as the standard in Health IT.
Driven by Integrity, Motivated by Innovation
Innovation and integrity are inherent in Goliath Technologies' overall business model. To fulfill the increasing demands of the client needs, Goliath Technologies is encouraged to think out of the box and innovate new ideas that are more focused on intelligence and automation. Integrity is the fabric of how they do business and conduct themselves. "In ethics they teach that integrity is regarded as the honesty and truthfulness or accuracy of one's actions. In practice, you do what you say and say what you do. Whether it is to team members, clients, or tech entrepreneurs, I am very proud that always, and especially when it is difficult, we follow through on our commitments," Thomas says.
As the CEO of Goliath Technologies, Thomas believes that the way to keep people motivated is to hire motivated employees and offer them an opportunity to turn their motivation into performance, and then recognize and reward that performance. He also believes that motivation is an inner trait that cannot be thrusted upon someone. "Motivation or drive has to come from the individual. What you can do is attract motivated people and provide them a framework, culture, and advancement programs where their internal motivation can be realized and translated into career advancement," says, Thomas. At Goliath, they have well communicated, organized, deliberate training and advancement programs for team members who want to dedicate themselves to improving their careers. As a result of this, 30% of team members have been promoted, 50% have experienced compensation increases within their job level, and 30% of employees were referred by other team members.
Steaming Ahead with Passion and Innovation
Today, Goliath Technologies' software products are distributed globally, and they will continue to expand their footprint. They are innovating their core products to improve client value and are also relentlessly speaking to tech entrepreneurs who have new and innovative products. In fact, they are seeing growth in virtually every geographic region with increasing people and products.  The company's roadmap will remain focused on portfolio expansion. They are planning to launch their support for Citrix Cloud in the beginning of 2021. Organizations will continue to operate in hybrid IT for the foreseeable future and their roadmap will continue to align to those needs, providing software that helps them manage and support the IT infrastructure and end-user experience.
The vision for the company is to continue working with tech entrepreneurs to bring meaningful technology to market that will address the pain areas and improve the work life of IT professionals. The company model enables them to serve tech entrepreneurs, their employees, and clients. They intend to create a win/win situation for all constituencies.
Goliath Technologies' core values enable them to achieve this vision. Going ahead the leadership wants to hire the best performers and then create a work environment where they can contribute using their inherent talents, develop new skills, advance their careers, achieve their financial goals, and have fun. As Goliath Technologies envisions their goals ahead, they are committed to achieve them all with integrity, honesty, and open communication.