Forthright Technology Partners: Leading IT Services Experts since 1992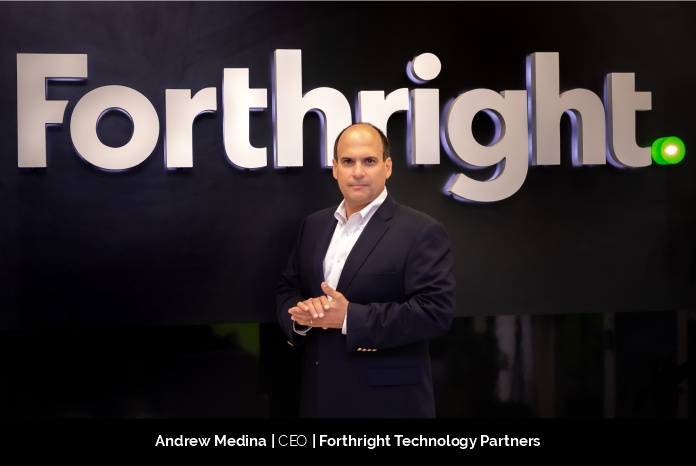 In 1992, the technological landscape was being rocked by the advent of the GUI (graphical user interface) on the PC. In April of that year, Microsoft introduced Windows 3.1, which sold over one million copies in the first two months. It was also the year Hurricane Andrew slammed into Florida destroying Andrew Medina's parent's home. When Andrew witnessed his father, who had never interacted with a computer, redesign the interior of his home using a CAD program on a PC, the proverbial lightbulb went off in Andrew's head and a company was formed, Forthright.
For most of a decade, the company was a lifestyle business, and it was operated as such. At the time, "we honestly did not believe it would stand the test of time. Being recent college graduates, all we knew was that the future lay in front of us, but we did not think this endeavor would turn out to be as successful as it has been," recalls Andrew. This lack of discipline and structure seriously hampered the growth of the company in its early years.
However, as time progressed Forthright developed into an IT consulting company focused on its clients' successes. Andrew and his leadership team devoted more time to the strategic development of the company – formalizing business, marketing, and financing plans. This allowed him to scale the company to point of being able to install qualified individuals to run the various aspects of the business and to bring higher levels of success to the organization.
The focus of the company has changed over the years as the industry has evolved, but the core values of the company remain constant. "What we did then is not what we do today; what we do today is not what we will do tomorrow. We've changed and developed the why and how of what we do as we strive to improve user experience and success for our clients with ever-changing technology solutions," asserts Andrew.
An industry leader in application delivery optimization
Today, Forthright is a leader in corporate desktop and application delivery optimization, a preferred choice for the outsource of IT infrastructure management, and a trusted resource for the migration to and management of cloud and hybrid cloud solutions. The firm has six core service offerings for clients who need consulting services for strategic initiatives or prototyping new technologies, require additional resources for day-to-day operations and new projects, or want to focus on their core business and therefore hand over full responsibility of a specific technology set to Forthright.  
Forthright's core service offerings are:
PlanIT – Advisory and assessment service to plan for desired outcomes
BuildIT – Professional Services for on-demand projects
ExpandIT – Expands the reach and capabilities of a business's IT team
SupportIT – Incident-based support packages
RunIT – Co-managed and fully managed services
SecureIT – Compliance and cybersecurity support
Partnering with technology vendors and helping clients pursue well defined outcomes
Forthright's contribution to the IT industry is not based on recognitions and awards, such as 2014 and 2015 Citrix Global Innovation Award winners for engineering excellence, CRN's top 500 MSPs in the US and Pioneer 250. But rather Forthright's contribution is in two other key areas, says Andrew. 
According to him, Forthright's greatest contribution is in how the company partners with technology vendors. These relationships are based on a serious commitment to assisting with and supporting their product improvements and client-facing messaging. "This begins with ensuring they understand our market and are aligned with our clients' desired outcomes. We become the customer's advocate and invest a considerable amount of time participating in the testing and development of vendor programs and new product solutions in Alpha or Beta states and then articulating the impact at scale that can be achieved from leveraging our detailed feedback," Andrew shares. "Forthright is known for taking a very active role in sharing honest and direct feedback with its partner network because we believe this will help improve their product and services, which in turn will drive a better overall user experience for the entire industry."
The other contribution to the IT industry is from a customer perspective. Forthright helps clients avoid the "easy out" by blaming technology or a vendor for failures and instead, Forthright helps them pursue well defined desired outcomes and ensure sound use cases avoiding an undeserved negative impact on the industry. The manufacturer is often blamed for shelf-ware or failed projects, giving a good technology a bad name. Forthright keeps its focus on driving business success by sharing its expertise and experiences benefiting its clients, colleagues, contacts, and ultimately the industry. Additionally, Forthright regularly participates in and hosts workshops and journey mapping sessions at technology events and summits along with producing free community webinars where you can "ask the expert" anything you want around Forthright's areas of expertise.
Witnessing the rise of revolutionary technology that changed course of mankind, Internet
Forthright's longevity has allowed the company to be spectators to some amazing evolutions and revolutions in the IT Industry. "We started business in the era of the democratization of computer power. Prior to the 1990s, the ability to rely on computer processing was relegated to only the largest of companies. With the advent of the PC in the 90s, everyone now had access to this computing power. 
"Forthright witnessed the rise and fall of location-specific computing, where companies housed their servers on site. The data center soon replaced this local concept allowing for great redundancies and the ability to connect remote locations through the high-capacity backbones of the datacenter. Forthright is currently witnessing the evolution of this concept as customer specific data centers are being replaced by generic datacenters and the paradigm of compute is morphing into a utility-based concept," asserts Andrew.
But the most fascinating development that Forthright has witnessed is the rise of the Internet and the  substantial impact it has had on the human species. The Internet is one of those revolutionary technologies that change the course of mankind – similar to the harnessing of electricity. "Obviously, the impact of the Internet on the IT industry – and to the general population – has been transformational," says Andrew.
Emphasis on people, not technology, a major differentiator
A major differentiator for Forthright Andrew believes is its emphasis on people, not technology. Many IT providers have an immensely talented team, but at the end of the day, those resources are simply not enough. The mission to focus on people and their desired outcomes first  requires a culture that focuses on this point every day and in every interaction. Forthright's vision is to achieve one million smiles from its clients via interactive and real-time user sentiment scoring. The company's core corporate values of integrity, value, fiduciary responsibility, and commitment are at the center of every Forthright interaction and project.
"We are forthright in all our interactions and always have our clients' best interests as a top priority. In the IT Industry, staying relevant is of paramount importance for not only growth, but also for survival. A significant amount of effort is dedicated to ensuring that Forthright can be relevant to the needs of its target client base. Forthright also spends a significant number of resources in building brand awareness within its community and fostering relationships with customers, vendors, and community partners to yield a vibrant referral-based network to augment Forthright's reach into new organizations," says Andrew.
Delivering IT services on a personal level
By fostering constant innovation and a culture of change, Forthright delivers IT services seamlessly and on a very personal level. Forthright's mission to exceed expectations requires not only integrity, which is also in its core values, but also innovative thinking to continuously improve and find new ways to make IT not suck. While there are organizations that aim to exceed expectations – and they do, some of the time. Forthright team makes a commitment to exceeding expectations every single time – through every project, support ticket, question, and ultimately through every interaction. 
As the CEO of Forthright, Andrew's role is to not only craft the strategic plan of the organization, but also to guide the organization along the path to meet these strategic goals. Most importantly Andrew's role is to ensure that the guiding philosophy and the culture of the organization is not only verbalized to its workforce, but also to ensure it is followed and adopted – "we are Forthright Technology Partners and we must ensure that we live up to this name."
Moving forward, Forthright's strategy is to stay relevant in order to address its customer's needs, deliver these goods and services in a recurring revenue model, and gauge its success based on the end user satisfaction.