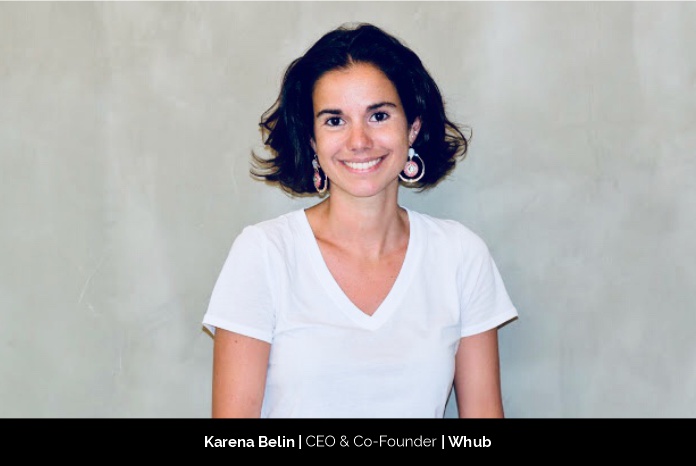 Founding a business is a hard enough task to partake in. Wearing all the hats and doing everything initially as an entrepreneur is an even harder challenge to face and cope up with. Fortunately, owing to the rapid advancements in technology and the vast number of emerging startups, there are several companies who provide a platform or a helping hand to these foundling businesses in whatever manner possible.
WHub was incepted with the same ideology and thought. The Startup and Talent platform provides an opportunity for startups and entrepreneurs to attract the requisite resources that they might need to run a business – talents, investors, and collaboration prospects.
The best way for a startup to attract such resources is them, the passionate entrepreneurs, talk about their product or services, about their team, their vision and roadmap, the perks they can offer and beyond! Backed by the pioneering minds of two inspiring businesswomen, Karena Belin and Karen Farzam, WHub provides entrepreneurs with exactly the same opportunity.
Beyond Exclamation looks at the journey and the vision of these two pioneering leaders, who have time and again strived to move beyond excellence to achieve success.
Karena Belin: Improving Lives with an Intent
For 15 years Karena worked with Procter & Gamble, improving people's lives and developing leaders with a strong drive and passion for change. These core values at P&G were something to which Karena strongly related with, one which prompted her to work with the company for so long across different regions and for different positions and roles. However, she discovered these values to have totally exceeded expectations in the Tech and Startup space.
"Bringing impact and entrepreneurial skills to an unparalleled dimension has been so life changing and rewarding. It's the Passion of the founders, the impact they create, that makes me even more passionate to help and support them. And the reward is exponential, when you can help others to help themselves," Karena rightfully points out.
Making the Impossible Possible
This was more than a statement for Karena; it was an intent. The intent of not letting fear, doubts, hardships, or set-backs push them off-track. Back in 2013, the startup scene in Hong Kong was not the most influencing, it was small and unknown as only a few people considered to jump the ship and work for a startup. "When we started pondering over the idea of WHub; about helping startups grow, recruiting and scaling, people would ask at best how big the market potential was and, at worse, they thought this to be a problem which was impossible to solve," Karena recalls.
5 years have gone by and WHub is not only the biggest startup community in HK with a staggering total of 18,000 members, but it also represents the nation's budding and innovative startups on a globular scale. Contrary to popular belief, Hong Kong's startup community is one of the fastest growing ecosystems in the world, with multiple records to its name. These include, Sensetime, one of the highest valued AI company in the world; TNG Wallet, which is one of the highest FinTech Series A funding round in the world; Zeroth.ai, world's first AI accelerator; block.one, a company deemed as the world's largest ICO; LaLaMove and GoGoVan, which are the two most successful unicorns in the logistics space; and the list goes on.
Keep Moving Ahead
According to Karen, as an entrepreneur, people tend to become addicted to solve problems. However, falling in love with a solution brings-forward new problems. One needs to stay critical, alert, and open to an ever-changing, exponentially changing market environment.
Thus, rather than becoming satisfied with her journey and the resolutions which she has brought-forward, it is the moments that truly satisfy her. The fleeting moments of realization of having built a strong partnership, trust, and credibility to solve problems faster and with greater impact is what sticks out in Karena's mind as moments of satisfaction.
Pushing the Company Forward
Speaking about the future, Karena believes to share common interests with Karen and pushing themselves to the extreme is certainly a part of the future goal. "But we are also diverse enough to bring different viewpoints to the table that really benefit the company overall," Karena asserts.
In the future, Karena views WHub to have an impact on a global level, as scaling startups through HK and the Greater Bay area is a powerful value proposition to startups from around the world. Speaking from a personal standpoint, Karena is passionate about education and being involved with a parent organization. She believes there to be valuable lessons from entrepreneurship that can help children become confident and socially responsible world citizens.
Karen Farzam – Running the Trails of Success
The thought of being an entrepreneur had never entered the mind of Karen Ferzam. She had a totally different life before the inception of WHub, when she was an equity derivatives trader for JP Morgan. Both Karen and Karena had a common passion about the entrepreneurs and the drive and deep belief they have for their startup.
Unlike her days working as trader in investment banking companies, Karen today enjoys working on her own schedule and views it to be more than just work. She is willing and determined to spend hours working for WHub, as she firmly believes that "when you are passionate about what you do, you can work on it for countless hours."
Bringing a positive impact
WHub was started because of the level of passion Karen and Karena had for startups and entrepreneurs. She mentions how passionate entrepreneurs are about their company and their idea. And this ignited the spark to create a platform that provides budding entrepreneurs a platform to share about their company, their products or services, their mission and vision, the team of difference makers and beyond! "It is the best way to attract the Resources they need: users, team and investors."
However, the best part of this journey for Karen is the amazing crop of people she has met along the way and the rewards, which were a result of the positive impact left by WHub on the community. "Being an entrepreneur is hard, otherwise everybody will do it." Entrepreneurs, in general, are struggling to build the best possible team, to find the right investors at the right time, and to decide where and when to scale. Karen mentions how their company is no different than others, "but the fact that we are going through this journey together with an incredible team makes all the difference."
Nothing is Impossible
Probably the biggest strength of both these pioneering individuals is how they do things separately but together, one which according to Karen is their biggest strength. "We come from different background with different skills but we share a common mission and vision," she asserts when asked about the future roadmap of WHub. However, on a personal note, she mentions her desire to finish her first 100 km trail running during the middle of November this year. For her, trail running is much like entrepreneurship; "It is a long hard journey but with planning, stamina, and focus, nothing is impossible."
A Long Way to Go
Like Karena, Karen's answer on satisfaction revolves around the same thought, yet they differ in one way or the another. She mentions how WHub is the biggest startup community in Hong Kong, but as an entrepreneur you're never quite satisfied with your achievements. Adding further truth to that, she mentions "There are always new milestones to reach, new market to conquer, and new challenges to take. The hard work is never over and that is what is exciting. Our mission is to unleash the full potential of startups and foster the community – there are still many things to be done." Indeed, there is a long way to go.