Donna Loughlin: Unstoppable Story-Teller for Visionaries Leading the Future of How we Live and Work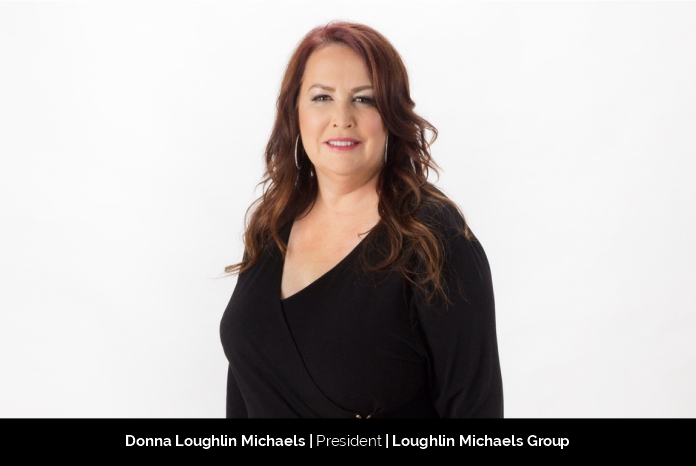 Attaining triumph in meeting big goals does not apply to all successful leaders. Donna Loughlin, Founder and President of Loughlin/Michaels Group PR (LMGPR) always took success as a personal journey. For her, it was always a small triumph leading to a bigger career goal. She feels that taking speech therapy lessons helped her overcome her shyness and built confidence that further helped her become class president and take on school paper leadership roles. All these small experiences contributed largely in winning the title of "Most Likely to Succeed."
She says, "Throughout my career I have achieved awards and praise for my work, but I think my biggest success over the years has been shaping my clients to be award-winning market leaders. To be the daily drive to achieve impact for others defines my success and motivates me to make a difference."
In her words, "Risk, Challenge and Reward are three pillars to continuous success." Many leaders too owe their success to these 3 rocks that carve out the best in them.
Stepping-stones to founding LMGPR
Many leaders solve an existing problem while others bridge the gaps in the existing market. Donna shares, "I formed LMGPR to fill a void that was missing in the post.com era: a PR consultancy for emerging tech markets and innovators. There were a lot of big and boutique agencies, but nothing focused on creating a strategic launch pad that would guide innovators from inception to launch." For many brands discussions took place on a napkin to further take them onto an angel investor's office white board. At last, it came out through the official launch phase.
There are 3 crucial points on which the foundation of LMGPR was laid out namely, Leadership, Momentum and Growth. They all are the chief pillars that are considered in all phases of business be it, establishing relationships with clients or acquisition and IPO.
She adds, "The new era of SPACS is something we are also now experiencing. Many of her clients became market leaders including FireEye, SKULLY, Knightscope, UBTECH, Divergent 3D, and, most recently, Damon Motors to name a few."
Conquering roadblocks on the way
Donna firmly believes in the proverb: Imagine the impossible, then make it happen. She feels there is no need to worry about the roadblocks on the way as they always help in making a person stronger over the years. While running a business, there will be numerous factors affecting the business starting from economy, technology and, most recently, the pandemic.
She says, "Many times, challenges become fuel for personal growth and certainly for business growth as well. LMGPR was started in a down post .com economy and we have fortunately weathered the storm of a recession and the 2020 pandemic."
She feels that the most valuable lesson that she learned was to gain constant creativity in networking, using different digital tools such as LinkedIn, alumni and professional groups as well as collaborating on new approaches to doing business. She also has been a part of the Silicon Valley Business Journal Leadership Council as well as gained a goldmine of experience and fresh perspectives on business management.
Tales from the Silicon Valley
Based in the heart of Silicon Valley, LMGPR forms its basis on creating a strategic PR program that meets all the business objectives effectively. The main component of this is to develop a relevant and disruptive story narrative. She says, "We dig in deep to the company's vision and imagine the possibilities they often don't see. For example, the Damon HyperSport motorcycle is not about safety but about the future of mobility and the reduction of accidents on the road.
As Innovators get closer to their biggest invention to witness the use cases for success, the company renders support in road-testing their stories with the current market analysts as well as customers before taking it to the final media. This approach has encouraged cover stories with Popular Science, Reuters, BBC, Bloomberg, CNN, Wall Street Journal, Businessweek, and many others.
The noteworthy point to remember here is that the perfect story displayed at the right time can result in awesome outcomes for all the clients, be it during production of funds, revenue generation and, even at times of acquisition.
Every company needs underlying values that determine its uniqueness and stay ahead of the growing competition in the PR and media industry. She shares, "The core values of the agency are to always be relevant and create new approaches to media programs. With the social media boom came change, and now with new apps like Tik-Tok and Clubhouse, one needs to stay tuned into the tools that the market is responding to. We have a mix of B2B and B2C clients, so the tools we use vary depending on the campaign or client we are working on."
2021 will mark the 20-year anniversary of the firm. She feels overwhelmed reminiscing the time witnessing metamorphosis in the different sectors like cybersecurity, smart home, smart car, autonomous, robotics, and wearables. She adds, "As a result, we continue to work with the emerging market players in new industries or the convergence of established markets. This constant surge of change and innovation keeps us turbo-charged for the next big thing to come."
Culture plays a pivotal role in enforcing the best direction and keeping the employees and clients engaged. It helps them both tread the growth path easily. She further adds, "Our experience and relationship-driven culture is key for our client engagement too. Working with founders and C-level team members bring a lot of different perspectives, experiences and viewpoints. We also like to meet the heads of various departments to understand the company culture, customer insights and ensure we understand the heart and soul of a company before crafting narrative." Not only this, the company, even has a streamlined process named "Strategic Story Engine" which acts as a helping guide for everyone via a myriad of story variables over time.
Donna's Career Track
Destiny had charmed Donna's life into the media industry ever since childhood. She says, "Growing up in the back of newspaper and print shops as a child gave me my first introduction to media and content. The smell of ink brings back many memories. I was also a college book text editor/proofer and was a drive-time radio host."
She launched her professional career by typing 150 words a minute in a newsroom. Her super-fast typing helped her enter into the editing pool which further led to her working for a great innovation company, 3Com Corp. She shares, "My earlier years I spent typing my way to the top as an editorial assistant, reporter and writer with The Washington Post and Reuters."
Her first exposure to working with a visionary was with Dr Bob Metcalfe who was the inventor of the Ethernet. That set the tone for the rest of my career in technology PR. She even worked for Burston Marsteller and Edelman, which are two of the largest global PR agencies. Before establishing LMGPR in 2021, she even held several senior level PR director positions at many tech companies and even led three IPOs.
She feels she has achieved most of her career goals that she dreamt in high school. She also hosts a podcast series, "Before It Happened," which primarily focuses on visionaries as well as their view on the future and represents the leaders of today and tomorrow in limelight.
She further states, "My amazing team and I have received more than a dozen awards over the years. A few include 2020 Best of Silicon Valley Hall of Fame, Woman in Tech Future, Woman to Watch, Hermes Creative Award, and Silicon Valley Woman of Influence."
Juggling between Professional and personal fronts
As the President of LMGPR, Donna is determined to reach the zenith of success. Her Industrious self never stops her to make an effort in everything she strives to achieve. She says, "I start each day with the idea that anything is possible. Because if you believe It you will achieve it." This quote keeps her moving throughout the day and crossing off all the to-do list tasks easily.
Prior to starting her day, she meditates and feels thankful for the new day with a cup of chamomile tea. Further, she progresses to make her bed, while listening to the news and see what's happening in the world. Later she starts jotting down her "12 Must-Do Things" list which mostly lingers on to the next day, but she stays positive to keep her momentum going. For her, no 2 consecutive days are alike but mostly during the day, she offers client consulting, news media pitching and works with her team to create new stories and programs for the clients.
Her evenings and weekends normally go into working on the podcast and gardening to decompress and start preparing for the upcoming week. She adds, "During COVID-19, it's been especially important to get up and move. My dog certainly appreciates the extra walks between Zoom calls, and I have a prolific vegetable garden too. It is key to take time off regardless of working from home, so I encourage time off and Zoom-free Fridays to keep balance."
Maintaining a superior level of integrity is the key to keep a business on the rising graph. She states, "For me, the P in PR stands for "Powerful" and the R for "Relationships." Together that means highly engaging relationships with clients and media that can drive results." Thus, she ensures that LMGPR includes a diverse and experienced team and always operates like a family. When COVID-19 struck, every employee felt safe as the company made it a point to keep everyone's well-being in check.
Donna's 5-Step Success Mantra
Having enormous influence, she has defined a 5-step success route that will surely help everyone in the PR industry stand out!
Staying Relevant: Donna feels that reading venture capital and business economic news will keep them aware of everything in the news and also, help in securing different business leads easily.
Being Bold and Fearless: Although email remains the first line of contact, making cold calls has helped her grab some amazing cover stories in WSJ, USA Today, Fast Company, Wired, Bloomberg, and others.
Thinking out-of-the-box Approaches: Remaining dynamic as per the market shifts is important. Just like in pandemic, she emphasized on companies that make their products in the USA and not dependent on offshore manufacturing and development. It has also helped them gain many new clients.
Listening and Understanding Your Customers: As Client businesses are prone to shift with circumstances and the company needs to restructure all such operations as well. For instance, in pandemic, podcasts and virtual events replaced speaking engagements.
Being Agile: Be ready to upgrade as the world shifts such as Clubhouse became a powerful substitute for both Tik Tok as well as LinkedIn.
Charting the Future Roadmap of LMGPR
LMGPR has already attained its big milestone of 20 years in existence. Donna still believes that there is a lot more to achieve further. Right now, she is looking forward to the next 10 years of innovation, new clients and success of the "Before It Happened" podcast.
She even has many personal goals outlined for the future. She adds, "I do think I need to write a book on the visionaries I've worked with over the past decades. These almost folktale legends of technology will hopefully inspire the next generation. Additionally, I want to mentor more next-generation communicators and learn from them as much as they learn from me." She wishes to fulfil all these goals as soon as possible.
Sharing her message for all aspiring business-women, she says, "Never stop living in the moment. It is because at the end of the day what matters most is: did you have a great time, and did you enjoy the people and stories along the way?"