Kristen Pechacek: One plus one is unlimited potential to earn in Franchise – MassageLuXe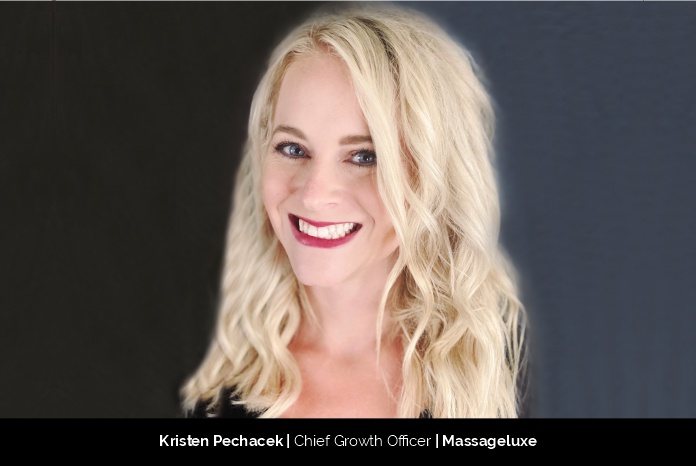 The foundation of the bricks for building a house exists for a dire reason. Similarly, in contrast to entrepreneurship, the foundation stone doesn't exist just to keep us out or to increase the cost structure of remittance. They subsist to stop the individuals who don't want the pillars to be built badly enough and are determined to be a hurdle who are willing to put in an effort and be the substitute. In a conversation with Kristen Pechacek who is the Chief Growth Officer of MassageLuxe to understand what determines as an outcome if we succeed to become a substitute and lay our foundation, she exclaims that success in her point of view is centered around viability and working to attain a certain purpose in life. In her domain of franchising, she covers her purpose in assisting and providing an indistinctive framework for entrepreneurs to live out their dreams of business ownership. She contemplates that if you are not waking up every day with a passion and energy around what you do, you should reevaluate. She also adds that you are only your best when you feel your best and that is ultimately the pinnacle of success in her pearl of wisdom.
With the hitting of the outbreak of Covid-19, every individual on the entire planet has had made it to the life raft. The contemplation analysis to this is that the dry land is too far away. Kristen confesses that choosing MassageLuXe was not a hard choice for her. She states that moving or switching to an unknown organization during the midst of a pandemic may not be an easy decision for some, but after she discovered about the approach that MassageLuXe takes and post-meeting the corporate team, it felt like the only decision she could make with certainty. She believes that MassageLuXe does things differently. They have opened the wave of opportunity to make health and wellness services accessible to all in a welcoming and approachable environment. That purpose inspires the corporate team and the franchisees to perform and produce their best every single day. This superior service and environment that MassageLuXe provides has led to explosive growth and interest in our brand that has never been higher before ever.
It is inevitable to meet failure on your way to your destination and if you are able to scoop the constructive feedback from it, you will discover the key to duck the upcoming boulders and re-evaluate your planning beforehand. Upon scooping the pearl of wisdom that has been an input of roadblocks in Kristen's viability, she confesses that she has had encountered a few moments in her professional career that she would categorize as her inflection points wherein many have been from the field of franchisees. Upon reminiscing her previous boulders, she enlightens that when both the parties are losing, it forces challenging conversations that have the potential to keep you up at night. It is those conversations and moments that drive one's commitment and passion for doing everything they can to assist them in their pursuit of success. Chuckling, she says that it is funny because our CEO Mark Otter always says that there are no roadblocks – only hurdles. With the right people in the room and the right mindset, any hurdle can be jumped. – she added.
Just shelving the organization with products and services and expecting it to be attracted by swarms of customers isn't a good idea anymore. If we really need to beat the law of diminishing marginal utility, creating a base of raving fans would be the first step. Getting into a deep insight of the organization from Kristen, she shed the light on the offerings of MassageLuXe, it is a nationwide spa franchise that is striving to offer high-quality massages, facials, and waxing services. It has been employed with eligible Licensed massage therapists and estheticians who are on a mission to assist clients to discover them attaining relief for chronic pain and skin conditions in a relaxing environment. MassageLuXe promotes health and wellness for the body and mind through massage and skin health treatments. Upon delving into some of the challenges of the industry, she confesses that the franchising industry is second to none. The entrepreneurs, trailblazers, and thought leaders who advocate on behalf of the future of franchising are setting the stage for thousands of people to fulfill their dreams. This industry is a vital part of our economy and they need to take the spot to do everything they can to embrace and grow it.
A woman influencer who leaves a major impact in whatever industry she is serving intends to always dream of a pen that will transform into a syringe overnight. Scrubbing the fog to witness the accolades bagged, Kristen shares that during late 2020, she was named among one of the 100 Most Influential Women in Franchising by Business Woman Magazine. Wherein, the annual list honors 100 leading women in international franchising every year. She was honored to be listed alongside these leaders. – she added.
Kristen in her deepest desire wants MassageLuXe to be a household name, that is also recognized as a leader in the health and wellness industry who knows how to put themselves in their consumer shoes. This brand has the potential of foundation to scale and to flourish in a skyrocketing manner. In her pearl of wisdom for inspiring woman entrepreneurs, she shares that her goal is to make as many aspiring franchisees successful as possible and inspire people that they too can achieve what seems to be impossible at first and remains untouched. Adding to that, she hopes too that by continuing to help franchisees achieve success, she will continue to be tasked with the responsibilities of growing an organization. Adding to her piece of advice to aspiring businesswomen, she guides them to wake up every day with an appreciation and understanding of what their franchisees have done. They invested in the work that you are doing and are trusting you to build something they can flourish in. Take the time to get to know them and to build relationships with them. In doing so, you will start to approach your work and the decisions at hand differently.