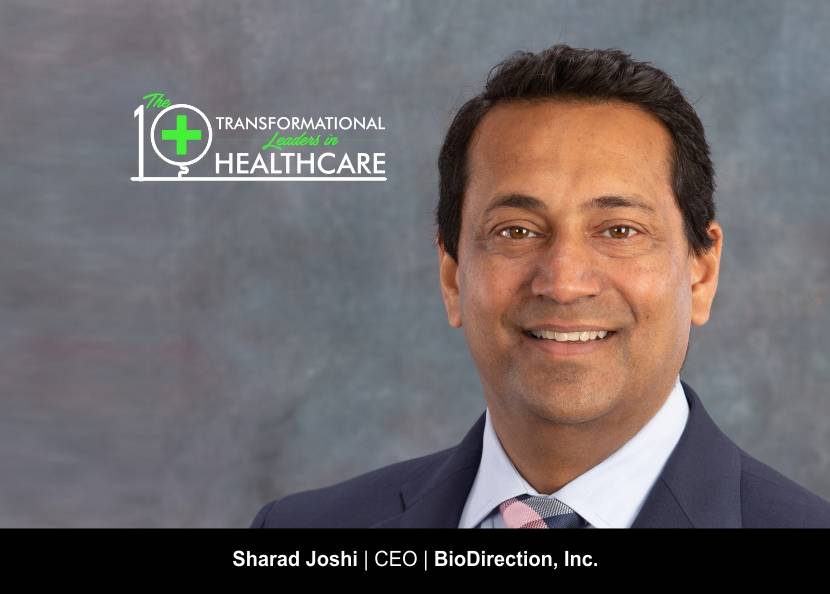 An Inspiring Journey Influenced by Great People
He always aspired to be a doctor; however life had a different destination for him and he finally was led to the biomedical field which is a blend of technical and medicine. After 14 years of technical experience he shifted to the business side of the medical device field, which led to the incorporation of BioDirection. Today BioDirection is one of the leading medical device companies developing novel and rapid point-of care products and Sharad Joshi, CEO of the company has some interesting insights to share from his inspiring journey.
The Beginning
Throughout his career Sharad has been influenced by some great mentors. While at Northeastern University he was fortunate to become the first COOP student at Boston Scientific and worked with John Able, their co-founder and visionary person in the field of angioplasty. He learned how to work with medical professionals to invent and create products and new markets. After which he worked with John Simon, CEO of a startup company UroMed Corporation. Sharad was the fourth employee in the company and was greatly influenced by Simon, who had great people skills, a kind heart, and consequently a great fundraiser, leader and philanthropist. Sharad learnt a lot about business and leadership from him. He worked with UroMed for 11 years and went on to start his own company Blue Torch Medical which developed products for prostate cancer surgery.
He worked closely with some of the top surgeons in the field, but the most notable one was Peter Scardino of Memorial Slone Kettering. He had immense empathy for the patients and his humility combined with talent was an inspiration. Sharad realized that hiring highly talented people can lead to great ideas and a strong company and hence he had a great team working for him. A remarkable figure amongst them all was Michael Moniz who was one of the smartest, hardworking and highly disciplined and he continues to be an inspiration. Sharad also worked for Jean-Luc Boulnois at Microline Surgical who was the Chairman and together with a talented team, they expanded the business internationally to over 80 countries, went to direct sales in the US, installed automation with some influential people along with some cherished fun. His mentors believed in him, encouraged him and helped him develop in his personal and professional ways which has kept him motivated in the challenges and struggles of business.
The Ongoing Challenges
The BioDirection technology is based on Nanowires and an imbedded antibody that attracts targeted proteins. It works on the nano-scale or 1 x 10-9or 1/10,000 the size of a human hair. Working on that scale makes every step challenging. Fortunately, they have the right mix of talents at their New Mexico facility in the field of physics, chemistry, biochemistry, and engineering who have worked for years to develop this system. The major turning point of the business was when Jim Wylie, the Executive Chairman, Steve Brackett of Shepard Kaplan and Krochuk joined in. The business experience and the funding that they brought into the company was a key turning point for the company, moving it from an "IP and Dreams" company to a viable company that could accelerate, development growth, and race toward the market. Together, they also negotiated rights to use this technology for Sepsis which is an invasion of the blood stream of hazardous microorganisms. The need for Point of Care technology in this field is even more urgent, where minutes or hours of diagnosis is the difference between life and death. Every business face challenge, but to overcome it with the support of a good team is what led BioDirection to success.
The Product Range
BioDirection is a privately held medical device company developing cutting-edge and rapid point-of-care or point-of- injury products for the objective diagnosis and management of concussion and other traumatic brain injury (TBI). It is leveraging the power of nanotechnology to address the rapid and definitive diagnosis of TBI. The founder of BioDirection, Brian McGlynn originally developed the concept of the Tbit system after speaking with people in the military and hearing their difficulties with the diagnosis of Traumatic Brain Injury (TBI). With his scientific background, he worked to develop the core technology that has evolved into the business today. The Tbit System, delivers biologically based results shown to accurately confirm a TBI/concussion. BioDirection's platform system utilizes a patented bio-nanowire technology with the potential for use in a range of applications in point-of-care diagnostics.
The Expert Talk
Speaking about being inspired by the people around him, Sharad was highly influenced by his doctor sister Wanda and his Brother Chanda who was pursuing his Phd in engineering. They have been instrumental in helping him chose a career path. "I get inspiration from a lot of people that keeps me going. I'm inspired by the many medical professionals who help patients all the time. I'm inspired by technical talents that are creative and dreaming of a future that is safer, healthier, and happier. And at BioDirection, we are inspired by the many talented soldiers on the field of battle to the players on the field of play. An if we can help them be safer, we have done our job," says Sharad. He knows how to maintain a work life and personal life balance which is a product of good time management. He believes that you need to set your priorities right. Spending time with family has been a source of rejuvenation for him. As Einstein states "Life is like riding a bicycle. To keep you balance, you must keep moving." Sharad truly keeps himself motivated in an effort to keep moving ahead. He believes that a successful business leader is characterized by empathy, kindness, persistence, humility and passion. For Sharad, starting his own company and taking such a risk at a young age proved to be a learning opportunity.
The Envisioned Eye
In order to impart the same vision and values in his employees Sharad believes that he needs to be an example. "I spent the first half of my life learning from some great people. While I don't belong in their category, I can in my own way, help to mentor and support younger generations of engineers, medical professionals, employees, and children", says Sharad. As they walk in one vision to unlock the power of Nanotechnology to reshape point of care diagnosis to help people live better lives, the team of BioDirection works relentlessly to outperform their jobs to influence and make a difference in the lives of people.
The Futuristic Look
As he strives towards his next goal, it is very rare to look back in time. However there have been a few inspirational moments in the past that have impacted his success today. The future is bright for BioDirection. Their next plan is to launch their first products next year in the field of Traumatic Brain Injury and then to develop into new markets such as Stroke, Alzheimer's, and Sepsis. These are all life critical areas where speed of diagnosis matters. Under the expert guidance of their powerful leadership, the team of BioDirection is looking forward to creating a revolution in the medical field with their innovative and unique devices.
With a view to look forward Sharad believes that one should continuously strive toward their next goal with the desire to help more and more people around the globe. People will always want to be healthier, happier, and safer in the world. If you can find the right environment and people to help achieve that, success will come. As he sees his daughter Julia and son Jared grow up and find work that is meaningful and helpful to others, he feels that his efforts have been paid off.
In his professional career Sharad has been greatly influenced by powerful personalities who have had a humongous impact on his business and life. His journey was outlined and defined by the people around him who taught him many important life lessons. These mentors shaped his life. And now as he walks ahead into the future, he wants to be an inspiration to all those young and budding business minds who are looking for the hand of a mentor. It is his turn to be an influence.