America's 10 Fastest-Growing Women-Owned Businesses in 2020
America's 10 Fastest-Growing Women-Owned Businesses in 2020
America's Fastest-Growing Women-Owned Businesses in 2020

It is no hidden fact that women have made a prominent mark in every industry today. They have outshone their abilities as founders of successful companies, CEOs of leading industries and have yet proven to be great homemakers at the same time. They have taken every major and minor effort to excel not only in the conventional businesses for women but also in male dominant industries.
These women are inspirations to the generation and Beyond Exclamation is proud to dedicate this issue titled, "America's Fastest Growing Women-Owned Businesses in 2020", to them. Featuring as the cover story of this issue is the success journey of Dominique Cagle, Founder and President of Nika Corporate Housing, a leading company providing housing solutions. In this exclusive article we have captured the journey of Dominique as a leading businesswoman, highlighting the ups and downs of her business and how she overcame every challenge on the way to success.
We have also put together the success journey of leading businesswomen who attained a remarkable position in varied industries. Inclusive are articles of Jes Osrow Founder of JOSROW, Karena Belin and Karen Farzam Co-founders of WHub, Kim Vogel Founder of BaseVenture, Kristin Revere and Alyssa Veneklase Co-Owner of Gold Coast Doulas, Lina Ramos President and Co-Owner of NoFoam Systems, Marina Tognetti Founder of mYngle, Michele Weldon Editorial Director of Take The Lead and Nicole Martin Founder and CEO of HRBoost. We are honored to feature such inspiring personalities who have redefined success in their own unique way.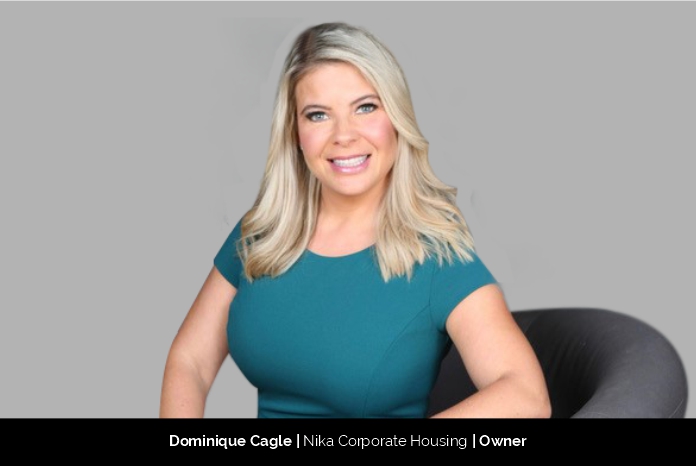 Providing Temporary Housing Solutions to Everyone, Every time Irrespective of the type of multifamily you own, from Class B multifamily