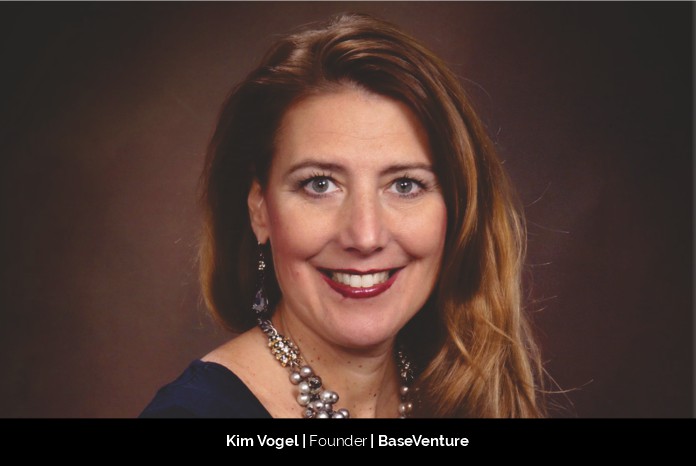 Translating Experience into Success
At its core, attaining success as an entrepreneur is about the willingness to take risks. It's more than just about pushing the boundaries of your destiny; instead, it is about engraving new boundaries. It is about the passion and conviction behind your envisioned idea. It's about refusing to stay down when you make mistakes and having the resilience to transform them into learning opportunities. And it's also about experience!
Meet Kim Vogel. A serial technology entrepreneur boasting more than 25 years of experience in helping companies finance, grow, and monetize their businesses. Beyond Exclamation recognizes her pioneering experience and delves into her story as a leading businesswoman striving for excellence.
Where it Began
Kim's journey began when she worked as a Certified Public Accountant (CPA) at KPMG. During that time, she earned an MBA from the Harvard Business School, which then lead to securing a position as Vice President at Montgomery Securities. Her venture into entrepreneurship and innovation, however, began much earlier. During the late 90s, she was the CEO of Semaphore Partners which was one of the first digital marketing agencies around at the time. Kim was one of the original members of the executive team that grew the company into a global powerhouse, attaining clients like General Motors, Orbitz, and more. Innovation was at the core of Semaphore Partners and Kim, along with her cohorts, designed many of the first websites and intranets for their clients.
When Semaphore Partners was sold to a marketing conglomerate, Kim had little time to decide her next step. Thoughtful ideas bubbled up, but she kept coming back to a childhood dream of being a professor, something she often considered through the years. Shortly thereafter, Kim landed a position teaching finance and business at St. Mary's College of California. Little did she know at the time that within a few years, she would be turning the corner and stepping into another venture.
The Band is Back Together
Teaching and interacting with college students was very rewarding, but Kim could not pass up a suggestion from one of her colleagues from Semaphore to 'bring the band back together'. She shifted her expertise in teaching to become one of the initial executives at a pioneering mobile banking and payments technology company called mFoundry.
A key innovator in the space, mFoundry helped to redefine the way people bank by introducing the then-crazy notion of banking on the phone. mFoundry was one of the first to introduce mobile check deposit technology and among the first companies to submit a mobile banking application to the Apple App Store. Under the watchful guidance of Kim as the CFO, mFoundry went on to become the largest provider in North America. The company was later sold to FIS in 2013. Shortly thereafter, Kim and John Pizzi co-founded BaseVenture and started to build their amazing team.
The Rise of BaseVenture
Since its founding in 2014, BaseVenture has become an innovative force in the alternative and traditional investment industries. The cloud-based software company develops cutting-edge solutions in the areas of financial reporting, data visualization, and process management.
BaseVenture's award-winning platform, FundManager.io, empowers private funds and other buy-side firms by offering a modern digital experience to satiate investor demand for transparency, automate their operations, and unleash their data. By providing users with data intelligence, digital reporting, and process automation, FundManager.io radically simplifies the process of investment management and provides a platform that is intelligent, scalable, affordable, and secure.
The Vision Behind FundManager.io
Although capital has steadily flowed into the industry ever since the financial crisis of 2008, the alternatives space has continued to rely on manual processes and antiquated technology. To solve operational woes and meet client demands for transparency, managers and their administrators are forced to rely on expensive, outmoded technology products, or add to their overall headcount. But as Kim asserts, "Neither approach is effective, and both reduce margins. Making matters worse, firms often rely on Excel to inform them of key portfolio information like exposure and risk metrics."
Amid this crisis, FundManager.io was created to offer a better solution. With the platform, private funds and their administrators can rely on a system that automates their operations, improves their level of service, and helps them quickly gain crucial portfolio insights to enable smarter investment decision-making.
The Challenges and the Rewards
According to Kim, one of the most challenging parts of being an entrepreneur and building a startup is fundraising. "We have always been very successful at it, but it's certainly an arduous process. You hear "No" too many times to count." She adds, "It involves meeting after meeting where everyone politely smiles, tries to ask difficult questions and wants to understand if you really have what it takes to become one of the few companies that can generate a substantial return on their investment. It has always turned out very well for us, but it is certainly a long slog up a steep mountain. Luckily, we have always reached the top where we get the opportunity to enjoy the beautiful view, while looking forward to another couple of years before we start the process all over again."
Looking past the challenges, the best part of Kim's journey has been the chance to build and nurture great teams. Kim mentions, "I love being surrounded by really, really smart people. Working with high caliber performers forces me to make sure that I constantly bring my 'A game' to the table. They spark new interests in me and introduce me to new ideas, concepts, and opportunities that I would have never otherwise come up with on my own. Building great companies is truly a team sport and it is not something one can do very successfully when working in isolation. I love constantly trying to create my own 'dream team'. It is not only a ton of fun, but I believe it's what it takes to make a company truly successful."
A Look Behind
Kim realizes how much she benefited early in her career from the dot-com boom and bust. She was ready to move on from investment banking and work at a private company. Since technology was her area of focus in banking, it made perfect sense to look for a finance role at a tech company.
Geography also played a key part in Kim's story. She was looking for opportunities in San Francisco and the Silicon Valley where there were plenty of impressive market opportunities. When the most appealing option presented itself, Kim went for it. It was just that simple.
"I wish I had the story that I was so passionate about technology that I stayed up all night programming or hacking for fun like so many of my engineering colleagues did, but I was a finance person," she says with a smile.
For Kim, it was always about efficiency. She loved the advancing pace of technology and automation and was one of the early users of Quickbooks, bill.com and many other early accounting and finance-related platforms that transformed back offices on a global scale. "In many ways, that passion is exactly what BaseVenture is all about. We empower users to do things more efficiently with a platform that is simple, faster, and more effective."
A Work in Progress
Kim believes that she is far from achieving all that she desires. The dreamer expresses, "I truly believe we get out of life what we put into it, and we are all co-creators of our own respective destinies. That being said, there is still a lot of work to do. My life journey continues to be a work in progress, and I feel there is so much yet to see, experience, and accomplish."