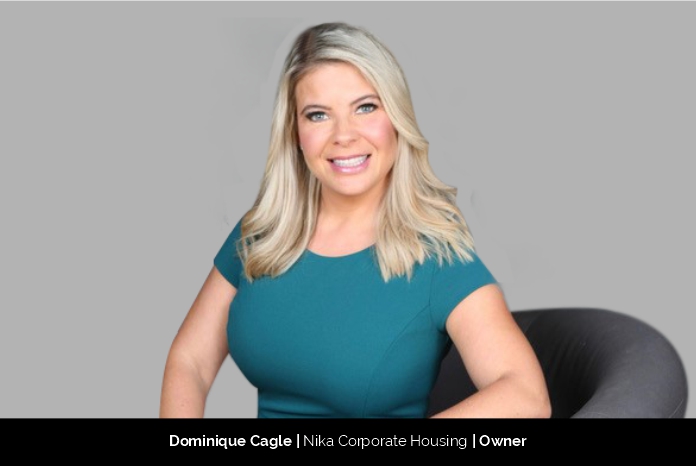 Nika Corporate Housing: Your Place, Your Way
Providing Temporary Housing Solutions to Everyone, Every time
Irrespective of the type of multifamily you own, from Class B multifamily to luxury units, you've probably heard the term "corporate housing." To describe simply, it refers to fully serviced and fully furnished temporary housing units available for short-lease terms. This trend of temporary housing has taken the industry by storm with employees on out-of-town business demanding it highly. Since a few years ago, its popularity has only risen with new generation opting for temporary housing. Today, corporate housing is believed to be a reliable alternative for many renters that include millennials and Generation Z looking to hold off on buying a home, seasonal travelers, empty nesters, expatriates, military and government personnel, and many more.
One of the leading names in corporate housing sector is Nika Corporate Housing. Led by President, Dominique Cagle, Nika provides short to long term housing solutions to meet all sorts of temporary housing needs. From Executive Housing in Sarasota, to Relocation Housing in Orlando, to Corporate Housing in Tampa, Nika has covered all aspects in its offerings. The company provides upscale temporary living solutions for associates from interns to VIP executives nationwide/worldwide. Nika offers stays as short as one night, one month, to as long as the guests need. Nika is an IATAN registered travel agency if a guest wants to book a short-term hotel product, and longer-term corporate housing product. Furthermore, it also provides meetings and events options if guests need to plan housing in conjunction with a meeting or event for business or personal.
A family legacy of running businesses
Founding the company in 2003 didn't come as a surprise for Dominique as her passion of being businesswoman runs in her family's blood. Her father and grandfather both ran their businesses, therefore, it was obvious for her family when she started Nika. The foundational inspiration for Nika happened out of a circumstance that "while flying as the On-Board Leader as a flight attendant on September 11th, being furloughed as a result from my airline." Dominique recalls that it was scary to fly that day, and scary to be newly unemployed during so much uncertainty. She was renting apartments at the time, as a temporary gig to buy some tie to figure out her new master plan. Furthermore, there were many military personal at Mac Dill Air Force Base who needed short-term housing for their six months tours of duty. Dominique decided that she could take care of their temporary housing needs in a more effective manner while addressing the service levels that these military guests deserved. It was important to her as a spouse of a USAF Military Veteran to have Nika Corporate Housing treat "our guests as if they were a treasured guest in my family and not just a number on piece of paper needing a housing solution during their tour of duty serving our country." Dominique has an in-house policy at Nika to call its guests "guests" and not "clients."
Always needed to remain relevant and overcome the obstacles
Throughout the course of running Nika Corporate Housing for more than 17 years, Dominique have had to overcome many obstacles just to stay in business. Many times, she recalls, "the obstacles were out of my control, i.e., the government shutting down, or COVID-19 Pandemic travel restrictions etc., but I still needed to remain relevant and overcome the obstacles posed in front of me. I did this by remaining flexible and pivoting my business model as consumer and supply and demand presented itself to affect my business specifically." She gives an example of the Covid-19 pandemic onset, when Nika was deemed an "essential business" as it houses people who need to shelter somewhere safely during the pandemic. Dominique targeted her sales strategies and online marketing to traveling doctors and nurses that needed temporary housing. Another way Nika pivoted was to highlight "our cleaning protocols in between guests on high touch items like the TV remote to show that we sanitize the remote, and place it in a plastic baggie for extra confidence when guests move in to see the sanitization evidence very clearly. This way, the guests start to feel right at home instantly."
Encouraging and allowing creativity to flourish
Dominique shares that all her employees are empowered to make a certain level of decisions in each position without being micromanaged overly. She believes this allows creativity to flourish and the ability to negotiate certain elements into a contract that she personally may not have thought of. "We have some amazing employees that take great care of our guests. They are some of the most creative people I know. When I make a decision to hire someone on my team, I ask myself, is this person I'm interviewing a true "people person?" Would this person make my guests feel comfortable to ask questions about an area or a restaurant idea to try out in a new area? Do they like talking with and around people in a room? Are they the social butterfly that my guests want to do business with and feel safe asking questions about their living space and choice of part of town to live in? Did they provide the guests several options to choose from?" she shares.
Building trust with guests and providing them with positive experience
As far unique specialty of Nika is concerned, Dominique nicely sums up with its logo, "Your Place, Your Way." She strongly believes that each individual and family for that matter has different needs and dynamics while they are traveling for work or for personal reasons. She has recently received the Certified Autism Travel Professional certification. As the mother to three small children, Dominque knows how hectic traveling with children can be. "A couple of my children have learning differences themselves and many people may not understand or be able to offer advice or certain travel accommodations that can make their trip more comfortable and less stressful experience." Another example of this is asking the guest some questions initially to find out more information about their needs for traveling. "With finding a little more about a guest's situations like work or pleasure? Where is the address that you want to be nearby? Do you have multiple guests or specific medical needs that may prevent a unit with stairs? Or are you traveling with your furry companion? If so, how many, and what breed etc." She finds this approach much more working in building trust with a guest, and providing them with positive experience, with no regards to part of town, and size of unit, or length of stay etc.
Passionate about business and taking care of the guests
As the President of Nika, Dominique provides general leadership and guidance with the big picture in mind to her team. She also enjoys taking an active role in the Sales Process for Certain accounts. She believes sales is always a fun skill that comes very naturally to her as she is passionate about her company and taking care of the guests. According to Dominique, her vision for the company has changed slightly since the foundation. Presently, her vision is to grow and scale the business while creating a greater awareness of her niche industry. People from all walks of life don't know that they need corporate housing until they find themselves with an unexpected flood or hurricane, a medical procedure, a divorce, or a new relocation to the area. Many times, they find little to no time to find comfortable housing during some of the most stressful times of their lives. She wants to help them do the hard work and help provide them solutions that they might not thought of, so they can focus on the big decisions and not worry about their temporary housing.
Necessity to stay updated and relevant with ever-growing technology
Talking about greatest achievements, Dominque shares, "There are really so many times, when I have felt like a proud business owner, or a successful business leader. So, it's hard to really pick one time specifically. Most recently though, we were selected after a competitive vetting process and interviews, to be a licensed Super Bowl Housing provider when the Super Bowl comes to Tampa Bay. This has been a real honor to be a part of, and I also have volunteered to be a Tampa Bay Business Connect program member for the Super Bowl Committee.. I am proud to be welcoming people to the Tampa Bay Area and I'm really happy to help them feel comfortable here." She further shares that hard times, always inevitably inspire her and her employees to innovate. "In the business world, if you don't innovate and stay current, you lose the business, period. It is a sheer necessity to stay current and relevant as technology is changing at a very rapid pace these days."
While advising fellow businesswomen, Dominque says, "Find a support network of like-minded businesswomen. Several examples of this are Women's President's Organization, Eliances, and WBENC. This is essential as it truly does feel lonely at the top sometimes, and your employees is not where you need to be to try new ideas or new business strategies. Sometimes, business owners from other industries see things or issues you face in business from a different light and really help you see multiple solutions to try or reshape your organization as necessary to adapt and thrive."
Dominique proudly shares that her guests continue to keep in touch with Nika and keep coming back to stay with them every year, and at the same time, giving the gift of a referral of their families and friends. Many of her clients consider her virtual family and friend. Additionally, Dominique and her team are aggressively growing and scaling their company. "We are looking to add new federal contracts in the new year that we currently have multiple bids in on. I have a steady growth strategy of new accounts and adding multiple federal contracts to service accounts and guests, all over the world," Dominique concludes.