Warren Richmond: Leading the new era of 'Experiential Retail'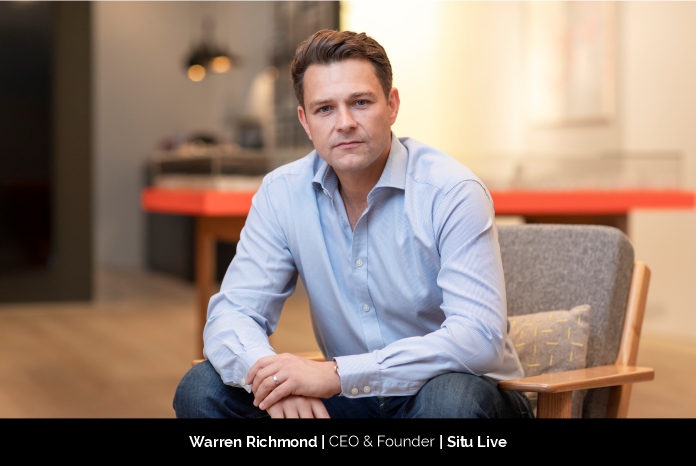 Multi-award-winning entrepreneur, Warren Richmond, is set to launch shopping experience platform 'Situ Live', which blends a physical retail destination with digital product discovery and live analytics to emotionally connect consumers with brands.
When he's not working on his own projects, Richmond mentors small companies to boost their growth and stresses the importance of two prime pillars in business development – experience and innovation.
According to Richmond, continuous learning marks the success of an individual, and that requires dedication and hard work. His aim is to create a company culture where everyone feels empowered, displays the zeal to learn new things, and contributes to its development.
Taking his first steps
Richmond's first job involved selling scanners in store, where he would use storytelling to woo customers. He says demonstrating the product in person proved popular because shoppers better understood the value it could add to their life. It also proved an effective way of grabbing someone's attention and created a lasting impression.
When Richmond switched focus to entrepreneurialism, he quickly understood challenges are an unavoidable part of life, but they provide a chance to evolve and build resilience. He believes barriers pave the way to new opportunities, but you must have the right mindset to process and learn from your mistakes.
Richmond values self-introspection for understanding your strengths, weaknesses, and motivators. Coming from a humble background taught him to think creatively when problem-solving, monitoring his own emotions and reactions in tandem with the key motivators and strengths driving him to achieve success.
"The high street is in desperate need of some inspiration," he says. "People crave physical experiences and human connection. They deserve exciting and meaningful shopping destinations, but very few retailers are innovating and moving with the times. So goodbye uninspiring displays, unengaged staff, and pointless queuing – Situ Live reimagines retail for a new era."
Setting new standards in the retail industry with Situ Live
Launching in Westfield London, Situ Live is an experience-led shopping destination set to showcase a world-class collection of brands, ranging from Maserati, Oculus, Fitbit and Bosch to cutting-edge companies with innovations you won't find in other stores. "The venue features six curated theatres, where shoppers can effortlessly compare products with help from expert store staff, before purchasing online directly from the manufacturer by scanning a QR code," adds Richmond.
Incorporating an immersive store design with live demonstrations and expert storytelling, Situ Live aims to harness the power of emotional connections to help brands get ahead in a competitive market.
Innovate every day to improve lives
Richmond promotes a culture of 'small innovations every day'. This way all team members feel empowered to innovate, collaborate, think creatively, and challenge the status quo.
Explaining the company's vision, he says, "Situ Live is going to change how people discover, experience, and choose lifestyle products forever. Our aim is to be the destination for unique, new-to-market innovation products. Endless rows of boxes on shelves are boring. To really capture hearts and minds, we need to provide a space for people to understand how products work and can improve their lives."
Life as an entrepreneur
As the founder and CEO of Situ live, Richmond has multiple hats to wear, from setting goals and developing strategies to understanding the market and upholding company culture. He is responsible for ensuring the team follows the company's core values, while being a strong ambassador and spokesperson for the business.
Every day is different. He could be working on leadership development and strategy formulation or perhaps meeting brand partners before speaking on a podcast. One thing that is non-negotiable is a 90-minute walk every morning to clear his head and think.
Being a constant force of positive energy includes always looking ahead and effectively communicating this with the team. This way, everyone stays highly motivated, understands the bigger picture and how critical they are to this vision.
Richmond finds his greatest recognition comes when a team member appreciates the company culture and tells him how much they enjoy their job.
To maintain his personal and professional life, Richmond takes time out to regularly check in with himself and his peers. He keeps a monthly score of all the components in his life be it family, work and wellbeing, and addresses any areas requiring greater focus.
Aiming ahead
The aim is to make Situ Live a one-stop inspirational retail destination where people can discover and choose innovative products that will enrich their lives. Richmond wants to reimagine retail and envisions seeing Situ Live as a presence in all major cities and accessible through every device.
As a progressive business leader, he aspires to grow an exceptional company that emphasises its vision and purpose. For upcoming leaders, his advice is to never give up on their dream business, but to be brave in banishing a bad idea.