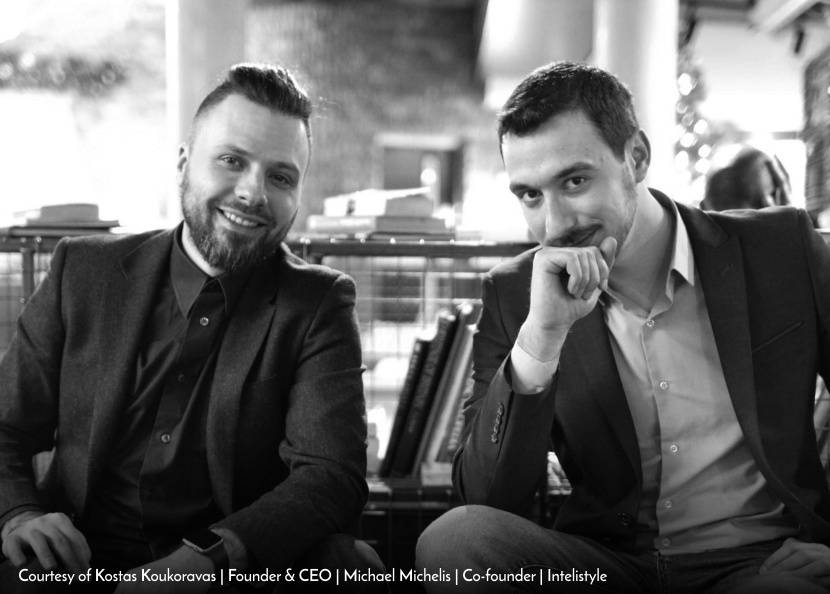 Translating Unmatched Retail Experiences into Reality
Way too often we'd open up our wardrobe full of clothes, and yet end up feeling nothing to wear. And this feeling can be backed up with a proven research stating that 1 out of every 3 items in everyone's wardrobe is never worn.
Kostas Koukoravas, the Founder of Intelistyle, was no exception to this feeling. He used to wake up in the morning with a wardrobe full of clothes, yet uninspired to wear any single one of them. With the thought of solving a simple question of "Does this look right on me?" Kostas started Intelistyle – An AI-powered fashion stylist.
Enabling People to Purchase Sustainably
Launched in December 2016 with a very focused goal, Intelistyle was incepted to help people get inspired with outfits of their own clothes. From the very first day of the company's foundation, the team has iterated based on the invaluable feedback from its vast array of users. The company started by building an experience; an experience that allowed people to see outfits using their own clothes and then moved on to create an ecommerce experience, allowing users to discover new clothes that match what they own. Helping them make more sustainable purchases.
According to a study, 3 out of every 4 people prefer to buy more sustainably. However, if we look at the actual buying cycle, an entirely different picture can be seen. People buy primarily driven by the price factor. Intelistyle's goal is to help people buy more sustainably, making purchases that complement their existing wardrobe. Kostas recalls, "We found that our users wanted to use inspiration from our AI stylist to edit and create their own outfits and plan ahead what they are wearing. They also approach the question of "what do I wear today" based on weather and the occasion that they're attending. This is exactly what we've made possible."
A Team Driven by Productivity
Kostas had started Intelistyle after finding the available styling options unsuitable for his busy lifestyle. He believed that advice and suggestions through blogs and magazines were too generic and required tons of time and effort to compile into a wardrobe strategy. Speaking to a stylist was an expensive option, and having never done it beforehand, he wasn't sure from where to begin. This prompted him to look for a better way of finding styling options.
Having already worked with a few other people up until that point, Kostas found most of them to lack the requisite commitment, desire or time to do what needs to be done to make a startup successful. During a cofounder dating and speed pitching event, Kostas met Michael Michelis and they instantly clicked. Michael's vision, commitment to building a startup and his unlimited ability to learn and evolve made him stand apart and Kostas took notice. Since then, the two co-founders of Intelistyle, have been inseparable, from the initial launch to doing 15 releases during the 1st year, from winning various awards, grants, and recognition to getting accepted into Techstars; the duo has taken their collective vision forward, together.
But Intelistyle is more than just about its founders. After winning the grant from innovate in the UK, the innovation agency of UK government, the company managed to bring some amazing people onboard. "Rogan, our machine learning scientist from UCL was absolutely key in making this a success. It very quickly became obvious that A.I. on its own and technical skill wasn't enough. So, we brought Sophie into the team, who previously launched her own fashion brand stocked in topshop and featured in Vogue. Sophie works with our machine learning team to constantly improve the quality of the recommendations by bringing styling expertise into the team and coaching the A.I. in the right direction," Kostas asserts while speaking about his team.
The Unmatched Process
The AI of Intelistyle analyzes the latest fashion photography and learns how to combine clothes using the choices of high street stylists, so as to always keep up with the trends. "We analyze hundreds of different style parameters and part of the magic here is that we don't define what those are." The AI learns what it should look out for on its own, based on the choices of top stylists. At the moment, it reaches a whopping 80% accuracy when competing against human stylists. However, style is something personal. The way that someone wears a pair of jeans might be entirely different from how someone else does.
"We've built our AI so that it learns users' preferences as they interact with the app and personalizes the entire e-commerce experience to what they like and the combinations that they chose to wear. We don't box in users to a particular style. We are all individuals and our unique styles might be a combination of different style elements. In a similar way, Spotify creates a completely unique personalized playlist for us based on our past choices, we aim to curate a unique selection of clothes and outfits that is personal to every one of us," exclaims Kostas.
Intelistyle tailors its recommendations according to the user's skin tone, hair, and eye color, making its recommendations relevant to them. Users can also provide more information about their body type and the platform ensures that the recommendations are further tailored to their individual needs. Additionally, when recommending outfits, the AI-based fashion stylist also takes into account occasions and relevant weather conditions.
Herein, users have the ability to either take a photo of their own clothes or choose from its huge catalog of clothes for items that look similar to what they own. Users can then get instant outfit recommendations for clothes in their own wardrobe or new clothe suggestions which they should buy.
The Future and Beyond!
Intelistyle's vision is to disrupt retail experiences worldwide and revolutionize the way people discover fashion through the use of AI. The company envisages a shopping experience where your personal AI stylist truly knows you, always acts in your best interest and remains there to support you during and after your shopping experience.
"We believe that customer service (i.e. styling) for your clothes can be a lifelong added value service that extends beyond the typical transactional basis that we see in the current retail world. Our goal is to personalize the entire e-commerce experience by building the "Spotify of Fashion" – a service that seamlessly blends new styling trends with everyone's unique personality, personal characteristics, and works for every occasion in their diary."
The company will continue to explore how it can blur the boundary between the offline and the online world and reduce the friction in customers' styling and buying decisions. The customers will have the ability to take their 'fashion profile' with them online or across different retail stores and instantly receive a personalized experience on the shop floor or the fitting room, or even in their own wardrobe at home, thereby blending the online with the physical world seamlessly.
And on the other hand, Augmented Reality will be a key part of the experience that will reduce the friction of buying online. "Being able to visualize an entire outfit on you is an exciting way to explore styles and become more daring."
"We also plan to work closely with the styling and influencer community to help them amplify their efforts by being their "styling alter ego," allowing them to cater and monetize a much larger user base," adds Kostas.
The Journey and Evolution
Back when Intelistyle started out on its journey of building its Artificial Intelligence platform, the company used the latest academic research from 2017 and 2018. But soon enough, Kostas & Co. found that the quality of the results was nowhere near good enough to create a commercially viable product. "We developed the state of the art further with a blend of models and bespoke datasets to build a unique proprietary technology. In addition, the blend of human and AI elements in that approach really makes a huge difference in the quality of the results, which currently outperform the academic state of the art."
One of the unique selling points of Intelistyle is its ability to do all these with user-generated photography. While that might sound obvious, there is an enormous amount of complexity when working with user photography, due to the varying backgrounds, lighting conditions, cloth distortions, and different angles. However, Intelistyle's innovations aren't limited in terms of quality and flexibility of the recommendations. "We take into account the entire user experience. Off course, as some competitors do, we offer the option to generate "complete the look" recommendations for the retailer's entire product catalog in an automated fashion, as opposed to manually creating outfits for a product catalog with e.g. 100k items. However, we go a step further. The real value comes when personalization comes into play. Users can see how a particular product that they're considering buying, matches with items in their wardrobe. Retailer homepage and search results can now show recommendations that are right for the user's body type, skin tone, hair, and eye color as well as a personal sense of style. Email promotions or ad retargeting can be a lot more relevant – as opposed to saying "here's 20% of shoes", we can now say that "here's 20% of shoes that match that dress you own", or show "new dresses that will flatter your natural skin tone," explains Kostas.
Intelistyle is trialing with retailers by creating a distinctive in-store retail experience. With the retail world shifting online more and more, the focus for brick and mortar retails is a shift to create a unique added value experiences. Imagine a scenario wherein a user walks into a store, and can take a photo of what they're wearing or wanting to buy and can instantly receive recommendations from the in-stock items. This is what Intelistyle aims to do and is what sets the company apart. Translating imagination into reality.
Reach out to them on www.intelistyle.co.uk or hello@intelistyle.co.uk or +44 7475831013