The Transformation in the Aviation Industry after the Global Pandemic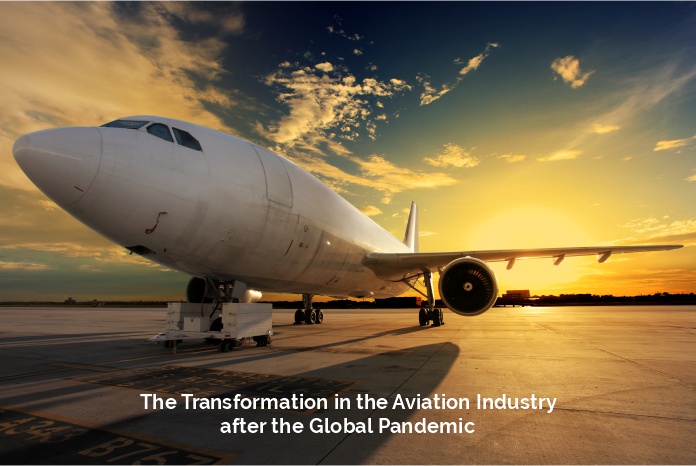 The aviation industry's most volatile time to date will be 2020/21, with major shifts in passenger volumes throughout the world owing to the COVID-19 pandemic. In order to survive the current economic storm and stay competitive in the uncertain years ahead, airlines must regain passenger faith. Despite an increase in Omicron variant occurrences, there is motivation to be positive as we approach 2022.
With the waves of technical breakthroughs, the aviation sector is undergoing a paradigm shift. Emerging technologies, which were largely ignored during the preceding decade of industrial expansion, are now being closely scrutinised to determine their usefulness in addressing critical COVID-19 concerns. Transformations based on diverse concepts are causing a stir in the airport and impressing people on their way to their destinations. Self-driving robots and wheelchairs, flying taxi services, AI devices, fascinating displays, and other attractions are among the highlights. Airlines have long-term growth and profit increases as a result of the correct combination of these technologies. The airline business can remain challenging and competitive by using the potential of compelling platforms like robots, IoT, AI, biometrics, and others.
Despite its reputation for stalled economies and cancelled events, airlines are using new and emerging technologies in their operations to improve both the passenger experience and operational efficiencies, ranging from head-mounted thermal scanning sensors to technology-supported social distancing techniques. This quick acceptance of innovation lays the stage for rapid industrial transformation in the next few years. A smarter, safer, and more environmentally friendly travel business that benefits both people and the environment is on its way.
Automation and digitisation are critical in restoring passenger confidence and control while reducing processing times to acceptable levels. With airports throughout the globe investing in future-proofing operations, biometric technology offers a crucial way to solve this challenge. It needs to standardise and digitalize health verification in addition to automated passenger processing to provide easier, safer, and more seamless travel in the face of continuous health challenges.
Techs that Transforming Aviation
Because of its unique capacity to communicate information rapidly, securely, and confidentially amongst dozens of stakeholders across airports, governments, airlines, and original equipment manufacturers, blockchain has enormous promise for the aviation industry (OEMs).
The airline sector spends $50 billion on aircraft replacement components each year. Despite this, tracking and tracing spare parts as they travel between airlines, lessors, and OEMs is still entirely manual. There is no single vision of how to track hundreds of millions of records of transactions between various businesses, resulting in increased risk and cost. And if there is any mismatch between stakeholder systems, the likelihood of data overlap (as well as expense) grows.
From a lack of digital records to supply chain concerns, system inconsistencies, and high prices, airlines confront some of the most complicated issues in maintenance, repair, and operations. The use of blockchain technology will be critical in addressing these issues.
SITA has created a validated blockchain-based solution for pilots that allows for the verification of an electronic personnel licence without the need for a network. SITA's contribution promotes the International Civil Aviation Organization's adoption of an industry-wide digital standard for the use of EPLs on international flights by allowing offline verification in an efficient and privacy-preserving manner.
On the passenger side, blockchain has the potential to alleviate many of the industry's current efficiency issues. In 2021, SITA, Indicio.tech, and the Aruba Health Department piloted the Aruba Health App, a pilot that allows tourists to confidentially and securely exchange a trusted traveller credential depending on their health condition on their mobile device.
Thanks to technology, pilots and dispatchers can also benefit from real-time access to reliable multi-source weather forecasts. Today's innovations may assist pilots in maximising fuel economy, lowering carbon emissions, and improving situational awareness for safer, more enjoyable flights.
Smart Airports via Digitization
The aviation sector has been forced to adjust to the "new normal." This has resulted in airports making everything as contactless and computerised as possible.
Many airports, for example, have already changed the check-in process to reduce human-to-human contact. Automated kiosks have replaced conventional check-in counters at many airport sites, and digital signage guides travellers through the boarding procedure.
Security clearance and advanced object and body scanning technologies, paperless boarding permits, and an automated boarding procedure are all instances of rising digitalization. As we'll see later, these are all connected via IoT protocols and evaluated and decrypted by AI and machine learning algorithms.
Airports in the United States and abroad must plan for a post-pandemic surge. Domestic air travel is expected to play an outsized role in the future, especially in larger economies like the United States, India, and China, which were among the first to recover from the COVID-19 epidemic.
While international hubs face comparable operational issues, smaller airports will likely face capacity restrictions sooner as domestic traffic resumes at a faster pace. Increased airline expectations, route instability, space limits, staff multi-tasking, and a slew of other factors are all factors to consider.
To thread the needle between passenger pleasure, capacity, and profitability, these airports will need ready-to-go cloud-based airport management solutions to help optimise resources while facilitating collaborative procedures and decision-making.
Perspective on the Future
Despite the fact that the pandemic had a severe effect on passenger numbers, the aviation sector is slowly but steadily reclaiming ground lost to COVID-19. The pandemic might be an irreversible turning point for the business, particularly in terms of passenger and airport segments.
The passenger trip and airport experience will be unrecognisable in a decade from the human-dependent systems we currently face. Exciting breakthroughs in IoT, cloud, biometrics, AI, and contactless technologies, to mention a few, will plant the seeds of this paradigm change this year.