Sonia Mokdad: An Empowering leader on a path to develop a collaborative work environment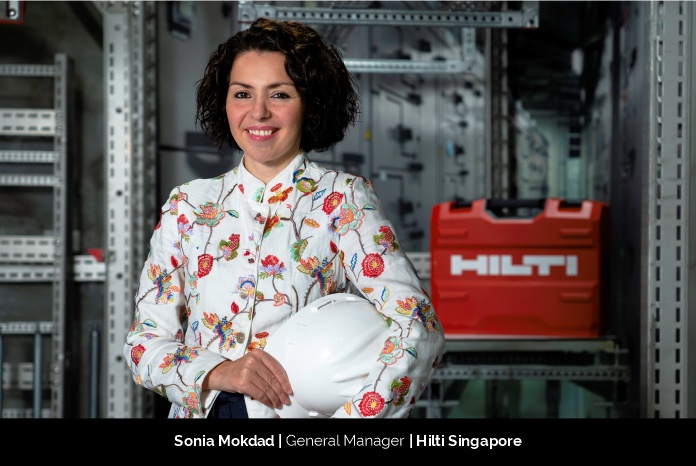 With a comprehensive experience of two decades, Sonia Mokdad, General Manager of Hilti Singapore, is paving the way to lead in a way that encompasses honesty, compassion, and authenticity. Jumping from supply chain to sales and marketing to being a prolific leader, Sonia has transformed over the years to become a perfect embodiment of exemplary skills. Her emotional leadership style is considered to play a key role in creating a profound impact on highly committed employees as well as for generating skyrocketing economic results.
Widely spread in 120+ countries with 30,000 employees, the Hilti Group is a reputed brand name across the globe. Hilti is continuously meeting the clients' demands and proffering full product, software and services solutions in the construction industry. Sonia's journey in Hilti is truly inspiring as she has truly led a legacy of empowering leadership.
Diving into the construction industry
Sonia had no connection with the construction industry. Her father pushed her to work with Hilti as he had worked for 30 years in that industry and was a big Hilti fan. Sonia started with the company at the age of 22 years old.
She adds, "I can clearly say that I have been growing up with Hilti, and I am my own testimonial that with Hilti you can develop yourself and create your career."
She joined the company as the Business Operations Manager in 2000 and worked her way up to grab the title of Head of Retail Sales in 2014. In 2015, she became Head of Sales Channels, as a member of the Executive Management Team in Hilti Austria. Here she was responsible for managing all the sales channels. Besides managing all the changes with the digital possibilities, she strengthened the role of the channels as a counterweight to direct sales. She did everything with the aim to create better sales for the company and gain the trust of loyal customers. She was successful in creating fantastic channels through which the organization ran its 50% sales and 70% orders. Gaining valuable experience at this position for three years, she became Regional sales manager at Hilti Germany AG. After this, she grabbed the title of General Manager Hilti Singapore at Hilti Asia Pacific in 2020.
Evolving into a seasoned leader
Sonia believes that setbacks play a vital part in a person's growth. In Singapore, she learned about the Meaning of "Kiasi" ( Which means fear from Death, fear from losing face ), which is quite important for a leader. She adds, "In my life as a leader, I learned to step up and acknowledge when I made a wrong decision instead of trying to hide my mistake and take the consequences. This takes high self-confidence and trust in your own team that they will not judge your capabilities based on your mistakes."
A true leader admits that he/she does not have the answer to everything and cannot know everything. Sonia learned to trust and empower her team members in the team and had great experiences with them.
She expresses, "For me, success means having a positive influence and shaping the future for the better. I was always curious to learn, and I trusted Hilti where they saw my next development opportunity. I enjoyed being able to see the bigger picture with every role I took to make a bigger impact. My biggest driving force is to be a true leader. To make others flourish, to support talents according to their strengths. To win with a team together and be the leading team for other teams."
Overview of Hilti Singapore
Whether a person is a specifier, architect, or contractor, Hilti helps to increase productivity on site. Hilti offers products, software and services from design to build, winning through productivity when it comes to all kinds of drilling, cutting, fastening, or documenting the progress on site. Sonia adds, "Here in Hilti Singapore, we implemented BIM Services as the new way of design, we implemented our Tool Park Optimization Program combined with our Asset Management Software. We have started the Pilot for the first Robotic Solution in the Industry for Overhead Drilling. In September 2021, we will implement our new Installation System – it is the latest innovation supporting Design for Manufacturing and Assembly (DFMA)."
They take their competition seriously as it is part of a healthy industrial Market. Hilti has the ambition to lead by example when it comes to quality, innovation, and sustainability.
Hilti Group is amplifying its sustainability efforts and formulating a global strategy based on the three pillars of environment, people, and society.
At Hilti, they want to contribute to a more sustainable world by operating their business with less of a burden on the environment, to greater health and safety in construction, and to a fairer society. Their long-term success can only be ensured by a corporate strategy that gives equal weight to ecological, people, and social aspects.
She states, "The guiding principle of building a better future has guided us for almost two decades. Considering the dangers posed by climate change and the social challenges that go with it, we must step up our efforts. We are taking our sustainability efforts to the next level in close cooperation with the Hilti Foundation. We are very proud of our differentiating premium Solutions to shape and to revolutionize our Construction Industry."
Transforming the construction domain
The construction industry is not the most advanced and is still in the early stages of digitization. Hilti is proactively driving innovative progress in the construction industry. They offer engineering services to support design and solutions for execution on site. Hilti Singapore is one of the Top 5 in the World to implement the first robotic solution "Jaibot" in combination with their unique "Total Measuring Station" for "Overhead Drill," which is the most tiring and unproductive application on-site. They are driving BIM as a service in Hilti Singapore to digitize the site and drive productivity on site.
She adds, "We provide support to optimize site execution and finish the construction projects on time while ensuring health & safety standards. But we are also shaping the perception of the attractiveness to work in the construction industry. We hired great talents in Singapore to develop the business with us from different backgrounds for people who never thought to find their destiny in the construction industry, we are very proud to have talents on board to shape the industry with us together. We are also developing and supporting more and more female leaders in decisive positions, which is so important for a diverse culture."
Teamwork leads to Dream Work
Singapore is known to have great potential in the construction industry. Shining as the pioneer in bringing a revolution in this space and investing in R&D, Sonia is taking Hilti Singapore to lead in both the Hilti Group as well as the country.
She is working hard to emerge as a leader to make the entire unit attain good success. For this, she keeps trying to blend her team's out-of-the-box ideas with passion and drive the company ahead. Moreover, she keeps the team directed towards the core vision by being there for them whenever they need her, being available to cater to their needs well, and searching for different individual development plans for contributing in their personal growth while working to accomplish Hilti's goals.
Woman on a Mission
Being the General Manager of Hilti Singapore, Sonia has taken the onus to lead the company to new heights and draft a strategy that comprises a proper roadmap to help in making the Hilti Organization a global Benchmark and Trendsetter for the Singaporean construction market. Her vision has already redefined its identity as a Singaporean Hilti Organization.
Thus, to keep their market position intact, Sonia, as well as her teams, have been burning the midnight oil to contribute their part in attaining the company goals. Sonia believes, "What binds the team together is trust, a culture of making mistakes and being enabled to take ownership to realize own ideas."
Being self-motivated, they are continuously striving hard to witness a bright future for all. In most of her day hours, she is engaged in taking calls within and outside the organization. Her remaining time goes into spending time with the customers and having one-on-one conversations with all the team members, be it new joiners, team leaders, or regional office colleagues.
Sharing her biggest accolade, she states, "The proudest moment for me is when people tell me that they jump out of bed every morning because they enjoy their contribution to our Hilti Singapore Team. Of course, another proud Moment is when we came out of the COVID-19 crisis in 2020 with a strong attitude, we accelerated so that we could grow +30% this year and won market share, which enables us to invest further into our organization which means we will invest in a new Office, in a Hybrid Electrical Car Fleet."
Outside work, she proactively works on her resilience. For that, she performs meditation and even tries to spend as much quality time with her eight-year-old son as possible, owing to the fact that he is her source of energy and always fills her with a new energy vibe and zeal. Her son also acts as a reminder of living in the present and never feeling lost in both the past and the future.
As Sonia and her teams recently brought a change in leave policy, everyone will now get to enjoy more annual leaves helping people spend more quality time with one another and bond well. Besides this, there was an increment in the maternity and paternity leave months. Owing to this, parents get to enjoy more in their initial days of parenthood.
As an avid reader, she tries to finish at least 1 book per month. This acts as a true source of inspiration for introspecting her daily life.
Big Dreams start with Small Steps
With an aim to become a Global Benchmark in the construction industry, Sonia is pushing her limits to make Hilti Singapore the Role Model Partner for all Construction or Industrial Companies.
She desires that Hilti Singapore must be the one shaping the Construction Industry and thriving productivity using its innovative solutions. She also plans to focus on flourishing the team members by unleashing their full potential and aiming for higher personal growth.
In the coming future, they are also looking forward to implement a new Mental Health Service Support that will serve as a great way of leveraging perfect professional help as and when required. It will also help employees in defining a better work-life balance.
Their goals to reduce the impact of day-to-day business are ambitious. When it comes to the environment, they want to become CO2 neutral by 2023 and lead their industry in the area of circularity. Their goal is to continue offering products, services, and software that focus on user health and safety and building safety. They also take many important steps to keep their employees safe and healthy. On the society level, the team aims to create social impact at scale while creating a high benchmark for work ethics in the industry.
To fulfill these aims, Sonia is also looking forward to shift to their new energy-saving office and expanding their plans in the arena of sustainability. In this way, they can become a part of saving society and protecting nature. Also, adding more talented female leaders will also create a huge impact and make Hilti Singapore stand on the top position.
Golden Words
If she could, she would advise her younger self to always trust her own assessment regardless of what her peers would follow. Since everyone has a different approach, you should never lose faith in your assessment.
For all budding businesswomen, she has a special message. Sharing that, she says, "Women have a different approach – not better or worse, just different – to lead business, trust your own way to attain new heights even if it may differ from the mainstream."