Sharon Mason: The 'Bold' Leader Who Is Improving a District's Economic Indicators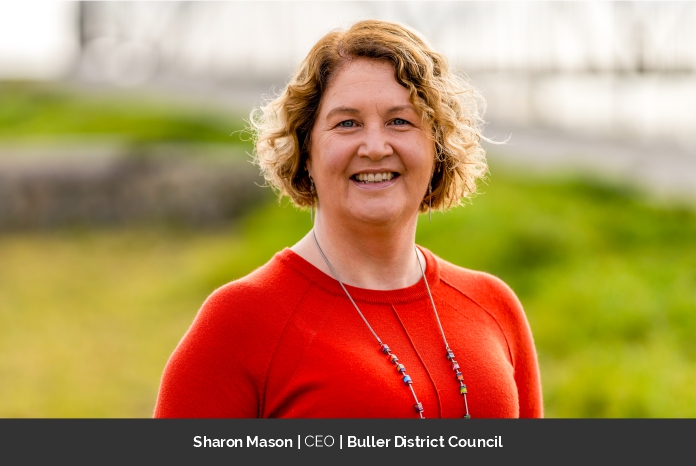 He aha te mea nui o te ao? He tangata he tangata he tangata! is a Māori proverb, which in English means, "What is the most important thing in the world? It's the people, it's the people, it's the people." This beautiful proverb best defines success as well, according to Sharon Mason, CEO of Buller District Council, the territorial authority, or TA, for the northern West Coast, New Zealand.
In November of 2018, Sharon took charge of Buller District Council. Since then, she has invested her time and energy in building the capability and capacity of her executive team and the next-tier managers. As a leader, she aims to bring empathy, humility, and selflessness to each role she fills, with the intention of achieving improved social, economic, cultural, and environmental outcomes for the community she lives and works in.
Under Sharon's inspirational leadership, Buller District Council has transformed significantly. It is now in a stronger position to promote its goal – the well-being of its local communities. Sharon was named one of the finalists for the 2021 Women of Influence Award because of her contribution to improving the economic indicators of the Buller district.
In her letter to Sharon, Kellie Coombes, Secretary for Women, Manatū Wāhine, Ministry for Women, New Zealand, congratulated her on the award and acknowledged her impressive leadership of the district and her ability to work with community stakeholders, including Te Rūnanga o Ngāti Waewae and local businesses. "Thank you for your ongoing contribution to Aotearoa New Zealand," Kellie wrote.
Crafting Effective Strategies
Sharon has played a pivotal role in crafting Council's economic strategy, which has resulted in their successful application to the central government for Provincial Growth Fund. She says that they received more than NZD 18m to invest in strategic assets and infrastructure.
The strategy has also enabled public-private partnership and provided private businesses with the confidence to invest in the Buller district, leading to diversification of its economy. And, for the last two consecutive years, Buller District Council has been the second highest performing TA. It can now offer a sustainable employment opportunity for its community and bring new people and families to the district, according to Sharon.
In July 2021 as well as in February 2022, Buller District experienced severe flooding due to heavy rainfall. Sharon points out that despite the challenge of two significant flood events in Buller over the past 12 months, the district is thriving.
"I feel proud to have had a significant role in leading the flood recovery work and working with central government to create a new policy, adaption blueprints, and appropriation packages to support districts with low socio-economic populations," she adds.
"I seek forgiveness rather than permission" is what she jokingly answers when someone asks her about innovation. She explains that it means that she has taken a leap of faith to form new partnerships or alliances, which have in turn generated new revenue streams, created new employment, or assisted in diversifying the economy of the Buller district.
Switching to Government Sector
When Sharon, a former British Army officer, joined Buller District Council in 2018, she had no prior experience in the local government sector. She was a healthcare industry veteran, with 20 years of senior leadership experience in the industry. Sharon was not even looking for a job in the government sector.
A longtime friend of Sharon saw an advertisement for Buller District Council's CEO role. "She felt I would be a good person for the role," Sharon recalls. She rang the recruiter. She had expected just a ten-minute conversation, but she got off the phone after two hours, convinced that she would be a good applicant.
Sharon points out that while health and local government are very different sectors, with differing challenges, executive leadership skills are extremely transferable. "I have been able to bring a different perspective to the local government sector using fresh eyes, constructively challenging 'how & why' things are done, and have been prepared to challenge the 'norm'," she says. "Which has taken courage on my part and my mayor to trust my strategic approach and my 'bold personality traits'." "Bold" best describes Sharon, who is a cancer survivor, in a word.
Making a Difference in the Community
Buller District Council covers 8,574 kilometers, consisting of 2 national parks and heritage areas. They offer the opportunity to experience peace and tranquility as well as excitement and adventure. "The Buller district is unbeatable in its diversity," says Sharon, who is making sure that the Council fulfills its commitment: to make a difference in the community.
Buller District Council aims to promote the well-being of the local community through management of key infrastructure – water, roading, waste management – community libraries, theater complexes service centers, developing economic strategy, and long-term plans which meet the 4 well beings.
As the CEO of Buller District Council, Sharon oversees the delivery of the strategic long-term plan. Developing a climate change adaptation plan, upgrading information management systems in keeping with a modern and contemporary organization, and developing and maintaining relationships with Iwi partners, central govt agencies, and local businesses are also her responsibilities. Sharon is constantly "horizon scanning" and "seeking opportunities" for the Buller District.
Tapping into Particular Skillset
Sharon believes that challenges build a level of resilience personally and professionally. She deals with them through a particular skillset and mindset, which developed when she was a British Army Officer serving in Bosnia, as part of a United Nations deployment, where she witnessed the best and worst of humanity. She also developed the particular skillset and mindset through her health career, as she got to be part of people's journeys through the good times and the bad times.
She also believes resilience is enabled by having the right partner – "someone who understands the daily situations you can find yourself in." Her husband, an Ex-Army Officer, and an intensive care nurse, Sharon, who is also a trained nurse, says is a "wonderful sounding board, very pragmatic, and is the "Ying to my yang."
Early in her management career, Sharon read the book "Feel the Fear and Do it Anyway," written by Susan Jeffers. She recalls that it helped her overcome many roadblocks, particularly the "old boy" networks that try their best to keep the glass ceilings intact and limit women's career progression.
Open and Transparent Approach
Sharon writes weekly CEO updates, in which she covers a range of topics, from strategic decisions to people she has met with. Sometimes, in her writeups, she also acknowledges the staff and talks about challenges they may be facing as an organization. "It is important for staff to understand what their CEO does on a weekly basis," says Sharon, who aims to be as much transparent as possible as a leader.
She points out that an external practice review, undertaken by the Chief Ombudsman NZ, has praised the openness and transparency of the CEO and the senior leadership team of Buller District Council.
"I have always considered it important to share information whether it be positive or negative, provide the rationales and explanation behind decision making," she adds. It enables her to ensure that they all have a shared vision.
Sharon also believes that communication is important to improving the effectiveness of the organization. She regularly provides feedback to the staff and acknowledges and recognizes their efforts. She makes sure to say, "Thanks," as well.
Investing in New Generation
The real gamechanger, according to Sharon, is "investment in young people." Under her leadership, Buller District Council has intentionally worked in partnership with key stakeholders, IWI, and central government agencies to create sustainable jobs and career pathways. Sharon and her team have done that because they want young people to stay local, remain connected to their families, earn salaries, become first-time home buyers; and in turn, give back to their community.
Work-Life Balance Is Critical
Sharon does not believe that a team needs to work for long hours to improve productivity. "I have high levels of trust in my team, and I don't expect them to work 10 hours per day to improve our productivity," she says.
As Sharon sees work-life balance as a "critical" aspect of a person's life, she has a mantra for herself and her team: "family always comes first." After the COVID-19 pandemic outbreak, Sharon discovered that encouraging flexible working practices, underpinned by a high level of trust and confidence in her team to do the job, leads to increased productivity.
At work, Sharon also encourages laughter and humor. She says that the senior leadership team has a mascot named Clifford, and they award their mascot during SLT meetings to recognize the highlight of a week or when a senior leader has negotiated a tough challenge.
Seeking the Next Challenge
Sharon's five-year contract with the Buller District Council comes to an end next year. Will she agree to handle CEO responsibilities for a few more years? "No," is the firm answer. "I have always been clear that I am not the long-term leader for Buller District Council," she says.
When she took over the Council, she committed to developing the executive team and identifying prospective future CEOs who could lead the organization forward through the next cycle of its journey. "I certainly have achieved that and have developed a strong reserve bench," says Sharon.
Her leadership has also helped the Council develop strong foundations, which offer a strong platform for the next CEO to leap from. Sharon feels an organization needs different kinds of leadership to move through its various cycles.
"I look forward to seeking my next challenge or the challenge finding me," Sharon says. She wants to coach and mentor aspiring female leaders as well.