Bruce Decaster – An International Human Resource Professional with Experience Supervising HR Operations in Multiple Countries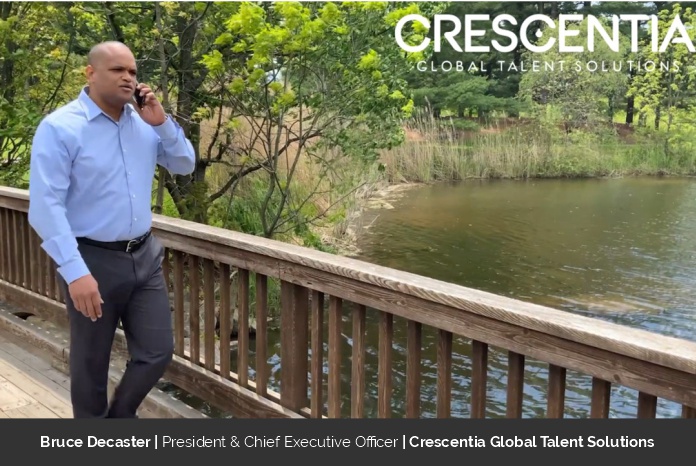 Every leader has a unique definition of success. Bruce Decaster, President and Chief Executive Officer of Crescentia Global Talent Solutions, believes that success is the ability to make a positive difference in someone else's life. In the workplace, many companies are focused on making profits, but what is the true end goal? It is to raise the standard of living for people. His philosophy is that companies exist for people, people do not exist for companies.
Leading a Company to Success Is Not an Easy Road to Take
Due to the pandemic, the large multinational company Bruce was working for took a major hit, and he found himself on a furlough. He saw this as an opportunity. "I had always wanted to build my own business so I got to work. And sure enough, my corporate position was soon eliminated.
However, that gave me the push to jump in with both feet," he says. It has been a challenging time to start a new business, but he chooses to see opportunities where others see roadblocks.
Challenges can make one stronger and roadblocks can teach valuable lessons. Bruce is originally from Curaçao, a small island in the Caribbean. He came to the United States with big dreams and a few hundred dollars in his pocket. He had been accepted to a university in the U.S. and the only work he could get was cleaning toilets on campus. "It was humbling work, but I committed to myself that if I were going to be a toilet cleaner, I would be the absolute best toilet cleaner I could be. Due to my hard work, even for a job that might seem insignificant, others around me saw my work ethic and my potential and gave me opportunities to learn and grow. I worked my way up from there," he explains.
Crescentia Global Talent Solutions and Its Services
Crescentia Global Talent Solutions provides recruiting services and Human Resources solutions to companies in multiple industries. According to Crescentia's mantra, "The biggest share of your organization's staffing investment should be directed toward your employee-to-be, not toward commission-driven headhunters." Crescentia is breaking the mold with a completely new and innovative approach to recruiting, delivering quality talent and HR solutions at prices that fit each client's budget. Crescentia's expertise is in the following HR service areas:
• Executive Search
• Recruiting Services
• Resume Writing
• Company Benefits Audit
• Payroll & HR Admin Setup
• Content Creation for Websites and Business Plans
• Online Learning Development in Soft Skills/Leadership
• Language Translation and Localization of Company Policies, Employee Handbooks, and e-Learning Materials
Crescentia's innovative recruiting process allows corporate departments to save time and money without sacrificing quality, thereby drastically improving the overall efficiency of their recruiting efforts. They can help their clients fill positions in multiple industries.
Crescentia's aggressive recruiting model is built on efficiency. They dedicate a team of researchers to finding ideal candidates for various positions. Their focused approach to recruiting leaves their clients with more time to do what they do best. Crescentia's processes help increase each organization's productivity by bringing the talent to the client in an efficient manner. Additionally, since they are an international company with branches on four continents, they can help extend global reach in the following regions: Australia, Brazil, Canada, Caribbean Region, Chile, China, Colombia, India, Mexico, Peru, South Africa, United States, and many European countries.
The Significance of Innovative Ideas in the Company
Bruce has worked for small, medium, and large-sized multinational companies since graduating with his international MBA. What these companies tended to have in common is that their recruitment processes move too slowly and they struggle to adapt to the pace of the business. So, he kept asking himself the question: "How can I fix our recruitment process to make it faster while providing a large volume of candidates more effectively in all the countries we operate in?" Then the idea came to him: "Why don't I have a global recruiting team work through the night to save time so that we can deliver next-day results to our clients?"
He then got to work on the compensation structure. Could a pay-as-you-go model be more cost-effective for companies than the old commission-based model? He discovered a huge gap in the market, especially for small-to-medium-sized businesses, who need affordable and efficient recruiting solutions without the astronomical price tag of traditional recruiting. The innovative model of Crescentia disrupts the antiquated recruiting processes.
As Bruce started to work on this model, he also realized that HR departments tend to go to multiple vendors to get what they need. "What if I could create a one-stop-shop that provides all the HR needs for businesses in one place? That's exactly what Crescentia does," he explains. They are a one-vendor solution for all HR issues that most companies will ever need, irrespective of their size. Bruce believes that the biggest share of staffing investment should be directed towards a company's 'employee-to-be', not towards resources that help them find those employees.
Responsibilities as President and CEO
Bruce, who describes himself as a 'Driver', says that his greatest responsibility as President and CEO is to formulate the vision for the company and to maintain the integrity of their services – so that a client in Peru is getting the same quality service as a client in Poland.
His days look a little different compared to most traditional CEOs. He does most of his work early in the morning or late at night as he works with various time zones in global regions. This frees him up to do his most important work of all during the day: that of being a husband and father to his three young children.
Message to Future Leaders
To keep himself and his employees motivated, Bruce is constantly looking for ways to celebrate even the tiniest wins, and is always reminding his employees where they are going and what their future outlook should be.
His message to aspiring leaders is to not give up when they are faced with adversity – which they are going to have a lot of, especially as a start-up. Also, he suggests they choose their battles wisely – some things are just not worth your time and energy right now. And finally – delegate. Surround yourself with people you trust and then delegate, delegate, delegate. And then delegate some more.
Recognition as a Leader and Vision for the Company
Bruce states that the greatest satisfaction he has received as a leader has been watching how the people that he has mentored and developed continue to grow and succeed in their careers.
His vision for the future is to expand Crescentia's global footprint. The company is currently operating in North America, Latin America, Europe, Australia, and next year they will be in Asia. Bruce emphasizes, "Global clients, in particular, need a single-source HR partner with the capacity to handle international recruiting and services. That is our purpose."