Shajjad Rizvi: Suiting up against deadly pathogens with Resysten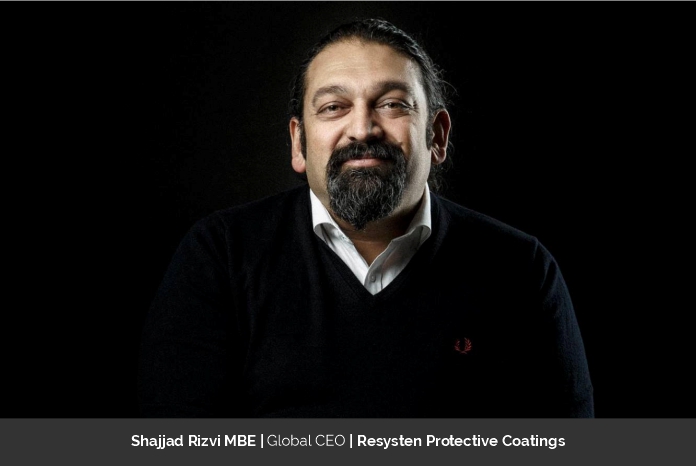 A proud recipient of the honorary MBE award by HRH Prince Charles, Shajjad Rizvi, Global CEO of Resysten, aims to help children and young adults fight back against cancer with better healthcare facilities. He co-founded the Little People charity in 2002, which helps every child in Romania being treated for cancer, and the patient organization Youth Cancer Europe in 2015, which works with adolescents and young adults living with cancer across the continent. Besides this, he is heading up successful for-profit and non-profit organizations, transforming an educational system and creating game-changing technologies.
Joining forces with Resysten
Resysten was founded in 2014, in Budapest, Hungary, by Janos Pinter and Peter Lehoczky. The company was born with a focus on helping healthcare systems deal with hospital-acquired infections (HAIs), bacteria outbreaks in food processing plants, and preventing flu outbreaks via public transport networks. It already had a very successful track record in its native place Hungary, with its flagship coating product being extensively used by the public national health system, as well as the Metro network and airport in Budapest.
Shajjad joined the company in 2018 and was appointed CEO at the beginning of 2020 with the aim of taking it global and be part of the fight against the spread of COVID-19. He adds, "This has been our key focus over the past year after extensive testing proved that our product was also effective against this threat. Since then, we've signed up partnerships with 35 countries around the world."
Adapting to new changes
Shajjad thinks that the recent pandemic provides the perfect example of the need to adapt the business model to any given challenge. He states, "Before March 2020, barely anyone had ever heard of Zoom, carried disinfectant in their pocket or wore a mask as part of their daily routine, but these became everyday life realities in a very short time."
The same goes for working remotely and the challenges that came with it, which have set new standards for how everyone views the world moving forward.
He adds, "At Resysten, we were lucky to be presented with an opportunity where our company could become part of the solution to a very global problem, and adapting our priorities to testing the effectiveness of our product against this new threat has had a tremendous result."
Fighting against deadly viruses
Resysten is an antimicrobial coating that protects surfaces from the spread of COVID-19 and other harmful pathogens, with the proven durability of up to 12 months and effectiveness of up to 99%. The coating is activated by either natural or artificial light, can't be removed using traditional cleaning products, and is completely harmless to humans. The in-house team manufactures the product and also trains the technical teams that apply the coating via their partners across the globe. They apply the product to the most commonly used surfaces in any building, ensuring that they are protected from the presence of COVID-19 and other pathogens.
Resysten's formula was developed as a response to the SARS epidemic, which is a very similar virus to COVID-19.
He adds, "Having refined our product to ensure its effectiveness against this and other threats such as e.coli or the common flu virus, we then ensured that our product would also be resilient and durable, in a way that no other coating is able to. The goal for us is to continue improving our formula and make it accessible to as many people as possible."
Their client base currently covers a wide range of industries from healthcare, tech, transport, retail, manufacturing, and even a football stadium!
Staying above the curve
An amalgamation of experience and innovation has driven Resysten towards the path of success. Developing a unique and distinguished product has provided them an upper edge over the competitors. The effectiveness and durability portray the transparent nature of the team's work ethics. Shajjad adds, "We have found that other companies are advertising products with much less efficiency and durability than ours to start with, but independent test results are also showing even poorer performance for them. On the other hand, we advertise exactly what the ATP results (which we carry out with every client throughout the guaranteed 12 month period) say for us."
Further, he knows that experience always makes their product stand out from the crowd, and they are continuously striving to improve their software every day with more innovative updates. This advantage of being in this specific domain for a long time has helped in staying far ahead of all the other competitors.
Nailing the leadership Realm
As the Global CEO of Resysten, Shajjad has taken the onus of overseeing each and every aspect of the business. He is handling numerous responsibilities such as keeping in touch with international partners, updating the shareholders regularly, troubleshooting the regulatory process in several countries, and assisting in the sales process. For this, he has to undertake a plethora of Zoom meetings.
Shajjad feels immensely proud of being awarded Member of the Most Excellent Order of the British Empire (MBE) for his services to charity from Prince Charles at an investiture in Buckingham Palace in 2019. This honor has been an incredible life experience for him.
Adding a dash of motivation to team
Since Shajjad's kids have all grown up and don't require extra pampering with everyday bedtime stories and having dinners together, he has ample time for prioritizing work. As he is a family man himself, he understands the struggles of balancing personal and professional fronts. Thus, he always stays flexible towards the needs of the workforce, especially during the pandemic period. He says, "Empathy and trust go a long way in this respect, but we're also lucky in that as we have a team of incredible professionals who are passionate about what they do."
Since he knows that Resysten's technology holds the future of hygiene after being a part of the fight against COVID-19, it is a big motivation booster for all employees to know that their work is keeping people safe and sound around the world.
Pearls of Wisdom
Sharing his golden words for all budding leaders, Shajjad states, "Always put your time and resources into something that you truly believe in – and this applies whether you're working in the non-profit sector or the corporate world. If you don't have a full understanding of what you're getting into, make sure you do. This will help you in becoming an expert and a leader in your field, rather than a follower."
Lastly, he advises to be the change that you want to witness in the world. Once you start taking action, hard work and consistency will do the rest.