Emily Marquez-Dulin: An Inspiring Woman Leader Who Wants to Make a Difference both Locally and Globally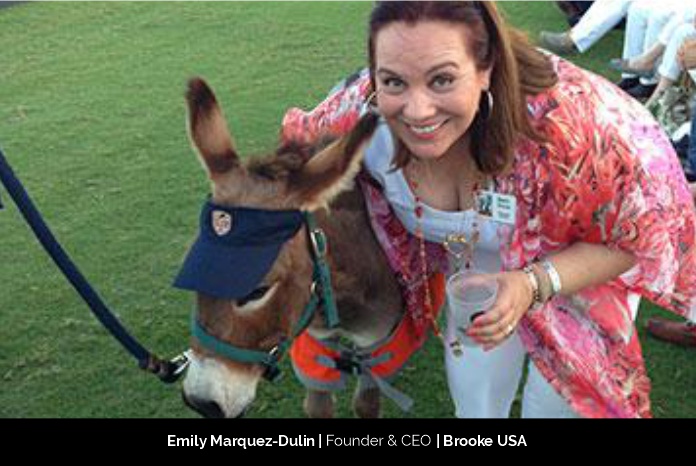 An experienced marketing and public relations professional who has worked in the hospitality and healthcare industries, Emily Marquez-Dulin is a proficient not-for-profit executive with in-depth knowledge of branding and marketing. She is currently the CEO of Brooke USA Foundation, where she reports to the Brooke USA Board of Directors and is responsible for the execution of the organization's strategic direction.
Brooke USA Foundation; A Visionary Woman's Story
According to Emily, Brooke USA would not exist today if it weren't for Brooke Founder Dorothy Brooke's dedication and devotion. Emily goes on to say that amazing individuals frequently talk about the times in their lives that defined them, and Dorothy Brooke's defining moment came in October of 1930, when she arrived in Cairo as the newly married wife of British cavalry commander Brigadier Geoffrey Brooke.
Dorothy soon realized that tens of thousands of former British army horses had been left behind after serving their nation valiantly during World War One. In the early 1900s, these noble animals were sold into unthinkable adversity, sentenced to lives of unspeakable torment on the streets of Cairo.
Brooke has risen to international prominence as a leader in international equine welfare thanks to one woman's vision and work in the 1930s, and Brooke USA has been following in Brooke's footsteps since 2015 with a commitment to significantly improving the health, welfare, and productivity of working horses, donkeys, and mules, as well as the people who rely on them for survival around the world.
Being in a lead Position
Emily is in charge of day-to-day operations, fundraising, financial management, marketing and public relations, and human resources, all while keeping the strategic plan in mind. She also works as an advisor to the Board and designs the programs needed to achieve the plan and administer the Foundation's many grants to other organizations because she has a background in animal welfare.
"My job is never ending as something always pops-ups and there is always something urgent and pressing to work on," says Emily. She thinks that this sense of constant deadlines keeps her on her toes and allows her to work well under pressure. Emily asserts, "I am fortunate to have an extraordinary team who believes in our mission and is passionate about what we do." She further adds, "Being mission-centered is what allows us all to stay true to our goals and continue motivated."
Living Every Moment of Life to the Fullest
"I must be honest, there is no balance between my personal and professional life. There is so much to do that I blend both, yet I have a family that knows how to incorporate their routines into what I have planned for the day," says Emily. She wakes every day at 5 a.m. to review emails; keeping in mind that she often works with other time zones, so this proves most helpful to get ahead.
Emily's son has just returned home from college to pursue a master's degree. She states, "He leaves early every morning, and when I am home, I make sure to prepare his lunch each day. This keeps me connected to his needs. "
Emily works at her desk from 9 a.m. until 7 p.m. or 8 p.m. at home. She has been working virtually for six years and has mastered the use of her phone and video conferencing. She speaks with her staff three to four times a day, which allows them to collaborate on projects and build strong bonds.
After Emily finishes her work, she assists her husband with dinner preparation and spends time with her family. Emily spends time with her friends and family on the weekends. She enjoys dining out, and her mantra is "never go to the same restaurant twice."
Emily also travels at least 10 days every month, so the schedule is constantly changing. In fact, for her, nothing is ever ordinary or usual. When she travels, one thing she makes a point of doing is visiting a museum in each new place. Emily enjoys visiting art museums in particular.
Handling Challenges with Commitment and Dedication
According to Emily, the global pandemic was a tremendous challenge for Brooke USA, and the foundation felt the impact of a drop in donations as a growing small charity. As a result of the crisis, horses, donkeys, and mules were abandoned in the United States, and local equine groups were in severe need of financial assistance. The team considered themselves extremely lucky to have been able to navigate the epidemic with the help of donors and by developing initiatives that addressed the needs of working horses in the United States and internationally.
Early on, the Brooke USA team recognized that in the developing world, there was a shortage of health-care facilities, medical supplies were few, and living in overcrowded communal settings heightened the danger of viral propagation. Furthermore, the international community, which generally provides relief, was unable to assist since each country was coping with its own issues relating to the COVID-19 epidemic.
Emily asserts, "We learned that flexibility, expediency, and creativity were key attributes to sustaining our nonprofit. The staff of Brooke USA proved with commitment and dedication that they were up for the challenge."
Finding Success in Helping Others
For Emily, success is about reaching the goals she sets for herself. When she says she 'reaches' them, she means doing so within the allotted timeframe and reaping the outcomes she set from the get-go. She opines, "Because I work in the nonprofit sector, I confess that I know I have been successful when I get that warm, fuzzy feeling of having done something great for others." I am a bit of a 'goody two shoes' so doing the right thing is essential to my personal measurement of success. "
A Healthier Environment for Animals
Brooke USA Foundation's aim is to live in a world where working horses, donkeys, and mules are free of pain and their owners treat them with decency and respect in order to help them succeed economically. To put it another way, the organization understands that happy animals lead to happy people.
Personally, Emily would want to see this fledgling organization's revenue rise from $1.5 million to $5 million in the next five years, and then continue to rise year after year. 600 million of the world's poorest people rely on the hard work and effort of 100 million working horses; it is critical to generate funds to address these welfare concerns.
Brooke USA Foundation's roadmap to success is simple, and the team is working on it right now. The team is developing a forward-looking plan that identifies the organization's priorities over the next three years. Certainly, these relate to the expansion of programs, increased funding for organizations in need, and advocacy efforts that make a difference in the lives of animals and people. Emily asserts, "We also need to look introspectively at our operations, governance, and brand identity. Growth will continue to be a priority as, with growth, we can get closer to our vision."