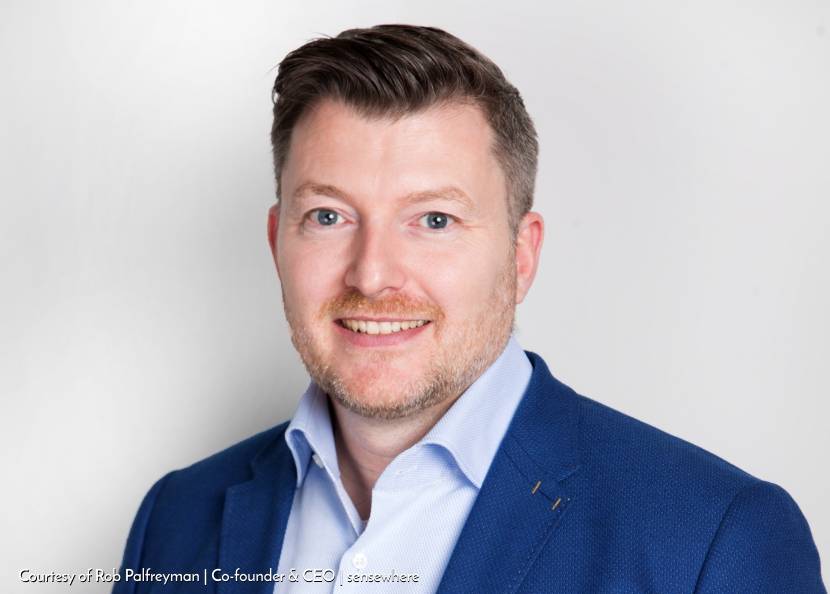 sensing where you are
sensing where you are: We have seen technology developing at rocket speed and changing our lives for the good. Living in a world where we rely on mobile devices for finding, connecting, communicating, organizing, and playing, it is only fair that the services don't stop as soon as you enter buildings – because, as we know, GPS doesn't work in built up areas. A number of innovative technologies out there are trying to provide the universal location and navigation data where satellite signals are blocked, and there are indeed many ways to fill that GPS gap. Some of course better than others: relying on magnetic fields, using beacons, manually surveying extensive areas and so on.
But a team of researchers at the University of Edinburgh combined with commercial experts from leading technology companies and with support from the Scottish Government pioneered a technology that is today known as sensewhere. Rob Palfreyman, Tughrul Arslan and Zankar Sevak were among the first to figure that in order for the solution to be truly universal, there has to be a key ingredient – scalability. The best way to go about ensuring scale is by using what's already available; in sensewhere's case it was crowds of people who moved around using their smartphones, essentially automatically crowdsourcing any indoor area globally.
Almost a decade later, sensewhere is a world leader in hyper-local and indoor positioning solutions with its technology underpinned by an extensive patent portfolio. It has based its headquarters in Edinburgh and has expanded its operation with offices in California, USA and in Shenzhen and Beijing, China. The company currently has 22 full-time staff overall with over 80% based in Edinburgh, Scotland, two thirds of whom are in Research and Development (R&D), plus it continues to benefit from access to key academics' technical expertise direct from Edinburgh University. With the goal to connect the world in a way that is relevant, advantageous, clever and seamless to the consumer, sensewhere has grown rapidly over the years.
filing the GPS gap
The way sensewhere connects the world is through the indoor positioning system (IPS) determining indoor positioning on a mobile device using available signals from Wi-Fi, Bluetooth, and motion sensors. The mobile Software Development Kit (SDK) and cloud-based servers then use automatic crowdsourcing to build a global database of transmitter locations in order to extend coverage and improve accuracy where GPS satellite signals are weak or blocked such as indoors or in dense urban areas.
In a scenario where a customer approaches a shopping mall for instance, sensewhere enabled apps may use GPS to determine location information. Once they enter the building those same apps automatically switch from GPS to sensors and wireless signals such as Wi-Fi and Bluetooth. No need for special equipment or action. Anyone with a sensewhere enabled device or app on their smartphone will continue to have accurate location information seamlessly. As the shopper moves around the mall, sensewhere's priority algorithms triangulate the position of the smartphone by automatically mapping wireless transmitters within the building and each new signal is referenced to the last via motion sensors in the device. All of this data is instantly processed by sensewhere's algorithms by using extensive geo-referencing to create a virtual electronic picture of the mall. So, as data is gathered for more devices, a detailed map is built of the wireless signal sources and common paths used by visitors and the system continually self improves over time.
location at the tip of your finger
Through its journey through the last decade, sensewhere has progressed to deliver better, lower cost, scalable and highly accurate universal indoor positioning. Over the years, the company has established open partnerships with Tencent Holdings Limited ("Tencent" SEHK 00700, China) and technologies like TomTom (Europe) to give its partners a competitive edge in location positioning systems.
Due to its sheer size and reach, China in particular is well positioned to exemplify how well new technologies perform at scale, so aside from Tencent, there are other Chinese corporate giants running sensewhere on their platforms in the FinTec/AdTec markets for Store Visit Confirmation and mobile payment fraud detection. Their business offerings benefit from indoor positioning because sensewhere opens up opportunities to allow their users access to: open location information, fraud detection, personalized services and even strengthened communities, all enhancing the desirability of their services.
Moreover, sensewhere has spent over two years in R&D work to address the limitations of GPS in tall buildings, and it can be seen with its recent release of what they call 3D-Grid. The 3D Grid System is an approach to level detection utilizing machine learning and device intelligence to automatically build a vertical grid in any building. The system cross-references the crowdsourced grid with known ground level indicators, through entrance and boundary detection. It then successfully tags floors both below and above ground level. When combined with up to date point-of-interest data, floor aware mapping and attribution is now a reality.
connecting the world in a relevant, advantageous, clever and seamless way
sensewhere has a range of existing products and use cases all designed to support retail marketing platforms and smarter consumerism, better security and safety measures for people and assets, sharper payment protection and faster emergency services. All of its web dashboard tools are Cloud-hosted and used to create and manage personalized geo-fences, visualize reports, and display analytics including store visit confirmation, footfall and heat-maps. sensewhere supports its clients in the creation and management of geo-fences for their mobile advert targeting and visit confirmation services using indoor maps. This is particularly useful in retail as precise location data can be combined with point-of-interest (POI) data to determine a user's context and intent. It goes further and includes persona development and improved targeting accuracy. This essentially means that venue owners, retailers, and advertisers can use the position and activity data gathered to evaluate dwell times and footfall, and analyze customer profiles, enabling them to plan product positioning and marketing, and publish location-sensitive offers.
a visionary leader making his way
Co-founder and CEO, Rob has provided the commercial direction for the company's technology since the beginning. sensewhere was nurtured into the company it is now through Rob's sheer passion and strong visions of the future. Rob has dedicated himself fully to piloting the company through leadership, securing investment, building partnerships, and ultimate deployments around the world since its early conception in 2009. His 25+ years' of experience in the wireless, components and location markets added greatly to the fundaments on which sensewhere was built on. He has shown the appreciation for the importance and the demand for location intelligence and has always believed in the future of location-based advertising. As is now evident, the industry revenue growth cultivates a lot of interest and encourages more businesses to invest.
continues to maintain its global leader position while going beyond!
sensewhere's collaboration with Tencent Holdings Limited, a leading investment company that specializes in mobile applications in China is one of the proudest moments for a small scale up from Edinburgh. Responding to billions of location requests daily and delivering position information at speed was a true testimony to what sensewhere is capable of achieving. sensewhere is proud of the promise it makes of an improved life quality and the major knock-on effects an industry can have on the economy through increased business opportunities.
The continuing demand for dynamic interaction between consumers, sellers and producers results in an ever-continuing integration of technology into business and lifestyle. sensewhere continues to see significant growth opportunities based around indoor positioning and seamless automated services, which enables to the company to see itself as a global leader in this field and it will strive to maintain this position while going beyond!
Fun fact: sensewhere in literal terms means "to sense where you are" through location. Any modern device fitted out with several sensors is compatible with the company's software and can be used to help you determine just where you are with high precision.