Rosa Contreras-Tessada: From Father to Daughter, A Healing Legacy Evolves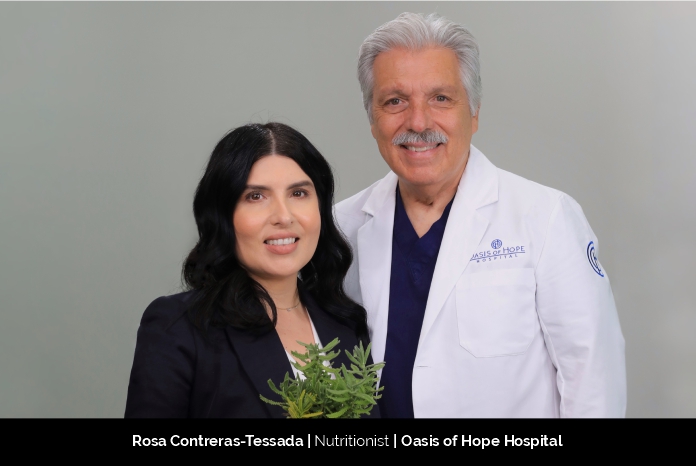 Women with advanced-stage breast cancer arrive at Oasis of Hope Hospital with fear in their eyes and hope in their hearts. Hope grows and fear fades upon arrival when an extraordinary team of breast cancer specialists wraps care around the patient. Results from a prospective clinical study showed that Oasis of Hope's patients with stage IV breast cancer achieve a 5-year-survival-rate twice the national average. This statistic attracts women from around the world to experience the Oasis of Hope treatment experience that blends integrative, alternative and holistic therapies.
Oasis of Hope Hospital is a place where faith, hope and love bloom every day, and hence, its future as a center of excellence is vital for women in need of its care. For the last 30 years, Oasis of Hope has been led by Dr. Francisco Contreras and Daniel E. Kennedy. They are developing the next generation of capable, empathetic, and innovative leaders. Dr. Contreras is mentoring his daughter Rosa Contreras-Tessada to be his successor. And CEO Daniel E. Kennedy, who cast a vision of a center run by women for women, has brought together a multi-disciplinary team working with Rosa to lead the hospital into the future as its 60-year healing legacy evolves.
An Oasis of Hope in Mexico
The late Dr. Ernesto Contreras, Sr. founded Oasis of Hope Hospital in 1963 with the mission of caring for the whole person–body, mind and spirit; sharing the healing power of faith, hope and love; and advancing science to end cancer one patient at a time. A true medical pioneer, Dr. Contreras, Sr. established Oasis of Hope as Mexico's first medical tourism destination for alternative and integrative cancer treatment. In 1993, Dr. Contreras, Sr. named his son, oncologist Francisco Contreras, his successor and his grandson Daniel Kennedy the CEO. Dr. Contreras and Daniel have made Oasis of Hope a state-of-art-hospital that provides research-based therapies years before they become available in the United States.
Now, Dr. Francisco Contreras and his daughter Rosa are designing a breast cancer program that changes the treatment paradigm. Instead of aggressive and invasive medical interventions, they provide a conservative approach supported by plant-based nutrition, focusing on the quality of life. Women treated for breast cancer at Oasis of Hope rarely lose their hair or experience nausea. Surgeries are less aggressive, and the team takes special care to conserve the breasts when possible. Oasis of Hope is known for lumpectomy and breast reconstruction, resulting in better outcomes for women, and they feel supported.
The Oasis of Hope Breast Cancer Center is operated by women for women. The team includes:
Nutritionist Rosa Contreras-Tessada

Physician and palliative care specialist Dr. Paulina Larraga

Oncologist Dr. Daniela Cosio

Psychologist Anahi Barrios

Clinical nutritionist Veronica Manrique

Teaching chef Miyuk Chi

Art therapy facilitator Ana Karehn Nieva.
This cohesive unit provides a holistic healing experience like none other.
Realization after Birth of Daughters
Rosa grew up spending a lot of time around patients at Oasis of Hope Hospital. She says that she was raised to care about healing people with cancer, preventing cancer, being healthy spiritually and emotionally, and healthy food. All these inspired Rosa. But, joining the hospital, started by her grandfather, was not an obvious choice for her. Also, she did not go to medical school like her father and grandfather. The birth of her daughters changed Rosa's life perspective. She realized, "I was responsible for two little girls, and I wanted them to be healthy and strong. I wanted them to know about food, health, and important things like that."
Rosa recalls her interest in healthy eating grew while pregnant with her daughter Alejandra in 2006-2007. "I was already on a health journey – I think I have always eaten healthy – but now I had a reason to learn more," she says.
After the birth of Alejandra, Rosa's father, Dr. Francisco Contreras, said to her, "Why don't you help us in the kitchen and start visiting patients?" She agreed as she had finished training as a nutritionist. But, as she had to take care of her newborn baby, her initial plan was to visit the hospital for a day or two and find out what it was like to work there. After a while, Rosa realized that she enjoyed working as a nutritionist at the hospital. "I was never really even planning on working at the hospital. It happened organically," she says. She now feels that it is her calling to work at Oasis of Hope Hospital.
Accepting the call to be the future leader of Oasis of Hope, Rosa began to prepare for that responsibility. Her father and work experience have been excellent teachers. "Every day, I feel more confident that God has placed me in this spot," Rosa says. "He has put me here for a reason, and with God's help, I'll be able to do it."
Brought a Spark of Joy
Rosa joined a well-established hospital. It is a mature organization, and it is challenging for new entrants to create a space for themselves and their ideas. Rosa acknowledges that the team was doing "an amazing job." Still, she highlights, "I brought a new spark" to the hospital. She focused her energy on the plant-based diet her grandfather designed. Patients love the new cancer-specific nutrition program she and her team created. "Patients love our food, cooking classes, organic gardens and the Wednesday night special dinner. I think they all bring a spark."
Rosa has built on Oasis of Hope's traditions. Her grandfather made sure that patients were not isolated and would make social connections. The dining commons have round tables that facilitate patient-to-patient interactions. "As they eat delicious and healing foods, patients bond with others going through similar health challenges. Mealtime is where friendships are formed for life," Rosa says, adding that meeting others brings great joy. Rosa has found where she can add value to the healing experience patients enjoy.
Professional Challenges & Growth
Rosa is not afraid to try new things, but change is never easy. Rosa says that there was a particular way of doing things in the kitchen when she joined the hospital. "We had a great staff that loved the hospital, but I wanted to take it to a higher level," she says. "It was a challenge to convince everyone and recruit new people that could help us evolve." Retaining excellent chefs hasn't been easy as they tend to have dreams of opening restaurants. But Rosa's perseverance has paid off, and her curated team of chefs, nutritionists and teachers are working harmoniously for the patients' benefit.
Finding the right people is one of many challenges that has taught Rosa to involve the whole team to accomplish something. She says, "I treat every area like a soccer team, where multiple people can score goals, and success doesn't depend on one person." Rosa feels that she has become a better leader by coaching and motivating her team. She also thinks that when new people join the hospital, they widen her vision. Their fresh ideas help her make things even better at Oasis of Hope Hospital.
Learning About All Sides of Business
Rosa unknowingly started training to become the head of the nutrition team when she was a child. She remembers her visits to her grandmother's house as a young girl. During one such visit, her grandmother said, "You should help me." She was cooking beans in a huge pot for hospital patients. "I remember I got burned, but I did not tell her because I was so excited to help," Rosa says.
The young girl who got burned while helping her grandmother is now a thorough professional. She is thriving, and her program produces more than beautiful food presentations. Her father and Daniel shared a vision for rooftop organic gardens and invited her to lead the project. "When they said everything was ready for our garden, it opened my eyes to the opportunity to grow cancer-fighting foods as an integral part of the treatment," Rosa says.
Rosa has not confined herself to the kitchen and garden. She is determined to master other areas of the hospital. "I am starting to learn how the administration works. I am beginning to get involved in every aspect of the operation," Rosa says.
Offer a Better Experience to Patients
Many things inspire Rosa, but patients are her biggest motivators. "It can be very tough working with patients. We give so much compassion and love, and they come to us very ill, and that takes a lot of emotional energy," she says.
Rosa acknowledges she sometimes feels mentally exhausted after hearing patients' stories. But, these stories also help her realize the difference she and her team are making in patients' lives. "The hospital helps people improve relationships with their kids, spouses, God, food, and even with cancer. That is what keeps me motivated to continue to give them the best experience possible," Rosa says.
I Am My Own Person
"Go to medical school" is the advice Rosa would like to give her younger self. She regrets that she didn't follow in her grandfather and father's footsteps in becoming a doctor. But, being an expert on the healing power of food qualifies her to be an energetic visionary that will lead Oasis of Hope into its next chapter of a 60-year healing legacy. She feels humbled to be leading an avant-garde team that provides holistic care to cancer patients. And she is also thrilled to head a group of women health practitioners that caters to the unique needs of women facing breast cancer. "I appreciate that my father allows me to be my own person," Rosa says. "I think it is going to be great. I love the Oasis of Hope mission, and I love working with people. Like, I said, if God placed me there, it is for a reason, and then we will see."
For information on cancer treatments, a free treatment plan and free eBook,
call Oasis of Hope at 1-888-500-HOPE (4673), or visit www.oasisofhope.com