Ricardo Cortez: From Rock Musician to Asset Manager and Co-CEO of Broadmark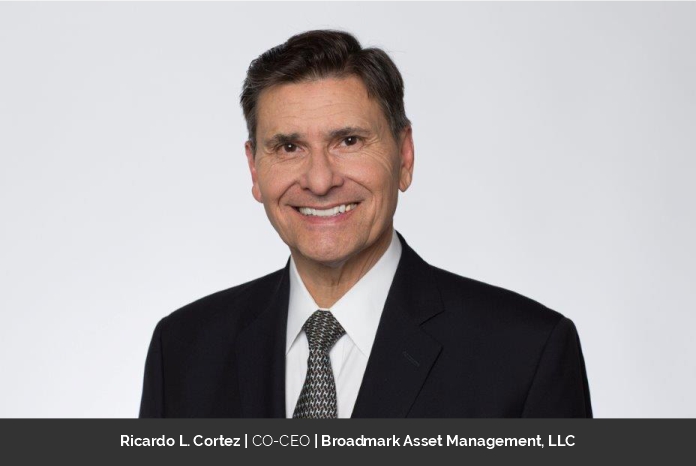 Persistence and belief in one's purpose and approach to investing can help navigate the storms of the market in the post-pandemic world.
For Ricardo Cortez, Co-CEO of Broadmark Asset Management LLC (Broadmark) an investment firm with $1.4 billion of assets under management, the importance of persistence and belief in one's purpose cannot be overstated.
He credits his dogged persistence and resilience with having helped him bounce back from a number of false starts in his career. These values continue to be the mainstay of his philosophy as he helps his clients navigate the uncertain and uncharted waters of the markets affected by the COVID pandemic.
When it comes to managing their client's assets at Broadmark, Rick sees his role more as a facilitator who helps oversee business operations and focuses on building a team with a purpose.
From rock musician to asset manager
In college, Rick was a studio musician, even touring with Rock 'n Roll Hall of Fame rock groups like the Coasters, the Mitch Ryder Show, and Jay and the Americans.
However, he quickly realized that he wasn't Eric Clapton and started work on a Ph.D. at Columbia University where he hoped to teach philosophy and quantum theory.
Soon he realized that this career too was not for him, as the field was full of students who surpassed him. When he got married and became a father to his daughter, Vanessa, he felt the need to get a job to support his family.
The necessity of providing for his family led him to join the investment management industry, and he joined Merrill Lynch. Even though he did not know a stock from a bond, Rick did know a little mathematics, and his first assignment was working on an algorithm to match orders on the Merrill Lynch trading desk, a precursor to the electronic trading systems now in place on Wall Street.
Following that, he went into research and found that he loved analyzing the stock and bond markets. This was followed by stints as President of Liberty Capital Management and of his own firm Cortez Capital Management.
Before joining Broadmark as President, Rick had a good deal of experience under his belt as Senior Vice President at Prudential Financial, Vice President at Goldman Sachs, and President of Torrey Associates LLC.
Rick and his Co-CEO Chris Guptill, who founded Broadmark, met in 1999 when Chris was forming the company and he asked Rick to join. However, Goldman Sachs had just offered Rick the job of building their new global multi-manager program.
As this was the first time that Goldman Sachs had ever allowed external money managers to manage clients' assets Rick was eager to be part of that new business, so he joined Goldman. But Chris and he kept in touch regularly and 10 years later in 2009, Rick joined Broadmark as President in charge of distribution.
Learning to overcome setbacks
Despite trying his hand and failing at a number of things, from being a guitarist to being a mathematician, Rick finally found his métier as an asset manager. What worked for him was to have tried many things but refuse to get discouraged when most of those didn't pan out.
Rick wanted to be a rock guitarist and then a professor. He also tried boxing and learned tennis. But none of those worked. With consistent trial and error, Rick found himself successful managing business strategy and working with colleagues and potential clients. Therefore, he believes that setbacks are simply learning lessons if we continue to keep trying again and again.
As the first one in his family to go to college, he took his varied experience and education, from musician to hopeful physicist, into his approach to asset management, focusing on the skill of building teams of talented people who manage investments for Broadmark's clients.
Although he saw himself as a quantitative analyst and portfolio manager, he found that his strength lay in being a conductor or a coach, making sure that the team had a purpose and that they got things right.
Giving back to academia
Rick received a certification as an Investment Management Analyst (CIMA) from the Wharton School and was even awarded the President's Medal by his alma mater Queens College, which is the school's highest administrative honor. In 2021, Marquis' Who's Who gave him the Albert Nelson Marquis Lifetime Achievement Award.
He has also served as a member of the Board of Advisors and on the Editorial Board for the Investment Management Consultant Association. The fact that he serves an adjunct faculty member at Harvard University and as a former guest lecturer on investment policy and hedge funds at the Wharton School is a testament to his strong belief in education and his love of learning.
His academic engagements also include lecturing at the University of California Berkeley, and the New York Institute of Finance, and being on Queens College business advisory board, and he also mentors executives in the Leadership Pathway Program for the Money Management Institute (MMI).
Rick has even been cited for his work in quantum theory in Frank White's book, The Cosma Hypothesis: Implications of the Overview Effect, and has co-authored a book called, Industry and Stock Forecast, as well as a number of other professional publications.
Overcoming challenges as Co-CEO of Broadmark
Broadmark Asset Management LLC (Broadmark) is an investment firm with $1.4 billion of assets under management, helmed by Co-CEO Chris Guptill, who founded it in 1999.
Equity market risk management is the core of Broadmark's investment philosophy and they use a directional equity long-and-short strategy that can be fully invested, fully in cash, or short.
Rick takes great pride in the way that Broadmark managed to handle and overcome one of their biggest challenges when the markets were doing well and their investors and clients reduced their exposure to them believing they did not need risk management. That seems to have changed in recent months—clients are realizing that they do need prudent risk management now more than ever.
His belief in the power of persistence has paid off in spades and he credits their faith and confidence in the value of their philosophy of investment management with helping them navigate the tough times as a team.
Rick ensures that a problem is addressed immediately when it arises. This is one of the greatest lessons learned from experience.
Although investors would rather not think of tough times when things are going well, Rick believes in the ability of Broadmark's sound investment strategy to attempt to provide positive, risk-adjusted returns in any market environment and help them succeed even during tough times.
Balancing work and life
At Broadmark, the company philosophy is that their people are their most important assets, and they go far to ensure a healthy work-life balance, prioritizing time with their families and communities, as well as their own health and happiness.
Rick believes that it is essential to balance one's personal and professional life and to recognize and respect their employees' priorities and the multiple roles they play in their lives.
According to Rick, the only person who can make the best decision you is: you yourself. You may certainly listen to many opinions, but the choice is eventually yours to make, which is the best way to proceed.
Helping clients navigate risk
Broadmark believes that there is substantial risk in equity prices due to the record levels of global and U.S. debt, elevated equity valuations (that by some measures rival the dot.com bubble and even 1929), and the disruptions due to the COVID-19 pandemic and Delta and Omicron variants.
Rick is responsible for the management of Broadmark's day-to-day business activities and he is gearing up to help their clients navigate the market risks of these volatile markets in the coming years.
He measures his success in life through the partnerships he has formed throughout his career and his time at Broadmark, and the people he has worked with and with those he is still in contact.