Natasha Makhijani: Solving Recruitment and Consultancy Requirements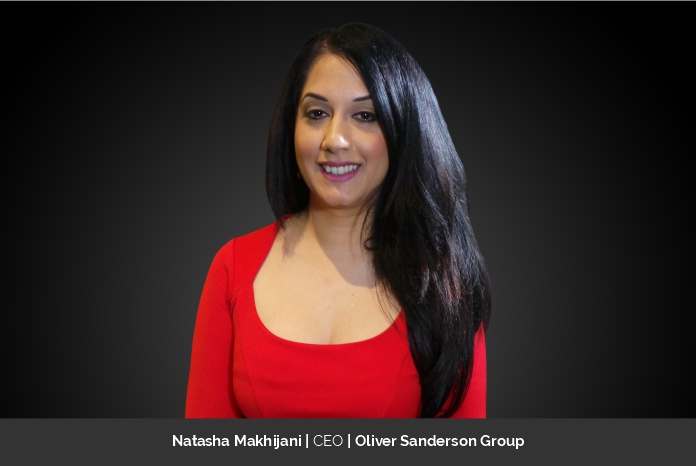 What started out as one woman on her laptop in her living room table is now, ten years later, an international firm working with FTSE 100, FTSE 350, and Fortune 500 companies, and winning prestigious awards. Natasha always wanted to build something of her own and make a difference. She always knew she needed to create something new to provide a platform to make a stronger and wider impact.
Natasha comes from a very entrepreneurial background, and she knew she wanted to take on the challenge of running a business. She left a comfortable position to found Oliver Sanderson in her living room in 2011. She says, "It was definitely a leap of faith, but I made it work."
Natasha's day-to-day responsibilities as Group CEO include managing the business side of things in collaboration with her NED Board and finance team, assisting her team in ensuring that they have the tools they need to succeed in project delivery, and winning new work in collaboration with the Consultants. Natasha focuses as a leader on creating an inclusive culture and promoting collective decision-making, ensuring that management balances the interests of all stakeholders, including workers, suppliers, clients, applicants, and the company's broader community.
Proving Herself 'Worthy'
"Some of the biggest challenges have been around outside perceptions," says Natasha. She is not your normal corporate leader in this field, and she has faced several challenges. The most prevalent prejudice she has encountered is that she is 'too young to be a CEO,' and she has had to work harder to prove herself worthy of this position, while others are embraced and welcomed at the top table. But, as an Asian woman business leader, Natasha has had to overcome these assumptions, doubts, and sentiments, and the world is now witnessing a shift. She shares, "There is a lot of work to be done to get more equal representation at the board level, but we are seeing positive signs of change."
Oliver Sanderson Group PLC
Oliver Sanderson Group PLC operates in a competitive sector, but a number of things contribute to its success in the D&I field. There aren't many businesses that are owned and directed by an Asian woman, giving the organization a unique viewpoint on the issues that women and ethnic minorities confront in the employment market. This insight is especially significant at this time, when diversity and inclusion are at the top of the business agenda, and Oliver Sanderson Group's D&I search and consultation is industry-leading.
In addition, the organization differentiates in terms of technology and how it employs it to get greater results. In addition to the standard methods of targeted mapping, profiling, and headhunting, the Oliver Sanderson research team makes use of its ground-breaking mobile apps. Natasha shares, "We have the Oliver Sanderson Executive app, and we are integrated with our sister businesses, Snapp CV & Snapp Resume, the world's first mobile job board of its kind with voice technology capability and Amazon Alexa connectivity, where we have over 25 million candidates registered in the UK and the USA."
According to Natasha, by utilizing innovative ways, the organization is breaking down barriers in a variety of sectors and assisting in engaging with underrepresented populations to solve D&I concerns at the highest levels of business.
Innovation Comes From Openness
Natasha has helped push and pioneer two important advancements in the recruiting and executive search industry: digitization and diversity and inclusion.
Oliver Sanderson Group PLC is continually learning and has systems and processes in place to support creativity and new thinking. One of its specialties is digital recruiting, and it is a leader in digital advancements in executive search and recruitment. Natasha is a co-founder of Snapp, the world's first voice-enabled mobile job platform with exclusive Amazon Alexa integration. She says, "If you ask your Amazon Alexa device to "Find me a job", the search will be powered by Snapp. The platform recently featured in the Mayor of London's TechInvest program, an initiative delivered in alliance with the UK Business Angels Association to showcase London's most ground-breaking tech start-up businesses."
Natasha recalls that the idea for Snapp originally came out of a conversation with a client about their evolving needs in a remote working / hybrid business model. The team listened, and made that idea a reality.
Moments of Success
Natasha mentions that Oliver Sanderson Group PLC has lately received a number of honors and recognitions, each of which represents a significant success for her and her staff, prompting them to pause and reflect on how far the firm has gone.
Natasha's most gratifying accomplishment to date is being included in the 2022 Platinum Jubilee Pageant Commemorative Album, in a section on allied organizations. The company was selected for "its transformational contribution" to the sphere of business.
The Pandemic Changes
The worldwide pandemic has had a significant impact on Oliver Sanderson Group's day-to-day operations, but the team has managed to survive and thrive since the initial lockdown. To face new obstacles, the business has had to change, becoming more flexible in its delivery models and shifting to digital platforms via its in-house recruitment software, Snapp and the OS Executive app.
Natasha shares, "Thanks to our flexibility, we have managed to grow and expand our team. Also, we look forward to a brighter future as corporations and wider society begin to rebuild."
Success to 'Me'
Natasha defines success as making a difference. She recognizes that she has a unique chance to make a difference as a recruiter after establishing her firm. Natasha and her team's work has a broader impact on society by identifying exceptional people to fill crucial jobs in the corporate sector. She states, "Our appointments make waves in their new roles, and often end up assigning us to new searches, where the process starts again."
Natasha has always wanted to share her accomplishments since it increases the rewards. She is grateful for the opportunity to lead a team, collaborate across large networks, and give back via charity.
Adapting to New Ways of Working
Natasha believes that everyone must strike a balance between their personal and professional lives. According to research, a positive team spirit enhances well-being and productivity. Maintaining this type of relationship has been difficult during the COVID epidemic, as many other company executives throughout the world have learned. Natasha attempted to address this difficulty by hosting regular remote catch-ups unrelated to business and hosting virtual team-building events in which everyone ate lunch together, conducted online yoga lessons, played remote games, and participated in other pleasant activities. She feels that thinking outside the box is vital since employees have struggled with the routine of remote working. She further shares that leaders need to adapt to the "new normal", creating supportive environments as the business world moves towards establishing new hybrid and remote working models.
Future Vision
Natasha explains that the Oliver Sanderson Group PLC has a bold plan for the next five years. The group is growing Oliver Sanderson's business in Europe and the United States, as well as entering India. As the organization's international reach grows, so does its potential to make a difference.
An Emblem of Women's Empowerment
Natasha's life as a British Asian has been molded by the country's Royal Family. She has always been inspired, in particular, by the Queen, her principles, her worldwide presence, her outstanding work ethic, and the way she has always supported service, even in the most difficult situations. Natasha has even more respect and appreciation for Queen's accomplishments as a woman leader. "I will always strive to follow her example," says Natasha.
Natasha's message for aspiring business leaders is to believe in themselves, but be open to constructive criticism and use it to learn and grow. She adds, "Always remember, doubts and setbacks are part of everyone's journey-the road to the top is never simple! So be resilient, and never give up." Natasha shares that she has been doubted in the past, but she used those doubts as fuel to fire her on to greater success. She asserts, "Whoever you are, wherever you come from—with hard work, a bit of luck, and a good team around you, you can do it too."