Peter W Weber: A pioneer all set to bring disruptive solutions with modern technology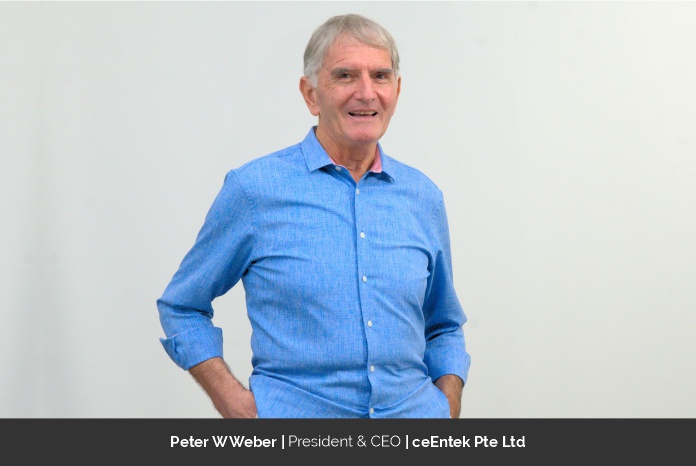 With a creative mind and solid determination, Peter W Weber, Founder and CEO of ceEntek, is a dynamic blend of an entrepreneur and financer, who is focused on developing next generation products that are poised to solve some of the construction industries biggest challenges. Having vast experience in the field of advanced technologies, Peter knows first-hand the immense power technology presents. By replacing old-world processes with new technologies, he sees immense potential to transform the world we live in for the better. Being a stalwart of the semi-conductor industry in the 80s, where as he puts it, he grew-up with Intel, Peter was part of the golden-era of the Silicon Valley eco-system. Peter has seen first-hand the impact technology has had on transforming the world. Now, he is spearheading the world of carbon nanofibers by bringing his decades of experience to the hugely promising field of nanotechnology. Believing the famous adage, "Nothing is impossible", Peter is a visionary entrepreneur who is driven by his underlying passion for technology.
Climbing the ladder of success
Peter's passion for technology and innovation began with his inherent inclination to learn. He completed his MSEE degree in Communication Engineering at the Frankfurt University of Applied Sciences, and was immediately drawn to the concept of innovating to solve problems. Peter started his career in the semiconductor industry and with dedication together with hard work quickly progressed within the industry. At the age of 30, Peter was one of the first Intel employees in Europe and tasked to build Intel's market presence across the region.
While rising through the Intel ranks, Peter had several mentors including Intel founders, Robert Noyce and Gordon Moore. Besides being a constant source of knowledge and motivation, Peter honed his management skills while working with them. "Growing up with leaders like Robert Noyce and Gordon Moore was a privilege. They were the rock stars of the time, but treated us young tigers as their equals" Peter explains. Peter's successful career within Intel saw him play an instrumental role in setting the worldwide standards for the microprocessors giant, and to-this-day Peter remains a highly respected and active contributor to the semi-conductor industry.
Upon leaving Intel, Peter co-founded Netro Inc, a company that focused on wireless communications. Under his leadership, the company listed on the Nasdaq and reached a market valuation of $5.0 billion.
Laying the foundation of ceEntek
After a successful career in semi-conductors and on the back of his Netro success, in 2007 Peter embarked into the world technology investing, which is where he first came across the concept of carbon nanofibers (CNF). Peter was immediately drawn to the potential of CNF and the application of CNF in materials such as concrete.
Peter highlights, "Once I learned that the specific carbon nanofibers we had could be dispersed in water without surfactants, I wondered what they could be used for in terms of real world application. Nanomaterial is expensive, and to get costs down you need volume". While studying the use of CNF, he came across publications talking about Ultra-High Performance Concrete (UHPC) and the potential impact of CNF in UHPC. With concrete being such a huge market, Peter felt it was the right target market to go after. "I then found a government program in Germany named 'Innovation CNT', I contacted a University involved in the program and asked whether they would be interested in checking out my unique CNF dispersed in water – they said yes and I sent two liters of 'black water' to their labs for testing. They tested my CNF in their UHPC system and it resulted in the performance improvements theoretically expected. This proved the CNF technology in a UHPC application and was the Eureka moment to start ceEntek."
Winning against tough odds
After the early breakthrough, Peter's path forward was not without its challenges. Early technical and commercial roadblocks took considerable time to overcome. A major hurdle was that the production of the CNF – which was initially being done in a high-voltage plasma process – was not scalable. That led Peter and his team to develop a completely new and proprietary process, that still produced the CNF of the exact molecular structure needed for concrete, but in a method that was economically scalable. Peter goes on to explain, "Today we have a fully automated process that produces the right CNF that we need, and does so in a very efficient manner".
Overview of ceEntek products and services
ceEntek was founded in Singapore in late-2010 to focus on the development of the technologies required for the cost-effective production of nano-engineered Ultra-High Performance Concrete – named UHPC 2.0TM by the company. "We didn't start out as concrete people, so we needed to rethink UHPC from the ground-up. This came to be a huge advantage as it forced us to understand the base materials we are using, cement and sand, and the physical and chemical interrelation between these materials. This resulted in a UHPC system with the best material characteristics, lowest carbon footprint, the fewest possible ingredients, and the ability to source cement and sand locally from anywhere in the world – which is then mixed with our base product at the last mile. This is a huge logistical advantage for ceEntek, as the sand and cement is the voluminous part of all UHPC products", Peter notes.
ceEntek learned to blend their CNFs with a superplasticizer paste, which they produce in Singapore and send to the mixing sites around the world. A critical differentiator is that ceEntek's UHPC2.0™ is not reliant on complex blends of chemicals and additives. Furthermore, unlike all other existing UHPC products, ceEntek's UHPC2.0TM is not reliant on potentially harmful, unstable, and difficult to source base ingredients such as silica fume and quartz flour. This step-change is made possible by ceEntek's breakthrough in their unique CNF, and makes ceEntek is the only player globally utilising CNF in UHPC.
Although traditional UHPC has generally remained a niche product within the global concrete markets, ceEntek see this rapidly changing as the world looks for ways to decarbonise the concrete industry. By using UHPC2.0™ to produce structures such as pre-cast bridge decks, the weight of these elements can be cut in half – thus lowering the overall project cost as the bridge will be lighter and use much less concrete and steel. Transportation and installation costs can be greatly reduced, as expensive specialized cranes are not required. Additionally, by utilising UHPC2.0™ and new construction methods which are becoming increasingly popular, project construction times can be slashed from months to days (or even hours), as UHPC2.0™ can achieve a load bearing strength within hours. Finally and as a potential game-changer for the industry, as less material is required, projects utilising ceEntek's UHPC2.0™ can slash their CO2 footprints by nearly 50%. This is massively significant considering the concrete industry is one of the world's most polluting industries – responsible for a staggering 8% of global CO2 emissions – presenting a serious global problem that thought-leaders around the world are looking to address.
Speaking of ceEntek's initial in-field applications, Peter highlights, "UHPC 2.0TM based products and solutions provide best in class solutions for lightweight, high-strength, two-and-three dimensional precast units for the building industry, UHPC overlays, joint fills and tunnel coatings for the transport infrastructure industry, and coatings and grouts for marine, offshore, and windfarm projects. These are all massive markets we're proud to be able to supply into, as we aim to help decarbonise the overall sector with our innovative products".
Steering the wheel with a unique approach
Peter believes that while innovative ideas are great, focused and targeted execution is key. "Never ever become a victim of the challenges. Rather, look at them as the stepping stones to success and solve them to reach new heights. For example, we had to go very deep technically as we could not buy the catalyst to make our CNF. So we decided to develop our own catalyst based on low-cost raw materials. The automated equipment to produce our CNFs did not exist, so we had to develop it ourselves in combination with a German engineering company. But all these challenges make us stronger today, and have put ceEntek in a unique position to be a global leader in the push to decarbonise the concrete industry".
Seizing the moment
The opportunities are huge for Peter and his team as climate change, global aging-infrastructure problems and massive future concrete demands strain developed and developing countries alike.
To outline the company's vision, Peter says, "Established concrete companies forgot how to innovate, opening the market for ceEntek and other disruptive players in the market. With rapid growth comes the need for financing, which is necessary for buying equipment, opening new locations around the world, adding talent, and pre-financing the buying of raw materials to support our growing order book. Small companies often have a difficult time getting traditional bank loans for project financing and strategic growth, but given that we're at the intersection of the right tech at the right time, we are seeing a lot of interest from forward thinking investors. Such investors see the writing on the wall for the industry, understand the relevance of our technology to disrupt, and are excited by the massive opportunity we have in hand. With a successful 2021 on the books, the company is ready to move to the next chapter as we start to focus on hyper-scale mode. We are looking forward to this new phase of the business and are moving forward building a solid high-growth business future with our partners".
Wearing the CEO's Cape
As the Founder and CEO of ceEntek, Peter directs the creative engine in the company whilst also steering the ship. This includes new products, technology development roadmaps, contacting potential clients and market development. He deeply understands that building a tech company from scratch requires full devotion to stay-sharp, innovate, adapt, and move forwards efficiently, all whilst doing everything and anything that needs to be done. Peter understands the critical importance of bringing committed talented people into the company, and closely works with his team to make the company's vision into a reality.
Sharing his daily work routine, Peter begins his workday by talking to ceEntek's US team, who have just completed their day. Once he goes through all their finished work comprising of images and videos, he talks to them via Zoom or phone. After this, he checks the emails received overnight and responds accordingly. Proceeding this, he visits the factory floor and management team heads, where he goes through a queue of ad hoc and regular scheduled meetings on the technical and business development side.
There is a weekly calendar of these regular meetings. Every Monday morning starts with the staff meeting, while Tuesday afternoon covers the front-end team meeting that encompasses everything from catalyst to CNF production and streamlining the entire process efficiently. Wednesday afternoon sees a meeting with the back-end team, UHPC development, and production support. Peter tries to keep the Thursday schedule vacant from any pre-scheduled meeting and focuses on addressing new issues faced by the team. Friday comes with a scheduled morning meeting with the communications window with the US organization, and closes the official work week with an afternoon team meeting that ensures that everybody is working on the same page and understands what is going on throughout the company.
Peter states, "Weekends are for catching up, making plans, and reviewing the status of the company. Let's not forget meetings and updates with existing investors, potential new ones, and strategies on how to make the best use of funds and drive future growth".
Keeping a leading by example approach, Peter is always ready to help teach employees as much as he can. With so many meetings and creative roles on the plate, he rarely gets time to enjoy his personal life away from ceEntek. However for Peter ceEntek is his passion, he loves his work and enjoys having his impressive wife Yana involved to support his daily routine and commitments.
Stating his chief motivator, he says, "I think growth and expansion are ultimately the best motivation for all team members. It creates new job opportunities, allows people to progress forwards, and gives the team a chance to share in the success we're creating at ceEntek."
A Promising Tomorrow
Peter's aim for ceEntek is to become the technology and sustainability leader for UHPC concrete products and services around the world. He explains, "there is an old saying, 'when you work hard, you are allowed to getting lucky.' I knew there would be a huge market for our UHPC. But I had no idea we would get such strong tailwinds as we have today, driven by things such as the infrastructure renewal focus of the Biden administration in the US, the huge growing demand for sustainable concrete products, and the world finally waking-up to understand the impacts of climate change. This has accelerated a macro shift globally to decarbonise all industries, including concrete, which until now is one of the world's most polluting industries – and we can help solve this".
ceEntek is certainly well positioned at the intersection of these fundamental shifts and ready to lead the industry as the leading sustainable UHPC supplier. The fast growing tech company has an impressive future technology roadmap which will continue to open new opportunities, and the company has committed to NetZero35 program and is actually ahead of schedule.
To accomplish his plans, Peter and his team are further expanding ceEntek's technology leadership by enhancing UHPC 2.0TM and its 'green' properties. "I'm not satisfied with just being the best, if we can be even better we must pursue that relentlessly" Peter states. "Our target is to have the most advanced products with the most easy and safe handling for the users. The technology is here to minimize the massive CO2 pollution the combination of today's cement and steel-based concrete is creating. It is our obligation to use it to build a sustainable future for all of us".
Besides these goals, he states, "I hope I will stay healthy and fit to accomplish this. And, one of these days, I want to have time again to take my motorcycle to the beach in California or exercise my privilege as a Private Pilot. But, you need to allow life to happen. Certain things you cannot force, be ready to adjust when adjustment is necessary, and stay the course when you know it's the right thing to do."