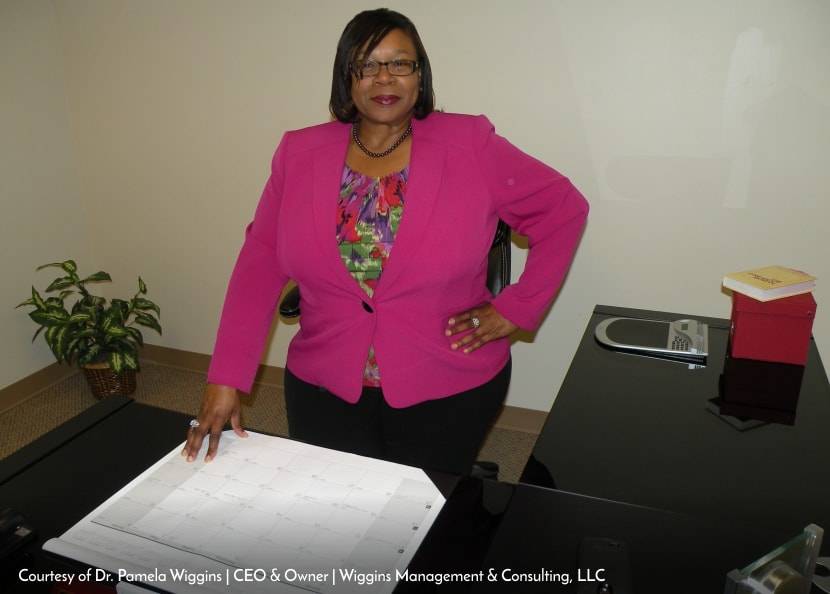 Being a leader is not just about having sovereign rule over someone; it is the respect you earn throughout your journey by touching lives and encouraging the heart. Everyone has a story to tell, however there are just a few amongst us who have a life story that teaches others the good lessons of life. Humbled by a serving heart yet driven by a leading attitude here's an extravagant journey of an incredible woman who believed in her dreams and courageously sought to achieve them all. From the tender age of two, Dr. Pamela Wiggins, CEO of Wiggins Management & Consulting LLC, identified her purpose and grew up with the noble thought of helping people.
The Birth of a new Dream
As a little girl, Dr. Pamela Wiggins dreamt of being a doctor and owning her own a business. Her mother recollects a story of Dr. Pamela being defined as articulate by a teacher at the tender age of 18 months, a surprisingly commendable compliment to receive as a toddler. Dr. Wiggins bore a noble thought to serve and help people that led her to dream of being a doctor and a businesswoman. Her family ran a successful carpet and furniture cleaning business that inspired her to venture out on her journey to be an entrepreneur. As she diligently watched her parents work, she wisely learnt the trade gaining complete perspective of running a business. With the help of God and a determined spirit, Dr. Pamela chased her new born dream.
The Extraordinary Expedition
Earning a Doctor of Education degree in Organizational Leadership from Nova Southeastern University, Master of Arts in Organizational Management from University of Phoenix, and Bachelor of Arts in Psychology from Marymount University, Dr. Pamela Wiggins has been heading Wiggins Management & Consulting, LLC as the CEO for over four years. Wiggins Management & Consulting, LLC is a woman driven company that focuses on staff training, leadership & management coaching, family mediation and arbitration, and mentoring providing innumerable opportunities for higher education and shaping lives. Along with this she also possesses 12 years of experience in social service and family safety programs, and 16 years teaching experience in higher education having held the positions of Associate Dean of Academic Affairs, Interim Dean of Academic Affairs, and currently, adjunct professor and Faculty Team Lead, gracing her stupendous work with over 4 years of executive leadership experience.
Women empowerment
As a strong influential woman, Dr. Pamela Wiggins believes that every woman has the potential to set an example as a remarkable businesswoman in any industry. "Women as leaders are enduring, persistent, loyal, strong, intelligent, fierce and beautiful", says Dr. Wiggins. She however is a one of a kind leader with a meek mind to serve, promote, help, uplift and educate people that will enable them to achieve their dreams thereon. While trying to fulfil her purpose, her motive is to help people identify their purpose in life, after which they are equipped to help others thereby creating a ripple effect of true leadership.
Awe-inspiring Accolades
Dr. Pamela Wiggins has been recognized and appreciated for fine works with various awards giving her the motivation to pursue her dreams relentlessly. To name a few of the accolades, she is an international published author of Top 10 Soft Skills You Need: In the Workplace and Beyond, and Getting to You: Increasing your Happiness, and a co-author of Women of Purpose chapter title, "Breaking Down Barriers." She had an author feature in Today's Purpose Woman Magazine, March 2019 issue. She is the recipient of CEO Today Magazine, "CEO Award USA (Florida)" for 2018, CEO Today Magazine, Management Consulting Award for 2018, and Women of the Year Award, 2018. The list certainly does not end there. Along with this she also is the recipient of Cox Media Group, "Business of the Week" for the week of January 29, 2018 and has been featured in "Women on the Move," Jacksonville Business Journal, 2016 becoming the recipient of Honoured Business, Jacksonville's Finest 2016 Business Profile Series. She was also nominated for the Prestigious Author Academy Award in Business for 2018. Dr. Pamela Wiggins also made her mark as an Examiner on the Florida Sterling Council Board in 2015.
She is also a certified Lean Six Sigma Green Belt, Florida Supreme Court Certified Family Mediator, and Certified Arbitrator for the Better Business Bureau. Yes, she is a woman of valour receiving truly deserved rewards for not only helping others, but for bearing a kind heart to do so.
Leaders Never Sleep
After completing her doctoral degree, God worked wondrously in Dr. Pamela Wiggins' life opening massive doors of opportunities for her. Gaining the doctoral title was truly an honour that Dr. Wiggins recalls as the moment when she felt that her hard work had been paid off. Striving hard to achieve her goals she stayed put in her desire to help people with her very own servant leader mandate which continues to be her sole purpose even today.
Diversified Dimensions
With a varied background of higher education, leadership, and social services, she is experienced in numerable fields. Dr. Wiggins knew that she had the potential to nurture and shape others lives which seeded her entrepreneurial journey incorporating Wiggins Management & Consulting, LLC. The company provides many services in terms of training and professional development programs namely: Workplace Essentials Training, Management & Leadership Training, Human Resources Training, Career Development Training, Sales & Marketing Training, Soft Skills Training, First Aid/CPR Training, Business Etiquette & Business Acumen Training, and many more courses. They provide over 200 training programs to meet the needs of their customers.
Wiggins Management & Consulting, LLC also provides consulting services such as Management Coaching, Leadership Coaching, Higher Education Solutions, Family Mediation, and Arbitration.
The company possesses a team of highly educated professionals. Facilitators and consultants have the highest educational and certification credentials with extensive industry experience. Training curriculum, manuals, and resources provide clients with opportunities for practical application for optimal retention and implementation. In order to suit the convenience of the customers they, provide evening, weekend, and "Just in Time" training delivery. A few more highlights of their services are their clients include both public and not-for-profit sectors, e-Learning courses that enables you to complete the course at your pace and most importantly, Wiggins Management & Consulting, LLC is accredited by and is a member of the Better Business Bureau with an "A+" rating.
To serve as a leader
Practice what you preach is easier said than done. When you are focused to utilize your potential to benefit others creating a ripple effect, you are automatically driven to be a role model for others. Dr. Pamela Wiggins instils the same values in her colleagues, and employees to be servant leaders. To develop, motivate and widen people's thoughts to a brighter future has been leading Dr. Wiggins and her team who walks with her in the same vision.
It is not easy for a leader to serve; in fact it might even contradict the very definition of a leader. However, this contradiction worked in the favour of Dr. Pamela Wiggins gathering not only rewards and recognitions, but securing a place in people's hearts. She now wants to widespread the Wiggins wings to other countries with the same goal of helping people grow, making her a leader beyond description.