Neil Russell: Presenting the Diversity of Leadership by Showing Excellency and Commitment through the Years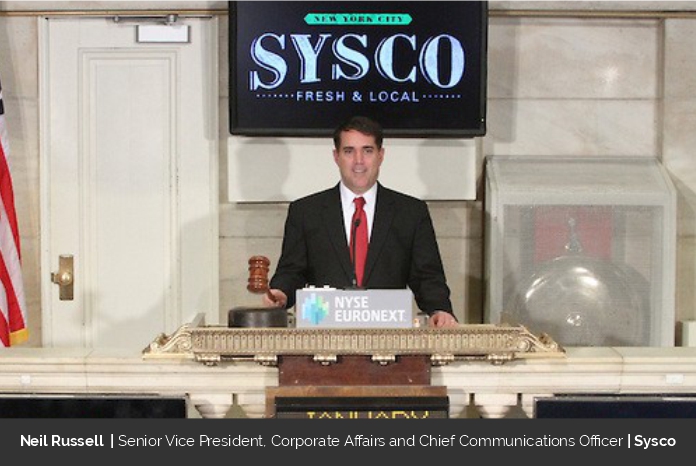 An experienced executive with a track record of success in leadership roles in Fortune 500 firms, Neil Russell, Senior Vice President, Corporate Affairs and Chief Communications Officer of Sysco, is a well-balanced, analytical and process-oriented professional with more than 25 years of experience.
Neil joined Sysco in 2007 as Vice President, Investor Relations, where he effectively managed connections with stockholders and developed a focused investor program to expand Sysco's shareholder base. This was a chance for him to broaden his leadership abilities and acquire experience in a variety of different areas with a 50+ year old firm that is the leader in its field.
Neil has been with the company for 15 years now and has built the external and internal relationships that have led to his current position. Sysco is a purpose-driven organization. He says, "Our purpose, which is' connecting the world to share food and care for one another, 'is what inspires me every day." He further adds, "When I know that my work can literally change the world for the better, like fighting hunger in our communities, I don't need an alarm clock in the morning."
Neil spent twelve years in the aviation sector, principally with Delta Air Lines, prior to joining Sysco. He began his career in finance and auditing, delving into credit card disputes and learning about payables/receivables and how to manage cash flow more effectively. Working for an airline was his aim when he graduated from high school.
He shares, "I never changed my major in school, and as I walked around campus, I would watch an airplane fly overhead and say, "I'm going to work there." Upon graduation, I got my desired job just a couple of blocks away from campus, doing exactly what I wanted to do, at the company I wanted to do it at. "
The finest accolade Neil ever received was from Delta's CEO during an employee rally after the firm escaped bankruptcy and relisted on the New York Stock Exchange as a new corporation. Neil was one of three people honored by the CEO for his efforts on stage that day. He asserts, "Knowing that he valued the role my team played during that process was tremendous recognition for our team and their great contributions."
Sysco
Sysco is the world's largest seller, marketer, and distributor of food goods to restaurants, healthcare and educational facilities, lodging accommodations, and other clients that cook meals away from home. Its product portfolio also includes culinary and hospitality equipment and supplies. The corporation employs over 58,000 people and runs 343 distribution facilities globally, serving over 650,000 client locations. The corporation achieved revenues of more than $51 billion in fiscal 2021, which concluded on July 3, 2021.
Sysco's new purpose, connecting the world to share food and care for one another, was introduced in 2021. It is the foundation for every objective that the firm sets, every choice that the organization makes, and every action that the company performs. Neil considers himself fortunate to have been a member of the team that created its purpose.
Neil serves as Sysco's Senior Vice President of Corporate Affairs and Chief Communications Officer. He is in charge of Sysco's corporate affairs department, which comprises the communications, corporate social responsibility (CSR), government relations, and investor relations departments. In addition to his responsibilities, he serves as the executive sponsor for Sysco's Hispanic Associate Resource Group, HART.
Neil is also the Chairman of the Board of Directors for Kid's Meals, a Houston-based hunger relief organization that distributes food to the homes of pre-school-aged children who do not yet have access to free or reduced-cost school meals.
Learning in Tough Times with Great People
While working in the aviation sector, Neil was constantly faced with new obstacles, but he was also given several opportunities to learn and grow as a leader. He remembers that during his tenure at Delta Air Lines, "we experienced the tragedy of 9/11, a hostile takeover attempt, a bankruptcy, a merger, and a re-emergence from bankruptcy."
Neil considers that a lifetime of experience for some people that he got to learn from in a relatively short amount of time.
Of course, at Sysco, like most companies across the world, the team was impacted by COVID. The change was sudden and immense. He says, "In a matter of weeks, our sales declined by 60% and our team rallied behind supporting our customers, working in partnership with local and national governments on ideas like "groceraunts" that allowed more than 16,000 of our customers to sell products that were needed in their communities, like towel and tissue products, cleaning chemicals, and fresh produce."
As Neil sees it, the entire experience has been a lesson in extremes, but the silver lining has been working through difficult times with wonderful people. He thinks that if individuals are empowered and driven, they can do great things, even in difficult circumstances. And Neil is incredibly proud of his team for doing this.
Redefining the CSR Industry in Multiple Scale
Neil is gratified to see the progress over time in the company's CSR efforts. Through several aspects of its CSR program, Sysco is leading the foodservice sector. Sysco was the first foodservice distributor in the United States to establish a science-based climate target last autumn. Sysco has been working on sustainability efforts for several decades, and he is quite pleased with the success his team has achieved.
Sysco's corporate social responsibility (CSR) approach has evolved and accelerated over time to embrace all of the ways it may enhance environmental, social, and governance performance. Sysco's CSR projects are built on three pillars: people, products, and planet. The company's efforts in this area are visible and legitimate. Sysco has strong strategies in place to achieve its objectives.
Neil asserts, "We believe in doing what we say we'll do, not simply offering a hope and a wish for a future generation to solve. It is up to us, to act here and now, and we'll do it well because it is the right thing to do."
Neil empowers the communications team to come up with new ideas by cultivating a culture of thinking outside the box for new, inventive methods of interacting and communicating with people. He believes having a creative team is essential for overcoming obstacles, developing new ways of working, and achieving great outcomes.
During COVID, Neil's team introduced new modes of communication, such as podcasts, a 20-question video series with its leaders, and an employee mobile messaging tool called Sysco to Go.
According to Neil, Sysco has also expanded its global communications reach by utilizing virtual technology platforms. He states, "Pre-COVID we would have roughly 2,000 people attend our townhalls—today, we have more than 7,000 who regularly attend and have built a platform that includes a global view of our business and includes participation from all our executive leaders on a regular basis."
A People Leader and A Loving Father
Neil considers work-life balance to be a difficult aspect of his life, particularly in today's environment. His mind is constantly thinking about how he and his team can help Sysco advance its progress. But he is also a father to two daughters who are his pride and delight. He says, "Ensuring they have what they need to be happy and healthy is ultimately my greatest responsibility." He also adds that his time with them is precious and he makes a point to prioritize it. He wouldn't trade that time with his family for anything.
As for his team, Neil feels honored to be with them each day. He feels so proud of them as they inspire and motivate him. He asserts, "My role is to be their advocate. To support them and clear hurdles out of the way so they can accomplish their goals. My motivation for them is to let them know that they are valued and supported. When they feel that, they can accomplish anything."
Building Strong Customer Base
Neil believes that Sysco is in an interesting period right now. The team has a strong strategy that is called the company's "Recipe For Growth," which is a customer-centric approach to increasing long-term growth. Following the pandemic, there is a high demand for meals away from home. He says, "Our teams are working hard to serve our customers, and it shows with strong share gains for Sysco in the marketplace."
Neil's personal goals are to support the company's strategy and to live its purpose each and every day. He says, "Alignment with purpose and strategy is important and a continued focus of mine."
Develop People Centric Work Environment
When it comes to bringing anyone into the team, Neil's first approach is to hire people for their ideas. He says, "We all have tasks we need to accomplish, but what really matters are the ideas and suggestions of our people. I think that's a good approach regardless of which generation we're developing." He also considers his team's CSR activities critical for future generations. This is a crucial problem, and Sysco is helping to define the industry's approach and pushing the boundaries all the time.
Neil's message to aspiring business leaders is to invest in culture. He says, "We all know the saying that culture eats strategy for breakfast, and I believe it to be true." He further suggests that leaders should think long-term and focus on the culture of their teams/companies. He recalls the time when he was at Delta. He says, "We had a tremendous CEO, Jerry Grinstein, who taught me that." He adds that when Jerry retired, the entire staff lined the streets to say farewell, and rightly so, because he strengthened the culture and the employees responded to the occasion.
Mantra for Success
Neil defines success as establishing an atmosphere in which individuals feel comfortable in bringing their complete, authentic selves to work every day. Creating a collaborative, supportive, and, yes, even fun workplace is the junction of productivity and retention, which leads to success. He claims that when individuals want to be a part of something, they will give it their all because they feel encouraged and empowered. He opines, "Knowing mistakes are okay and progress over perfection is desired, you've found success for a team."