Michelle Rudnick: Transforming Technologies with a Passion for Innovation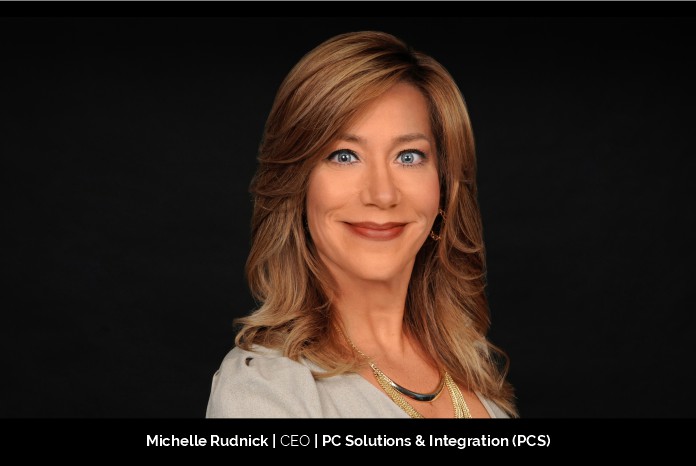 Some leaders are born with a defined vocation, some chose their niche as per their skills while some are found capable of taking on the torch. However, there are only a few awe-inspiring leaders who pluck up the courage to pursue a career that is against their personality and not only take on the challenge but secure a position of significance that exemplifies true success. One such out of the ordinary leader is Michelle Rudnick, who was least aware that her passion to be successful would drive her to become the owner and President of PC Solutions & Integrated Inc., a leading technology company.
Being raised by extremely hard-working parents, Michelle assumed the same diligence in developing PCS and scaled the company's growth from a computer-solutions focused business to an IT integrator proudly servicing more than 3000 customers. Since 1995 as a provider of IT equipment PCS has become one of the largest networking firms in the SE United States under her resourceful guidance. As a successful businesswoman revamping the future of technology, Michelle shares her personal and professional journey to inspire and motivate younger generations to unceasingly pursue their dreams while maintaining a healthy family life.
Being a Successful Businesswoman was an Act of Destiny
Growing up Michelle's goal never included working in the IT Industry. Even less did it involve becoming a business owner of an IT company, in fact her goals were not even specific. Speaking straight from the shoulder, Michelle says her goals were all over the place. The only thing that stayed consistent was her zeal to do something that would one day make her parents proud of the sacrifices they had made. Her sole desire was to help her parents and be their pillar of strength as they were to her. Michelle's parents who fled the communist island of Cuba, worked very hard at multiple jobs just to make ends meet for their family, without complaining. As Michelle grew up, her goals began to manifest a bit more clearly. Like any other ambitious young adult, she wanted to find a career where she could earn the highest salary possible. With eyes full of dreams, she believed that she could easily achieve anything. She soon realized that although these goals were not completely off base, they were also not realistic.
Michelle sought a career in business administration as Math and organization were always her strengths. One of her first jobs was managing retirement accounts for companies, and this job made her realize that she had a strong creative side and was no longer intrigued by the monotonous work that had her doing the same tasks every day, hence she decided to look for another job. The fear of unemployment pushed her to seek help from a headhunter. As destiny would have it, this decision led her on the path to where she is today. The first job opportunity that came up was for a company that custom-built PC's and sold PC/printer related supplies and equipment, and the owner was seeking someone to handle the accounting. However, the company had dismissed the last three temps the agency had sent over, so there was a fair chance that Michelle's opportunity would be short term. Nevertheless, she decided to give it a try. She vividly recalls the first day she walked in at work and noticed the complete chaos that was normal for this place. She quickly felt the energy and excitement take over her and Michelle knew that this was the environment where she belonged.
Stepping into this new role not only arrowed the way to her destined career but also became the special place where she met her future husband, David Rudnick. "David was very different than anyone I had ever met before. He was surprisingly not intimidated by my strong demeanor or my desire to chase career success. Instead, he encouraged these traits in me and shared my drive and ambitious goals. It did not take long for me to realize David was the man I wanted to marry and together we took the risk to pour all our time and energy into creating our own business. The vision manifested into the start of PC Solutions & Integration, Inc. better known today as PCS and twenty-five years later continues strongly.", Michelle, shares. Grateful for David's continual help and support, Michelle has made a phenomenal impact on the technological industry through PCS.
What Makes PCS a Leading IT Company
PCS consults, integrates, and manages technology solutions that solve business problems and contributes to corporate growth. Their managed services, mobility, video solutions, A/V integration, virtualization, unified communications, and data infrastructure solutions leverage their consultative approach, deep technical expertise, and extensive industry partnerships. PCS is a minority and woman-owned corporation (MWBE) founded over 25 years ago, growing an average of 30% – 50% per year. PCS is a leading provider of technology services to educational institutions, government agencies, and businesses. The company enjoys a national reputation for precise technical design and proven performance. PCS is always committed to ensuring every customer is extremely satisfied with their decision for years to come. All equipment PCS proposes, meets, or surpasses the specs requested from them and Michelle believes, keeping their clients' needs as their top priority is the reason for PCS' continued success.
When you work with PCS you are working with a full-service provider. They are focused on supporting their clients throughout the project lifecycle, from consultation and design to implementation, optimization, and ongoing management. Their comprehensive portfolio provides one of the broadest and most in-depth solution offerings in the industry and is backed by a nationwide team of highly trained and certified technicians and engineers. PCS is currently a leading IT Service provider of collaboration and technology solutions for large and medium enterprises. They have spent decades building their technology offerings, spanning core technology markets-collaboration, enterprise networking, data center, cloud, and security. They deliver these offerings across several delivery models, including on premise, private, hybrid, and public clouds, regardless of clients existing infrastructure. PCS believes that when it comes to technology, one size or partner does not fit all. That is why they work with more than 100 of the world's leading best of breed hardware, software, and application development companies so that they can bring their customers the right solution. Since PCS was created on personal customer service, Michelle strives to personally return calls or visit customer sites no matter how busy she is. Another amazing element that makes PCS a game changer.
A Leader of Integrity, Passion and Self-Awareness
For an onlooker, Michelle's typical day at work might seem very chaotic and hectic, but for her it is a day of fulfillment where her potential is put to its best use. She is supported by an incredible team of professionals who help manage the operations of PCS' offices in several states. Michelle's calendar is majorly blocked by meetings to stay informed on all current projects, upcoming marketing campaigns, sales pipelines, and any overall issues that might be brewing.
The three qualities that best define Michelle as a leader are integrity, passion, and self-awareness. Integrity drives her to make the right decisions and have a peaceful sleep with a content heart that she has done right and treated others well. Passion helps Michelle find new innovative ways to grow PCS and motivate her employees to do the same. Self-awareness gives her an introspective outlook to analyze her weaknesses, be open to criticism and learn from others. "I have no problem admitting I have learned plenty from someone half my age or from someone with half my experience because sometimes a new set of eyes can make all the difference.", Michelle, adds.
With all the learning she has acquired through the years, Michelle has learned a vital lesson on the importance of maintaining a balance in work and personal life. As a doting mother, she yearned to be there for her kids and build some fond memories with them to savor for life. Hence after many failed attempts to give her 150% to her company's growth, Michelle came to terms with the fact that she could not dedicate all her time to work. This decision helped her be a great mother and, at the same time, establish herself as a successful businesswoman. Michelle has once again pivoted her focus to the growth of PCS as her children are now grown-ups. "I still want to be able to take a pause occasionally when warranted and remember to smell the roses or, more specifically, watch as my children now navigate their way in their careers. It gives me great pleasure to see how all three of my children appreciate and prioritize the importance of family time as they search for the right work-life balance of their own.", Michelle proudly shares.
Staying Motivated is the Key to be a Successful Leader
Michelle may have achieved many milestones as a businesswoman, but she still has a long way to go. Although she is content with her achievements, she intends to keep going until her never-ending determination and motivation fuel her. Throughout the 20 years of her journey as a businesswoman, Michelle's motivation kept evolving as she grew. Initially, she was driven by monetary goals, but after she became a mother, she saw herself focusing on making more time for family and attending to her children's needs even though it meant decelerating the growth of PCS. Today, Michelle is driven by personal accomplishments rather than monetary gains. "I enjoy mentoring the younger generation of not only the IT Industry but also mentoring young females interested in leadership roles. I am involved with several local as well as non-local organizations that allow me the platform to share my experiences, knowledge and guidance to others."
Michelle finds her true and ongoing motivation in her children; two daughters and a son. As a responsible mother, she ensures that her professional decisions do not negatively impact them. She teaches her kids to keep realistic expectations that help maintain a balance between work and family life. "Having my three children have always been my reason to work hard, my reason for never giving up, my reason for my strong determination, and my reason for sticking to the strong morals I was raised with.", she says.
Motivating Her Team Through Every Challenge
At PCS, Michelle and her team have always tried to maintain a positive outlook on every situation that has arisen over the company's longevity. With an optimistic approach, they faced the recession of year 2000, that included a real estate bubble and, eventually a market crash in the US in 2008. During that period, many businesses experienced a hit, but PCS grew and continued to sustain a strong and conservative financial core. PCS not only survived the recession but came out the other side, thriving, resulting in the purchase of a two-story office building that houses its headquarters. When PCS, along with the rest of the world, was forced to face the most challenging situation in our history, the current pandemic known as COVID-19, they approached it with the same positivity. Their top priority was to keep the safety and health of their staff at the top of mind. They swiftly transitioned their team to remote work and closed the office in early March. Michelle and her team continue to stay positive through this unprecedented pandemic even though it has brought a unique set of challenges to their business. Through teamwork and innovation, her team created new processes and workflows better suited for a remote workforce. They prefer to view the situation as an opportunity to help their clients navigate through this period, which has surprisingly been a blessing to the business.
Innovation and creativity are at the core of PCS' business. "My philosophy is to ensure and nurture a culture of innovation and creativity at my company. I strive to empower my employees not to be afraid to express their creativity and feel confident enough to take the initiative on projects even if they don't succeed at first." Michelle says. PCS is a cohesive workplace that offers a platform for everyone to think and innovate, which she believes helps keep her staff motivated.
Planning the Roadmap for the Future of PCS
PCS has a proven track record of successes in Cyber Security, Storage, Video and Voice Communications, Data Networks, professional Audio and Video, WAN, and UC Applications; hence their primary focus is to continue to strengthen the ongoing business. By continuing to invest in the future of IT solutions, PCS intends to stay at the forefront of technology trends year after year. Additionally, to ensure that their clients have access to a wide range of technologies and best-of-breed solutions, the technology leader will continue to develop new partners and nurture the existing partnerships with over 250 OEMs, including market leaders and emerging providers, to bring their clients integrated, multi-technology solutions. PCS has several projected plans that will be executed in the upcoming year for expansion, with a few currently already in progress and near finalization. The growth trajectory for PCS has always been a positive upscale rise since its inception that has seen a significant jump in the last few years. "I am very excited and passionate about the future of PCS and plan to focus on discovering new ways to grow and expand our portfolio and customer base". Michelle shares. She will also continue to make it a goal priority to find solutions to the increasing demand for greater business agility and 24/7 security, coupled with the sustained effort to reduce costs.
Michelle credits her success to her parents and her ever-supportive husband, David Rudnick, the Vice President of Sales of PCS. Trailblazing into the future with a steadfast mind and determined spirit, Michelle's journey is an inspiration that epitomizes leadership and success. As long as her work gives her the satisfaction of making a positive impact on others, Michelle Rudnick will continue to grow in passion and power to inspire the generation and transform the world of technology.