Martina Klingvall Holmström: A Resilient Entrepreneur Building Mobile Operator that Entrepreneurs Love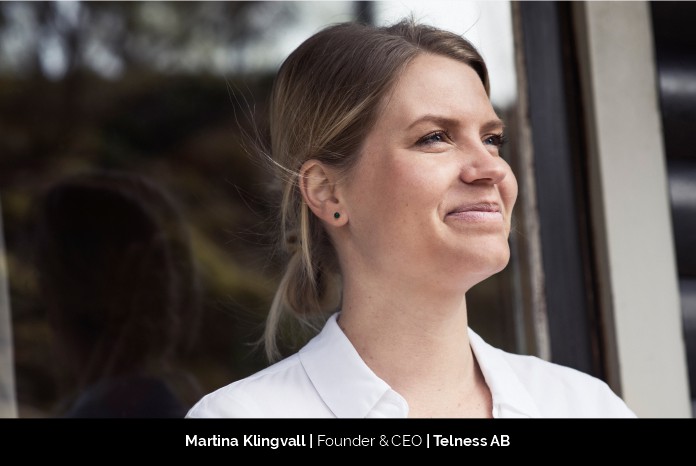 Martina Klingvall Holmström is the Founder and CEO at Telness. She loves running a company where everyone really cares about each other, about the customers and about the company's joint success. "This means that we constantly challenge each other and constantly grow both as individuals, as a service and as a company – and have fun along the way!" she says. Telness is the first digital mobile operator for entrepreneurs by entrepreneurs. Telness is driven by a simple vision to change the standards for the telecom industry, using tech to build great customer experiences. As the CEO of Telness, Martina is a strong witted, resilient leader with an enduring spirit. In an interview with Beyond Exclamation, Martina shares inspiring journey through the years.
Ø Were you always passionate about technology? Tell us, what inspired the foundation of Telness and what led you into this field?
I have always been curious and had a passion for customer experience and what technology can enable in terms of efficiency and innovation. I have a background from one of the large operators in Sweden and saw how legacy in technology was affecting the possibility for innovation, efficiency in operations and bad end customer experiences as an end result. I saw an opportunity to start from a blank sheet of paper and use modern technology, people and competences from other industries and create a modern way of building telecom services in an innovative, efficient, digital and inspiring way. We wanted to change the standards of telecom!
Ø Setbacks are a part of every growing business. Tell us about a few roadblocks and learning lessons that helped you and the company grow through the years?
A challenge of building innovative technology is that no one has done it before and that there are less inspiration from other companies within the telecom sector to learn from. The lesson has therefor been to not look at your closest competitors but for inspiration from other industries and best practices we like. Another learning that has helped us along the way is that we have had customer focus, or maybe customer obsession, since start. That has enabled us to always prioritize and look for the values for the end customer and for us to be flexible and curious, but still consistent in our vision.
Ø Explain the services of Telness in brief.
Telness Technologies has build a end-to-end core technology platform for operators, enabling a modern and digital operator and a global digital cloud based PBX solution. We provide our tech as SaaS for other operators globally and help them to reduce legacy and enable innovation, fast go to market and digital customer journeys for their end customers. We have also launched our own operator in Sweden, using the Telness Technology platform and are offering subscriptions and mobile PBX for SME customers in Sweden. The operator have succeeded in having the most satisfied customers according to Truspilot, as well as 90% less customer errands (compared to industry standards in Sweden) due to great UX and digital self service.
Ø How do you ensure a culture of integrity and innovation at Telness?
We set clear values and principles at Telness since start, and are working actively every week to make sure that they always are both relevant and the actual culture in the company. It has been a challenge during a fast growing scale up phase, but also a strength during the same period!
Ø Tell us your views on how has the digital mobile operation industry changed over the years in Sweden?
The mobile operator industry in Sweden have been pretty similar over the years. The customer offering has changed some in terms of pricing and packaging but the end customer experience and digital innovation have been lagging behind other industries.
Ø As a technology professional, tell us about your vision for the company.
Our vision is to really change the standards of telecom and provide forefront technology to help the global telecom arena (operators) with future innovation!
Ø As the CEO of Telness, what are your major roles and responsibilities? Also tell us what inspires you and your employees to innovate?
My main role and responsibly is to set the overall strategy and make sure that the whole company strives, contributes and are truly engaged towards the same goal!
Ø What is your message to the aspiring businesswomen?
If you think you are to small to make a change – try sleep with a mosquito in your bedroom. 😉
Ø What does the roadmap of Telness look like, for the future? What are your goals for the next few years and how does Telness plan to extend its services, globally?
Telness have recently built a world unique cloud native PBX solution. We are eager to present it to the market and let international operators offer a PBX that actually is hassle free, global and 100% digital in both sales, onboarding and administration.