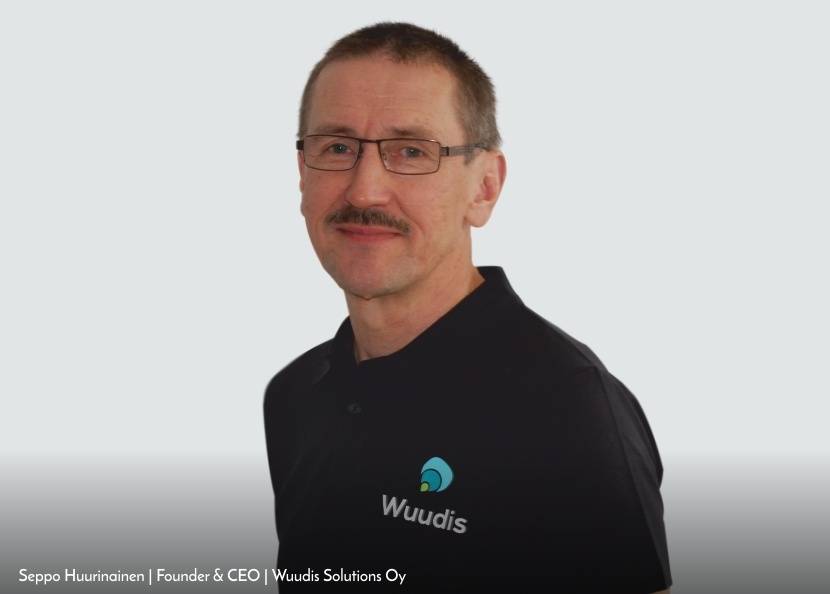 MHG Systems: A Pioneer in Forestry Management
Globally over 2 billion people rely on forests entirely or partially for their livelihood, creating a market of 246 billion USD from the global exports of forest-based products. Despite this huge number, there are very few digital solutions available for sustainable forest management. The reason lies in the usage of old-fashioned paper-based business practices for performing daily routines and conservative nature of the sector.
However, Wuudis Solutions Oy, previously known as MHG Systems, is committed at overcoming this challenge by taking advantage of the forest digitalization boom and standardization in Finland.
A revolutionary vision
Mr. Seppo Huurinainen, a timberland investor in Finland, was suffering from a problem of managing his more than 1000 hectare of forest property in an easy and profitable way. Almost 13 years ago, a vision named Wuudis Solutions Oy started developing in Mikkeli, Finland to kill this aching problem and revolutionize the forest and wood supply chain business through digital services. According to Mr. Huurinainen, his forest property works as a 'sandbox' to test Wuudis ICT services.
An amalgamation of innovation and experience
Wuudis Solutions Oy is involved in offering next generation smart ICT solutions for Forest management. The company innovates by integrating open software technology with years of field experience in the forestry business behind its back. The combination of innovation and experience results in agile and user-friendly IT services, aimed at facilitating flexible and resilient business models in the rapidly changing business environment. Its portfolio of services includes, but not limited to, remote sensing services for forest asset management, mobile solutions, and field work management. It offers the below-mentioned solutions:
Wuudis Pro: Digital Forest management tool for forest owners, co-operatives, and forest entrepreneurs. It knows the value of your forest and enables commercial exploitation in a sustainable way.
Wuudis Business: Complete digital service for forest management, data sharing, field work management, and forest inventory. Customers of Wuudis Business service include Forest management associations, Forest authority in Finland, several forest service companies, etc.
Wuudis tree-wise monitoring: Satellite and drone based accurate tree-wise forest inventory monitoring for forest management associations, timberland owners, and large forest companies.
Wuudis Solutions vision is to become one of the world leaders in ICT solutions segment for forestry management, wood procurement, and to possess all the required data that boost any stakeholder business in the forestry industry. This can be enabled by digitalizing the global forest resource and all wood flows through Wuudis service.
A veteran in the forestry landscape
Seppo Huurinainen, the Founder & CEO of Wuudis Solutions Oy, has a cumulative experience of 35 years in forestry, entrepreneurship, and information technology. He holds a broad academic experience in GIS, IT, and silviculture with five university level degrees.
He founded Wuudis Solutions Oy (previously MHG Systems) in 2005, which currently offers pioneering ICT solutions for forest management. Prior to becoming an entrepreneur, he held several development and research positions within the forest and agriculture industry and has worked for organizations such as the Finnish Forest and Park Service, Metla, Finnish Forest Centre, Metsäliitto, Stora Enso, and the National Board of Education.
Unmatched benefits and achievements
Wuudis has the capability to deliver several benefits to the whole forest ecosystem. It enables maximized revenues and profits for forest owners from improved forest management. Guidance for planning next forest activities that needs to be performed to exploit maximum economic benefit from timber harvest. Saved costs and increased margin for forest service companies via easy scouting and connection with forest owners and delivers superior customer service through the usage of easy apps and web-based tools. Societal and environmental value via promotion of sustainable forest management practices, forest threat detection, and increased mobilization of available wood resources for the needs of the forest industry.
Speaking about the achievements of the company, Seppo asserts "Apart from our strong commercial operations (i.e, the sales of Wuudis services) and stable cash flow, one thing that is worth noting is our success rate in acquiring EU innovation projects. This proves our capability of developing the most cutting edge ICT solutions for forestry industry. In this direction, some achievements are; successful funding injections from multiple EU projects (LogistEC, CASTLE, SLOPE & DataBio projects) and EU H2020 SME phase I, in total an injection of roughly 1M€."
Development and commercialization of an innovative solution which is disruptive in nature is not easy and requires lot of personal motivation and patience. One of the most important things is to continuously motivate the team and keep product and business development rolling even in constrained circumstances. "At Wuudis Solutions Oy, we are developing visionary services, so sometimes we face problems with some prospective clients, who are little hesitant to implement our services as they have to adopt new operational practices by throwing conservative methods," mentions Seppo.
A competitive edge over existing solutions
Global traditional enterprise resource planning (ERP) service providers are targeting large players in the forest industry. They develop complex, IT-focused solutions without deep knowledge of the forest sector, mainly for downstream industrial players, such as biomass power plants or wood product manufacturing companies, which have integrated operations with timber processing activities. Smaller-scale forestry business uses hard copy documents or excel sheets, which is difficult to share and requires manual work or integration with other software. Wuudis offers an affordable solution to the entire forestry ecosystem, from private forest owners and small forest service companies to large corporations and forest authorities, connecting them via open data interfaces to provide a virtual marketplace and forest health monitoring.
Compared to its competitors, Wuudis leverages its unique knowledge of forest management and wood processing industry to create value for all stakeholders in the forest industry. Wuudis is the only holistic solution in the market, increasing also the profitability of small and medium-sized players. Being a neutral and open ecosystem platform, Wuudis has a competitive edge over existing solutions, as it covers all forestry management activities in a one-click service.
Seppo claims "Based on our market study, together with interviews and discussions with our clients, we have found that there are no easy-to-use digital solutions at present in the market."
Disrupting the global forest business
In terms of technology, Wuudis is in the process of creating breakthrough innovation by offering tree wise forest inventory monitoring and other value added services utilizing processed satellite data and aerial images collected by drones. This solution will break the conservative approach of paper-based forest management plans and it offers digital and standardized forest management plans and necessary data to run daily operations on Wuudis. Based on this innovation, Wuudis Solutions' mission is to disrupt global forest business by offering its solutions worldwide. "We have secured the necessary funding and investment to kick-off our international business activity and are committed to became the world leader in forestry digitalization business in a 3 years' timespan from now," concludes Seppo.