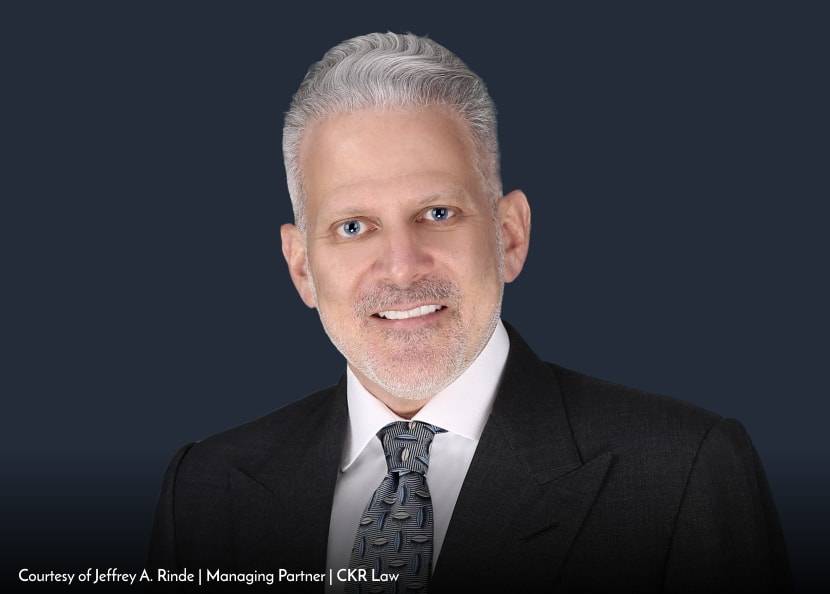 Recognizing the disruptive potential of a new technology and adapting quickly can make or break an organization's success. Blockchain is one such disruptive technology. While some individuals and organizations recognized early on its massive potential across different industries, many were reluctant to jump into the fray because of skepticism and perceived risk.
But not CKR Law LLP, a full-service global law firm. CKR founded its Blockchain Technology & Digital Currency practice group long before most other law firms recognized the future growth of the sector. Just as Blockchain is disrupting industries across the globe, CKR is seeking to disrupt the legal profession, recognizing the massive changes that the legal and other professional services industries are currently experiencing. Today, CKR has almost 60 attorneys globally working within its Blockchain Technology & Digital Currency practice group, providing U.S. and foreign clients including startups, cryptofunds, investors, token sale platforms, and advisors with sophisticated and knowledgeable legal advice in areas such as securities, real estate, intellectual property, banking, tax, finance, corporate, investment funds, employment, and litigation.
The Company and its Services
CKR Law LLP is a dynamic and rapidly growing law firm. The firm represents a global clientele that includes U.S. and foreign publicly-listed and privately-held corporations, emerging companies in a wide variety of industries, entrepreneurs, institutional investors, and individuals.
Since its inception in 2014, CKR Law has grown exponentially, from a handful of attorneys in 2014 to a firm today that boasts more than 150 attorneys in the U.S. and more than 350 affiliated attorneys around the world. The firm today operates, through various legal and affiliated entities, in more than 50 locations worldwide, including North America, South America, Africa, Asia Pacific, Europe, Latin America and the Caribbean, and the Middle East.
At the same time CKR's global footprint has expanded, the depth of its attorneys' expertise has grown. The firm's distinctive strengths, both domestically and globally, are in the areas of blockchain technology, corporate, securities, finance, capital markets, cross-border mergers and acquisitions, government advocacy, litigation and international arbitration, tax, and intellectual property.
The Edge
"What sets us apart is providing our clients consistently high quality legal services, personalized attention by seasoned lawyers, and customized solutions, all at affordable rates," explains CKR Managing Partner Jeffrey A. Rinde. "We achieve this through a more flexible and lower cost business environment and our intimate local knowledge and relationships, cultural and political sensitivity, and practical goal-oriented solutions," Mr. Rinde adds.
"We are also able to leverage our strong relationships within the investment, business and professional communities, as well as with local, state, national, and foreign governments to help our clients effectively and efficiently meet their business goals." CKR partners have an average of more than 20 years of legal experience, with deep connections to their local communities.
"We are continuing to grow globally with recently opened locations in China, Europe, and the U.S. We have been listening to our clients and what they need, and have or soon will be expanding our areas of practice to data privacy and cybersecurity, autonomous vehicles, health care, and elder law," Mr. Rinde explains.
The Blockchain World
CKR reports that the Blockchain industry continues to mature and focus on legitimate enterprise and retail solutions to many existing challenges in traditional industries. Additionally, participants in the token sale market have recognized the need to comply with U.S. law for offerings in the U.S., reflected in the emergence of "Security Token Offerings" in late 2018, to replace the crazed ICO (Initial Coin Offering) markets of 2016 and 2017. CKR continues to grow its relationships with government regulators in the United States and outside the U.S. to help its Blockchain clients understand how to comply with the laws that affect their businesses. CKR is also supporting legislation at the local and national levels in the U.S. that will provide greater clarity to the industry about what those legal obligations are and how Blockchain companies can work within the legal and regulatory frameworks.
CKR doesn't just provide legal services to companies in the Blockchain space. It has also invested in the industry through pro bono work supporting emerging industry groups, including the Wall Street Blockchain Alliance and the Foundation for International Blockchain and Real Estate Expertise. In addition, through the CKR Charitable Foundation, CKR is an active supporter of diversity in the Blockchain industry, including presenting "Women on the Block," a diversity blockchain conference that took place on Mother's Day in 2018 as part of the New York's Blockchain Week. CKR publishes a "Blockchain Blog" to update the industry on legal issues (legislation, litigation, regulations, etc.) globally as they arise. CKR also hosts a monthly Blockchain Breakfast in New York and events in other cities focusing on particular legal issues facing the Blockchain community. Past events have focused on tax, estate and financial planning issues for cryptocurrency owners, regulation and the future of Blockchain, Blockchain in the State of Delaware, and the ICO Ban in China.
A Pioneering Leader
Mr. Rinde, CKR's Managing Partner, founded CKR to create a law firm that is able to nimbly respond to clients' needs across the globe. He structured the firm to be responsive to industry changes and encourages attorneys to identify and act on new opportunities, such as Blockchain. Mr. Rinde is an inspirational, pioneering, and dedicated leader who works nonstop to maintain CKR's excellence and dedication to clients. His ultimate vision is for CKR to be not just a law firm but a true global solutions provider. In the near term, CKR, through its affiliates, expects to also offer accounting, investment banking, wealth management, corporate advisory, risk and crisis management, market entry strategies, global mobility, and other services.
"The legal industry is under siege by accounting firms, alternative services providers, and others. There is no longer a clear delineation within the professional service industry among the various providers. As these lines become murkier, law firms must respond by expanding their 'supply' chains and delivering the more robust range of services their client consumers are seeking. Otherwise law firms will continue to lose market share. CKR is responding to this challenge by differentiating itself from the traditional law firm models and reshaping how its viewed by its client consumers," explains Mr. Rinde.
Mr. Rinde specializes in corporate, securities, and other regulatory aspects of global business ventures across a diverse array of industries. He has over twenty-five years of global legal, corporate, and investment banking experience. His broad experience includes public and private equity and debt security financings, blockchain technology and digital currency, international mergers and acquisitions, angel, venture capital, and private equity financings, project finance, banking and structured financial transactions, secured debt transactions, going private transactions, foreign direct investment, and corporate law and governance. Mr. Rinde provides expert advice to his clients to help them overcome challenging government and regulatory issues in global emerging markets, including developing and implementing creative strategies to maximize opportunities, minimize risks, and accomplish their strategic goals.
Mr. Rinde has a particular and distinctive skill in representing Chinese and other Asian-based companies in complex transactions to help expand their overseas business, access capital, and list overseas, including in the United States, Hong Kong, and London, and representing foreign companies in all facets of business activities in mainland China.